Quote:
Originally Posted by
JennySquirrel
If a person wants to move to NC and live in a safe, reasonable place on the water, where would you suggest?(boating and jet skis a must)

Where is the best place to buy land on the water reasonable?

Thanks!
There is plenty of boating in the
Carteret County area
.
You have your choice of rivers, sounds, or the ocean. There are several "water access" communities which have boat ramps and day docks.
Some areas such as
Cape Carteret
have city owned ramps. There are Wildlife Commission owned ramps in a number of areas but they are crowded in the summer.
The Intracoastal Waterway runs through the area from Beaufort to Swansboro and is well marked with plenty of water.
There are well marked channels out to the ocean at both Beaufort and Bogue Inlet.
A lot of the water is shallow, and many locals use skiffs which have flat bottoms. You also can rent slips and have your boat dry stacked in one of the commercial facilities.
While no waterfront property is cheap, you do sometimes see "marsh front" property on some of the tidal streams for under $300K.
There are jet skis around, but I haven't seen a lot of them except around the fourth of July.
We live on the
White Oak River
about ten minutes by boat from the ICW. The White Oak is a very unique river but a little challenging since it has a lot of oyster beds.
You do have to pay attention to the channel markers in the lower part of the river but it is a beautiful spot. The upper river is deep and much narrower.
This is
a slide show of a trip
down the Intracoastal from Swansboro to the Shackleford Banks over on the other side of Beaufort. The round trip was 67 miles. It was a wonderful experience. The water and temperatures were perfect.
Here is
another slide show of going up the White Oak River
where it gets narrower and deeper.
I have a page about my experiences as new boater here on the coast. If you want that link send me a private message.
You might also check out
my post about Carteret County
and why it turned out to be the spot for us.
We were looking for the same thing you are, water, safety, and a reasonable price.
Here's a picture that I took yesterday coming in from the White Oak. The white PVC posts mark the channel into our marina.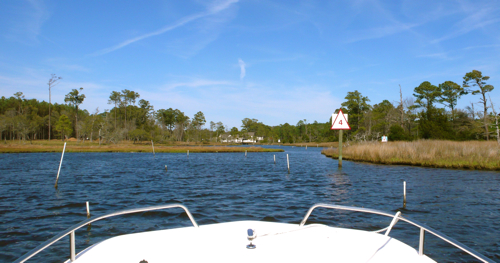 The next picture is the clubhouse, pool, and dock in our community.
It is representative of many communities that you will see in Carteret County and along the White Oak River.
They all have slightly different features and some have been established for a long time.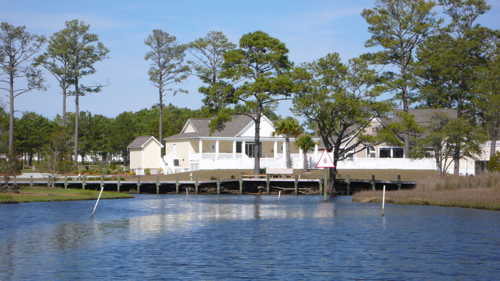 Of course my favorite picture is looking out from the pool to the inlet.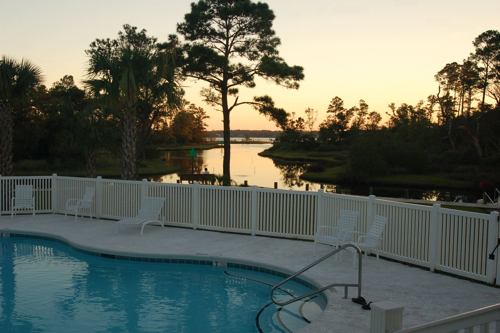 Good luck finding your special spot.