Good morning! Well, Day 2 of our little heatwave is here. My kids were fortunate enough to stay in water most of the day yesterday and will probably spend a good part of today at the lake...http://i233.photobucket.com/albums/ee109/jeannie216/7_16_2.gif (broken link)... So tell us how you are going to stay cool today...

...Back to work. Tea with sugar in the raw and soymilk...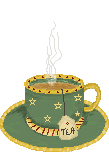 have a relaxing Sunday!
Jeannie