Quote:
Originally Posted by
Cida
Has Sculpture Become Just Another Pretty Face?
Is it me, or do we seem to have a problem with sculpture today? I don't mean contemporary sculpture, whose fashionable stars (see Koons, Murakami et alia) pander to our appetite for spectacle and whatever's new. I don't mean ancient or even non-Western sculpture, either. I mean traditional European sculpture — celebrities like Bernini and Rodin aside — and American sculpture, too: the enormous universe of stuff we come across in churches and parks, at memorials and in museums like the Bode. The stuff Barnett Newman, the Abstract Expressionist painter, notoriously derided as objects we bump into when backing up to look at a painting.
http://www.nytimes.com/2011/08/10/ar...usy-world.html
I have no idea what author of the article is talking about - apparently all the best "traditional European sculpture" is in Russia;
here is the whole bunch of it in St. Pet's Hermitage museum and it's definitely not taking the "back seat" comparably to painting. People can appreciate it as much as painting - it still looks gorgeous IMHO))))
ÑÊÓËÜÏÒÓÐÀ ÝÐÌÈÒÀÆÀ. Êîììåíòàðèè : LiveInternet - Ðîññèéñêèé Ñåðâèñ Îíëàéí-Äíåâíèêîâ
( And if it's not in museums, it should serve the purpose, the kind the painting can't fulfill.
Something like this
Memoriale Stalingrado - Volgograd - YouTube
The Motherland Calls - Wikipedia, the free encyclopedia
or this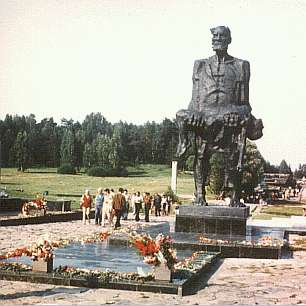 http://en.wikipedia.org/wiki/Khatyn_massacre
or Statue of Liberty...
"Abstract Expressionism" will not work in sculpture I'm afraid; people will keep on hanging their hats on it and for a good reason I suppose))))