Suspect in triple fatal wreck under immigration detainer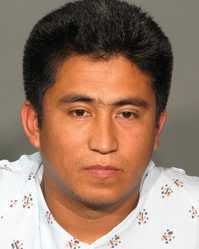 Francisco Martinez
Raleigh, N.C. — A man accused of drunken-driving in oncoming traffic and causing a triple fatal wreck Sunday was placed under an immigration detainer at the time of his arrest, the Wake County Sheriff's Office said Wednesday.
Francisco Martinez was traveling westbound in an eastbound lane on the inner loop of Interstate 440 Sunday when he collided with a car and killed three people, Raleigh police said.
Martinez, who was in jail Wednesday under a $126,000 bond, is charged with one count of
driving while impaired,
three counts of felony death by motor vehicle, two counts of felony serious injury by motor vehicle,
one count of driving the wrong direction
and one count of driving without a license.
Suspect in triple fatal wreck under immigration detainer :: WRAL.com
What a horrible tragedy. Yet NJ and other states are determined to give drivers' licenses to illegal aliens who are products of a culture who thinks it's macho and acceptable to drive drunk and who cannot speak or read English.