I adopted this adorable rescue dog and immediately she reminded me of a possum, so that's what I named her - Possum. She was a terrific playmate to my other rescue.
I got up one night to go to the bathroom and coming out the light showed the one dog totally sacked out and Possum laying on her side sort of on her elbow looking back at me at the end of the bed and then I saw it - a long, long, long pink tail. I thought, 'Oh, heck no, not dead animals in my bed!" I've had dead squirrels, rabbits, birds about the house through the years of having rescue dogs here, but never one in my bed.
I immediately took the sheet and comforter and whipped it back real fast to get it over with. The dog never moved and to my surprise it was a live, baby possum curled up next to the dog's belly. The dog didn't kill it - she ADOPTED IT! Bringing it in through the dog door. What were the odds a dog I named Possum would find and adopt a live possum.
I got an empty dog food bag and spatula and scooted it in there and released it back outside to find its family. I felt bad though taking away the dog's baby and even looked into whether you could domesticate a possum if she did it again. Here they are.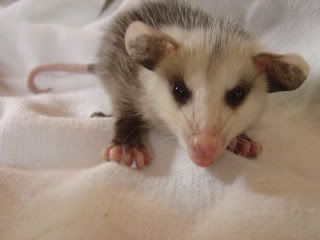 This morning in Twitterworld someone posted this photo of a squirrel and cat affair.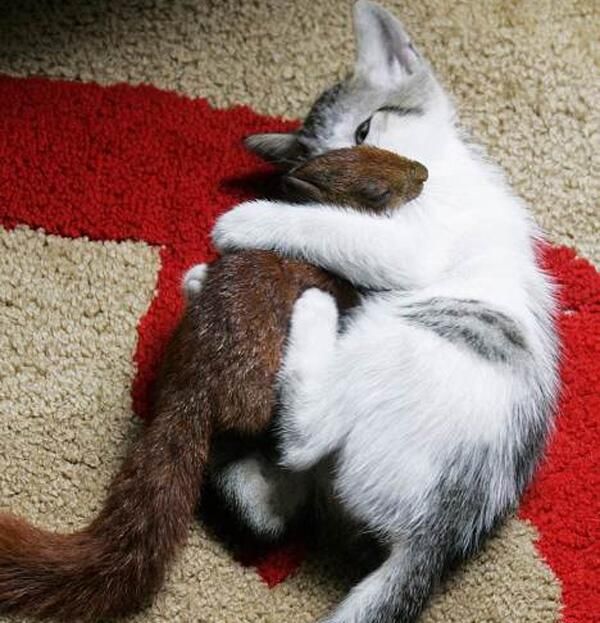 Anyone else with some unusual, happy pet moments?