Ingredients:
1 rabbit in pieces
2/3 chicken livers
1 slice of salami 2 cm high
garlic, parsley, sage and rosemary
1 lemon
plenty of salt and pepper
Put the rabbit pieces, his heart and liver in a bowl with water and vinegar and leave a few hours. Remove it from the water, dry it and put it in a pan with olive oil and chopped garlic, sage and rosemary. When browned, add white wine and continue cooking in the oven with salt and pepper.
With offal prepare the " peverada " sauce:
Chop together the heart, liver, rabbit, chicken livers, sausage, 1 clove garlic (or half if large) parsley, sage and rosemary. Put plenty of oil in a pan and when hot pour in the mixture, mixed, blended with white wine, salt and pepper generously. Cook for a few minutes. Add the lemon juice and cook for 2 minutes.
Serve the rabbit with a spoonful of sauce on top and a fresh ( not froze ) red wine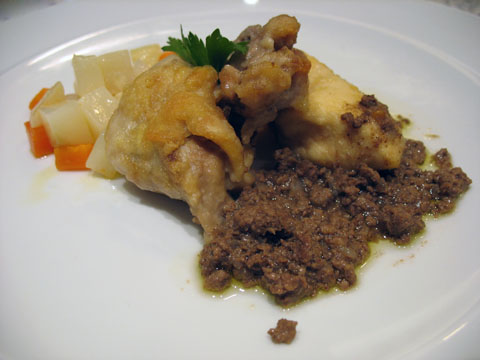 P.S: To the ladies ... be careful to prepare this special dinner ...your boy-f or husband or friend could fall in love for you ....in this and in the next eternity