Work and Jobs in Angleton, Texas (TX) Detailed Stats


Occupations, Industries, Unemployment, Workers, Commute




Opacity:
%
Hide borders
Hide US histogram
---
Reset to defaults
Latest news about work in Angleton, TX collected exclusively by city-data.com from local newspapers, TV, and radio stations
The most common industries in Angleton are: Chemicals (10.1% of civilian employees), Public administration (10.1% of civilian employees), Construction (9.9% of civilian employees). 79.4% of workers work in Brazoria County and 2.8% of all workers work at home. 73.4% of workers are employees of private companies, which is 2.9% greater than the rate of 71.3% across the entire state of Texas.
Whole page based on the data from 2000 / 2019 when the population of Angleton, Texas was 18,130 / 20,147
Most common industries



Most common industries

Industry

All

Males

Females

Chemicals
10.1%
(829)
15.6%
(693)
3.6%
(136)
Public administration
10.1%
(826)
10.2%
(454)
9.9%
(372)
Construction
9.9%
(815)
17.5%
(780)
0.9%
(35)
Educational services
9.7%
(798)
3.1%
(136)
17.6%
(662)
Health care
7.3%
(602)
2.1%
(92)
13.5%
(510)
Accommodation and food services
4.7%
(385)
3.2%
(143)
6.4%
(242)
Professional, scientific, and technical services
3.2%
(267)
3.0%
(132)
3.6%
(135)
Social assistance
3.2%
(261)
0.4%
(17)
6.5%
(244)
Department and other general merchandise stores
2.8%
(226)
2.1%
(93)
3.5%
(133)
Truck transportation
2.7%
(220)
4.7%
(208)
0.3%
(12)
Repair and maintenance
2.6%
(214)
3.8%
(170)
1.2%
(44)
Finance and insurance
2.5%
(209)
1.5%
(65)
3.8%
(144)
Computer and electronic products
2.5%
(203)
2.1%
(95)
2.9%
(108)
Administrative and support and waste management services
2.4%
(194)
2.2%
(100)
2.5%
(94)
Food and beverage stores
2.1%
(170)
0.8%
(36)
3.6%
(134)
Real estate and rental and leasing
1.9%
(157)
1.9%
(86)
1.9%
(71)
Arts, entertainment, and recreation
1.8%
(148)
2.1%
(93)
1.5%
(55)
Religious, grantmaking, civic, professional, and similar organizations
1.7%
(142)
0.4%
(16)
3.3%
(126)
Miscellaneous manufacturing
1.7%
(138)
1.4%
(61)
2.0%
(77)
Metal and metal products
1.5%
(126)
2.5%
(112)
0.4%
(14)
Motor vehicle and parts dealers
1.4%
(114)
2.3%
(101)
0.3%
(13)
Petroleum and coal products
1.3%
(105)
2.4%
(105)
0.0%
(0)
Other transportation, and support activities, and couriers
1.0%
(84)
1.2%
(54)
0.8%
(30)
Utilities
0.9%
(77)
1.5%
(67)
0.3%
(10)
Furniture and home furnishings, and household appliance stores
0.8%
(62)
1.0%
(43)
0.5%
(19)
Agriculture, forestry, fishing and hunting
0.6%
(51)
0.6%
(27)
0.6%
(24)
Building material and garden equipment and supplies dealers
0.6%
(49)
0.8%
(36)
0.3%
(13)
Broadcasting and telecommunications
0.6%
(47)
0.8%
(35)
0.3%
(12)
Personal and laundry services
0.6%
(46)
0.3%
(14)
0.8%
(32)
Radio, TV, and computer stores
0.5%
(45)
0.7%
(33)
0.3%
(12)
Private households
0.5%
(42)
0.0%
(0)
1.1%
(42)
Rail transportation
0.5%
(40)
0.9%
(40)
0.0%
(0)
Publishing, and motion picture and sound recording industries
0.5%
(39)
0.4%
(20)
0.5%
(19)
Electrical and electronic goods merchant wholesalers
0.4%
(35)
0.4%
(17)
0.5%
(18)
Sporting goods, camera, and hobby and toy stores
0.4%
(35)
0.2%
(7)
0.7%
(28)
Machinery
0.4%
(30)
0.7%
(30)
0.0%
(0)
Pharmacies and drug stores
0.3%
(27)
0.1%
(6)
0.6%
(21)
Mining, quarrying, and oil and gas extraction
0.3%
(26)
0.5%
(21)
0.1%
(5)
U. S. Postal service
0.3%
(26)
0.5%
(22)
0.1%
(4)
Air transportation
0.3%
(22)
0.5%
(22)
0.0%
(0)
Petroleum and petroleum products merchant wholesalers
0.3%
(22)
0.4%
(16)
0.2%
(6)
Data processing, libraries, and other information services
0.3%
(21)
0.0%
(0)
0.6%
(21)
Food
0.2%
(20)
0.3%
(14)
0.2%
(6)
Plastics and rubber products
0.2%
(20)
0.2%
(9)
0.3%
(11)
Wood products
0.2%
(19)
0.4%
(19)
0.0%
(0)
Machinery, equipment, and supplies merchant wholesalers
0.2%
(18)
0.3%
(12)
0.2%
(6)
Health and personal care, except drug, stores
0.2%
(18)
0.0%
(0)
0.5%
(18)
Clothing and accessories, including shoe, stores
0.2%
(17)
0.0%
(0)
0.5%
(17)
Music stores
0.2%
(17)
0.2%
(10)
0.2%
(7)
Beverage and tobacco products
0.2%
(15)
0.3%
(15)
0.0%
(0)
Groceries and related products merchant wholesalers
0.2%
(15)
0.3%
(12)
0.1%
(3)
Alcoholic beverages merchant wholesalers
0.2%
(14)
0.2%
(7)
0.2%
(7)
Transportation equipment
0.1%
(11)
0.2%
(11)
0.0%
(0)
Hardware, plumbing and heating equipment, and supplies merchant wholesalers
0.1%
(10)
0.2%
(10)
0.0%
(0)
Furniture and related product manufacturing
0.1%
(9)
0.1%
(6)
0.1%
(3)
Jewelry, luggage, and leather goods stores
0.1%
(7)
0.2%
(7)
0.0%
(0)
Used merchandise, gift, novelty, and souvenir, and other miscellaneous stores
0.1%
(6)
0.1%
(6)
0.0%
(0)
Book stores and news dealers
0.1%
(5)
0.1%
(5)
0.0%
(0)
Recyclable material merchant wholesalers
0.1%
(5)
0.1%
(5)
0.0%
(0)
Unemployment in Angleton
Unemployment by race in 2019
Unemployment rate for White non-Hispanic residents

2.0%

Males

1.5%

Females
Unemployment rate for Black residents

7.5%

Males

1.8%

Females
Unemployment rate for other race residents

10.4%

Males
Unemployment rate for Hispanic or Latino residents

1.7%

Males

5.0%

Females
Unemployment by race in 2000
Unemployment rate for White non-Hispanic residents

3.8%

Males

4.6%

Females
Unemployment rate for Black residents

5.1%

Males

13.2%

Females
Unemployment rate for American Indian and Alaska Native residents

19.5%

Females
Unemployment rate for Asian residents

41.7%

Females
Unemployment rate for other race residents

8.9%

Males

7.5%

Females
Unemployment rate for two or more race residents

11.8%

Males

24.3%

Females
Unemployment rate for Hispanic or Latino residents

10.4%

Males

9.4%

Females
Time leaving home to go to work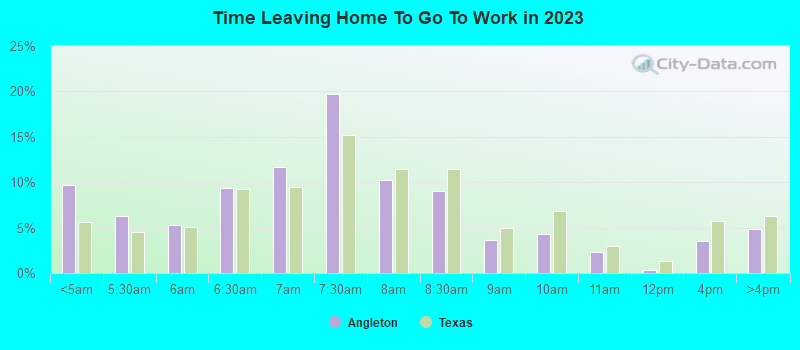 12:00 a.m. to 4:59 a.m.:

| | |
| --- | --- |
| Angleton: | 12.0% (1,102) |
| Texas: | 4.9% (639,596) |
5:00 a.m. to 5:29 a.m.:

| | |
| --- | --- |
| Angleton: | 8.0% (730) |
| Texas: | 4.4% (570,996) |
5:30 a.m. to 5:59 a.m.:

| | |
| --- | --- |
| Angleton: | 7.0% (639) |
| Texas: | 5.1% (661,165) |
6:00 a.m. to 6:29 a.m.:

| | |
| --- | --- |
| Angleton: | 10.6% (971) |
| Texas: | 9.9% (1,280,682) |
6:30 a.m. to 6:59 a.m.:

| | |
| --- | --- |
| Angleton: | 5.5% (502) |
| Texas: | 9.6% (1,242,121) |
7:00 a.m. to 7:29 a.m.:

| | |
| --- | --- |
| Angleton: | 15.3% (1,405) |
| Texas: | 15.8% (2,037,815) |
7:30 a.m. to 7:59 a.m.:

| | |
| --- | --- |
| Angleton: | 9.1% (832) |
| Texas: | 11.7% (1,506,759) |
8:00 a.m. to 8:29 a.m.:

| | |
| --- | --- |
| Angleton: | 10.2% (937) |
| Texas: | 11.2% (1,443,495) |
8:30 a.m. to 8:59 a.m.:

| | |
| --- | --- |
| Angleton: | 7.9% (729) |
| Texas: | 4.8% (618,639) |
9:00 a.m. to 9:59 a.m.:

| | |
| --- | --- |
| Angleton: | 4.3% (396) |
| Texas: | 6.7% (863,321) |
10:00 a.m. to 10:59 a.m.:

| | |
| --- | --- |
| Angleton: | 1.8% (166) |
| Texas: | 2.8% (358,071) |
12:00 p.m. to 3:59 p.m.:

| | |
| --- | --- |
| Angleton: | 5.0% (455) |
| Texas: | 5.9% (758,767) |
4:00 p.m. to 11:59 p.m.:

| | |
| --- | --- |
| Angleton: | 4.0% (367) |
| Texas: | 6.1% (793,378) |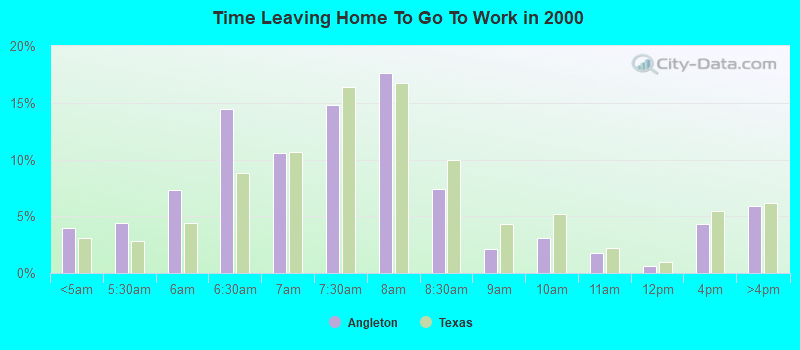 <5am:

| | |
| --- | --- |
| Angleton: | 3.9% (318) |
| Texas: | 3.1% (281,361) |
5:30am:

| | |
| --- | --- |
| Angleton: | 4.4% (354) |
| Texas: | 2.9% (262,060) |
6am:

| | |
| --- | --- |
| Angleton: | 7.4% (594) |
| Texas: | 4.4% (403,423) |
6:30am:

| | |
| --- | --- |
| Angleton: | 14.5% (1,171) |
| Texas: | 8.8% (808,876) |
7am:

| | |
| --- | --- |
| Angleton: | 10.6% (854) |
| Texas: | 10.7% (976,557) |
7:30am:

| | |
| --- | --- |
| Angleton: | 14.8% (1,198) |
| Texas: | 16.4% (1,500,904) |
8am:

| | |
| --- | --- |
| Angleton: | 17.6% (1,422) |
| Texas: | 16.8% (1,536,308) |
8:30am:

| | |
| --- | --- |
| Angleton: | 7.4% (599) |
| Texas: | 10.0% (913,601) |
9am:

| | |
| --- | --- |
| Angleton: | 2.2% (174) |
| Texas: | 4.4% (398,656) |
10am:

| | |
| --- | --- |
| Angleton: | 3.1% (249) |
| Texas: | 5.2% (472,592) |
11am:

| | |
| --- | --- |
| Angleton: | 1.8% (142) |
| Texas: | 2.2% (197,844) |
12pm:

| | |
| --- | --- |
| Angleton: | 0.6% (51) |
| Texas: | 0.9% (86,997) |
4pm:

| | |
| --- | --- |
| Angleton: | 4.3% (349) |
| Texas: | 5.5% (503,565) |
>4pm:

| | |
| --- | --- |
| Angleton: | 5.9% (474) |
| Texas: | 6.1% (563,107) |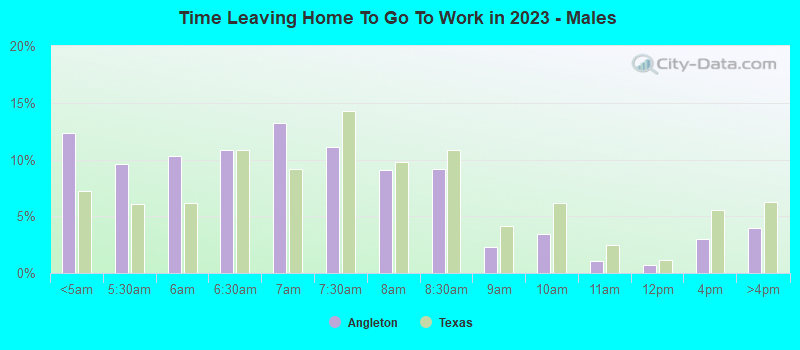 12:00 a.m. to 4:59 a.m. - Males:

| | |
| --- | --- |
| Angleton: | 16.3% (786) |
| Texas: | 6.4% (452,606) |
5:00 a.m. to 5:29 a.m. - Males:

| | |
| --- | --- |
| Angleton: | 9.1% (440) |
| Texas: | 5.8% (410,689) |
5:30 a.m. to 5:59 a.m. - Males:

| | |
| --- | --- |
| Angleton: | 8.3% (399) |
| Texas: | 6.2% (440,494) |
6:00 a.m. to 6:29 a.m. - Males:

| | |
| --- | --- |
| Angleton: | 11.8% (570) |
| Texas: | 11.6% (827,776) |
6:30 a.m. to 6:59 a.m. - Males:

| | |
| --- | --- |
| Angleton: | 7.2% (348) |
| Texas: | 9.5% (675,463) |
7:00 a.m. to 7:29 a.m. - Males:

| | |
| --- | --- |
| Angleton: | 14.3% (690) |
| Texas: | 14.6% (1,040,036) |
7:30 a.m. to 7:59 a.m. - Males:

| | |
| --- | --- |
| Angleton: | 8.0% (387) |
| Texas: | 10.1% (714,665) |
8:00 a.m. to 8:29 a.m. - Males:

| | |
| --- | --- |
| Angleton: | 6.9% (335) |
| Texas: | 10.4% (739,335) |
8:30 a.m. to 8:59 a.m. - Males:

| | |
| --- | --- |
| Angleton: | 3.9% (187) |
| Texas: | 4.1% (292,864) |
9:00 a.m. to 9:59 a.m. - Males:

| | |
| --- | --- |
| Angleton: | 4.2% (201) |
| Texas: | 5.9% (422,359) |
10:00 a.m. to 10:59 a.m. - Males:

| | |
| --- | --- |
| Angleton: | 1.6% (77) |
| Texas: | 2.4% (173,482) |
12:00 p.m. to 3:59 p.m. - Males:

| | |
| --- | --- |
| Angleton: | 3.5% (169) |
| Texas: | 5.6% (400,826) |
4:00 p.m. to 11:59 p.m. - Males:

| | |
| --- | --- |
| Angleton: | 3.1% (149) |
| Texas: | 6.2% (439,519) |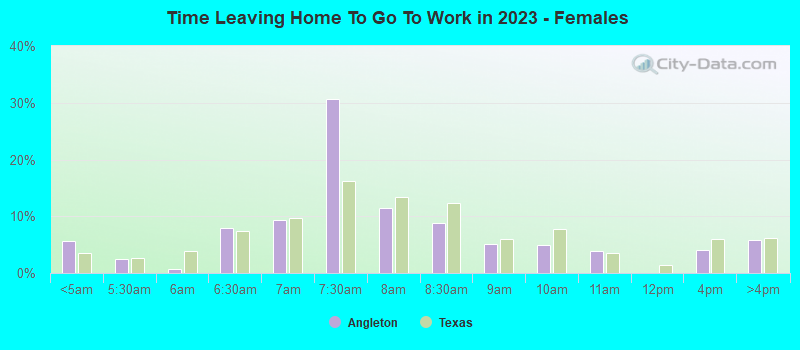 12:00 a.m. to 4:59 a.m. - Females:

| | |
| --- | --- |
| Angleton: | 7.5% (324) |
| Texas: | 3.2% (186,990) |
5:00 a.m. to 5:29 a.m. - Females:

| | |
| --- | --- |
| Angleton: | 7.7% (335) |
| Texas: | 2.8% (160,307) |
5:30 a.m. to 5:59 a.m. - Females:

| | |
| --- | --- |
| Angleton: | 5.6% (242) |
| Texas: | 3.8% (220,671) |
6:00 a.m. to 6:29 a.m. - Females:

| | |
| --- | --- |
| Angleton: | 9.0% (392) |
| Texas: | 7.8% (452,906) |
6:30 a.m. to 6:59 a.m. - Females:

| | |
| --- | --- |
| Angleton: | 3.6% (158) |
| Texas: | 9.7% (566,658) |
7:00 a.m. to 7:29 a.m. - Females:

| | |
| --- | --- |
| Angleton: | 16.4% (713) |
| Texas: | 17.1% (997,779) |
7:30 a.m. to 7:59 a.m. - Females:

| | |
| --- | --- |
| Angleton: | 10.2% (442) |
| Texas: | 13.6% (792,094) |
8:00 a.m. to 8:29 a.m. - Females:

| | |
| --- | --- |
| Angleton: | 14.0% (607) |
| Texas: | 12.1% (704,160) |
8:30 a.m. to 8:59 a.m. - Females:

| | |
| --- | --- |
| Angleton: | 12.9% (563) |
| Texas: | 5.6% (325,775) |
9:00 a.m. to 9:59 a.m. - Females:

| | |
| --- | --- |
| Angleton: | 4.5% (195) |
| Texas: | 7.6% (440,962) |
10:00 a.m. to 10:59 a.m. - Females:

| | |
| --- | --- |
| Angleton: | 1.4% (60) |
| Texas: | 3.2% (184,589) |
12:00 p.m. to 3:59 p.m. - Females:

| | |
| --- | --- |
| Angleton: | 6.1% (263) |
| Texas: | 6.1% (357,941) |
4:00 p.m. to 11:59 p.m. - Females:

| | |
| --- | --- |
| Angleton: | 5.2% (225) |
| Texas: | 6.1% (353,859) |
Travel time to work
Percentage of workers working in this county: 79.4%
Number of people working at home: 264 (2.8% of all workers)
Daytime population change due to commuting: -977 (-5.4%)
Workers who live and work in this city: 2,874 (35.6%)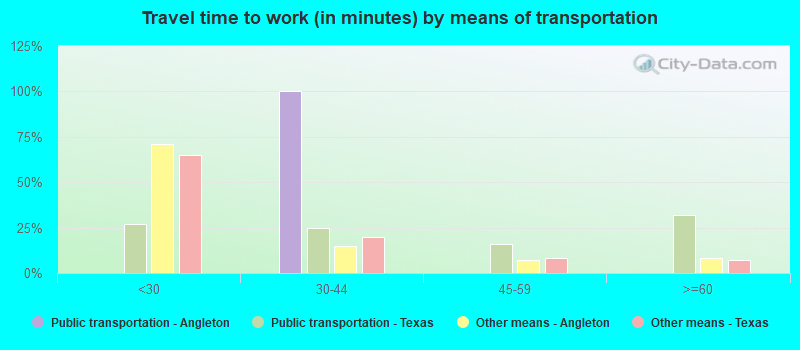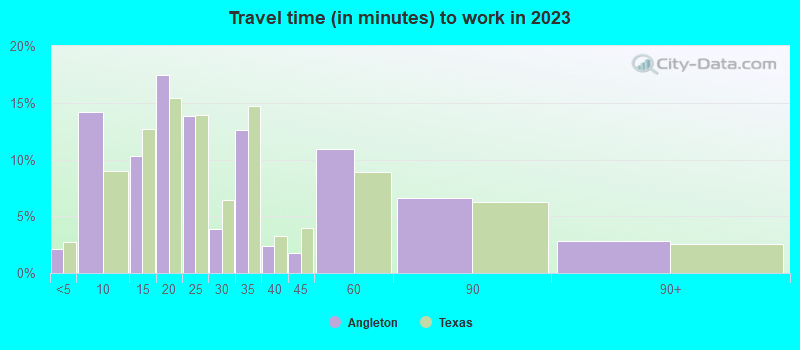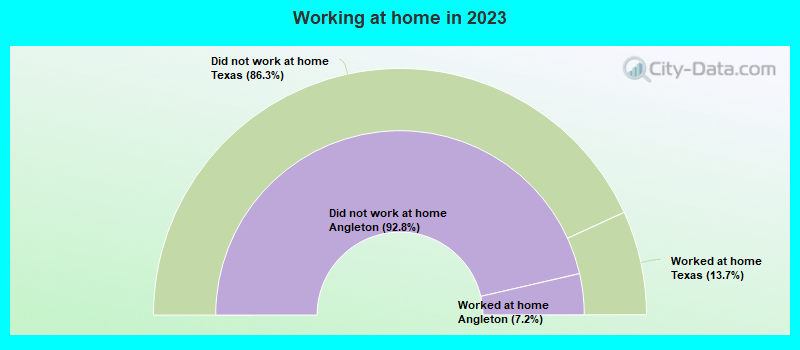 Less than 5 minutes:

| | |
| --- | --- |
| Angleton: | 1.9% (160) |
| Texas: | 2.4% (306,824) |
5 to 9 minutes:

| | |
| --- | --- |
| Angleton: | 14.5% (1,200) |
| Texas: | 8.8% (1,139,543) |
10 to 14 minutes:

| | |
| --- | --- |
| Angleton: | 14.1% (1,163) |
| Texas: | 12.7% (1,646,286) |
15 to 19 minutes:

| | |
| --- | --- |
| Angleton: | 18.6% (1,540) |
| Texas: | 15.5% (2,000,043) |
20 to 24 minutes:

| | |
| --- | --- |
| Angleton: | 13.8% (1,140) |
| Texas: | 14.4% (1,860,309) |
25 to 29 minutes:

| | |
| --- | --- |
| Angleton: | 3.3% (271) |
| Texas: | 6.3% (813,250) |
30 to 34 minutes:

| | |
| --- | --- |
| Angleton: | 14.5% (1,195) |
| Texas: | 15.1% (1,949,955) |
35 to 39 minutes:

| | |
| --- | --- |
| Angleton: | 3.1% (253) |
| Texas: | 3.1% (403,994) |
40 to 44 minutes:

| | |
| --- | --- |
| Angleton: | 1.9% (160) |
| Texas: | 4.0% (513,208) |
45 to 59 minutes:

| | |
| --- | --- |
| Angleton: | 9.3% (767) |
| Texas: | 8.9% (1,143,763) |
60 to 89 minutes:

| | |
| --- | --- |
| Angleton: | 3.9% (326) |
| Texas: | 6.3% (811,492) |
90 or more minutes:

| | |
| --- | --- |
| Angleton: | 0.4% (36) |
| Texas: | 2.5% (328,961) |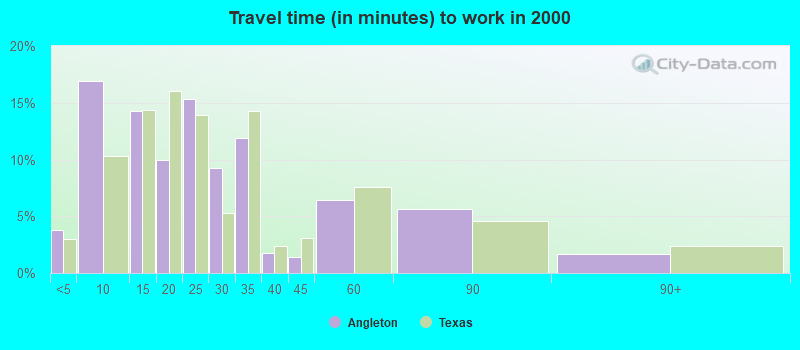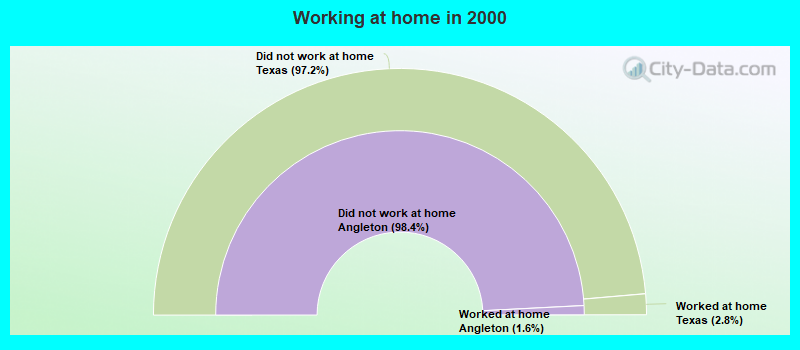 Less than 5 minutes:

| | |
| --- | --- |
| Angleton: | 3.8% (303) |
| Texas: | 3.0% (277,642) |
5 to 9 minutes:

| | |
| --- | --- |
| Angleton: | 16.9% (1,368) |
| Texas: | 10.3% (942,891) |
10 to 14 minutes:

| | |
| --- | --- |
| Angleton: | 14.3% (1,152) |
| Texas: | 14.4% (1,317,555) |
15 to 19 minutes:

| | |
| --- | --- |
| Angleton: | 9.9% (803) |
| Texas: | 16.0% (1,467,945) |
20 to 24 minutes:

| | |
| --- | --- |
| Angleton: | 15.3% (1,238) |
| Texas: | 13.9% (1,276,781) |
25 to 29 minutes:

| | |
| --- | --- |
| Angleton: | 9.3% (751) |
| Texas: | 5.3% (482,838) |
30 to 34 minutes:

| | |
| --- | --- |
| Angleton: | 11.9% (964) |
| Texas: | 14.3% (1,309,699) |
35 to 39 minutes:

| | |
| --- | --- |
| Angleton: | 1.8% (144) |
| Texas: | 2.4% (219,873) |
40 to 44 minutes:

| | |
| --- | --- |
| Angleton: | 1.4% (112) |
| Texas: | 3.1% (280,916) |
45 to 59 minutes:

| | |
| --- | --- |
| Angleton: | 6.4% (518) |
| Texas: | 7.6% (692,006) |
60 to 89 minutes:

| | |
| --- | --- |
| Angleton: | 5.7% (459) |
| Texas: | 4.6% (418,905) |
90 or more minutes:

| | |
| --- | --- |
| Angleton: | 1.7% (137) |
| Texas: | 2.4% (218,800) |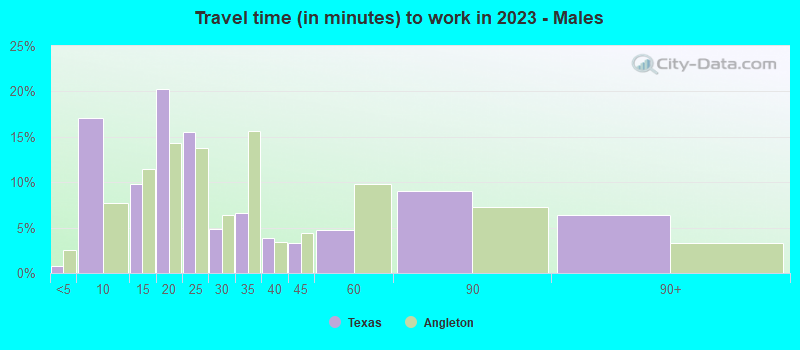 Less than 5 minutes - Males:

| | |
| --- | --- |
| Angleton: | 1.9% (78) |
| Texas: | 2.2% (156,904) |
5 to 9 minutes - Males:

| | |
| --- | --- |
| Angleton: | 11.2% (472) |
| Texas: | 8.0% (565,857) |
10 to 14 minutes - Males:

| | |
| --- | --- |
| Angleton: | 12.7% (534) |
| Texas: | 11.5% (814,926) |
15 to 19 minutes - Males:

| | |
| --- | --- |
| Angleton: | 13.9% (582) |
| Texas: | 14.8% (1,052,720) |
20 to 24 minutes - Males:

| | |
| --- | --- |
| Angleton: | 12.5% (523) |
| Texas: | 14.0% (991,619) |
25 to 29 minutes - Males:

| | |
| --- | --- |
| Angleton: | 3.2% (136) |
| Texas: | 6.1% (434,279) |
30 to 34 minutes - Males:

| | |
| --- | --- |
| Angleton: | 16.3% (686) |
| Texas: | 16.0% (1,132,238) |
35 to 39 minutes - Males:

| | |
| --- | --- |
| Angleton: | 5.1% (214) |
| Texas: | 3.2% (223,860) |
40 to 44 minutes - Males:

| | |
| --- | --- |
| Angleton: | 3.1% (128) |
| Texas: | 4.2% (296,700) |
45 to 59 minutes - Males:

| | |
| --- | --- |
| Angleton: | 12.1% (509) |
| Texas: | 9.5% (671,752) |
60 to 89 minutes - Males:

| | |
| --- | --- |
| Angleton: | 7.4% (308) |
| Texas: | 7.3% (521,274) |
90 or more minutes - Males:

| | |
| --- | --- |
| Angleton: | 0.2% (10) |
| Texas: | 3.3% (231,917) |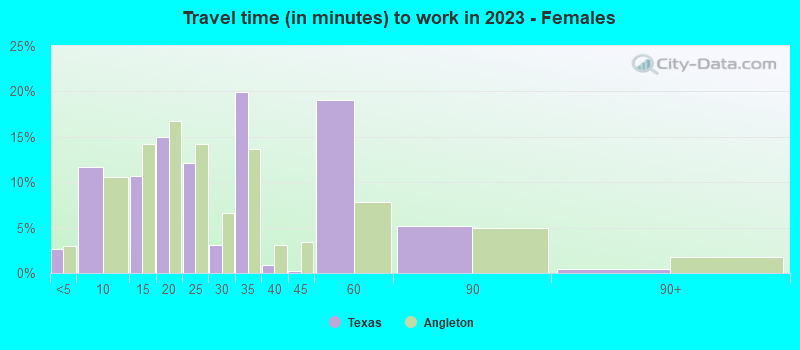 Less than 5 minutes - Females:

| | |
| --- | --- |
| Angleton: | 2.0% (82) |
| Texas: | 2.6% (149,920) |
5 to 9 minutes - Females:

| | |
| --- | --- |
| Angleton: | 17.8% (726) |
| Texas: | 9.9% (573,686) |
10 to 14 minutes - Females:

| | |
| --- | --- |
| Angleton: | 15.5% (630) |
| Texas: | 14.3% (831,360) |
15 to 19 minutes - Females:

| | |
| --- | --- |
| Angleton: | 23.4% (952) |
| Texas: | 16.3% (947,323) |
20 to 24 minutes - Females:

| | |
| --- | --- |
| Angleton: | 15.2% (619) |
| Texas: | 14.9% (868,690) |
25 to 29 minutes - Females:

| | |
| --- | --- |
| Angleton: | 3.3% (135) |
| Texas: | 6.5% (378,971) |
30 to 34 minutes - Females:

| | |
| --- | --- |
| Angleton: | 12.5% (510) |
| Texas: | 14.0% (817,717) |
35 to 39 minutes - Females:

| | |
| --- | --- |
| Angleton: | 0.8% (34) |
| Texas: | 3.1% (180,134) |
40 to 44 minutes - Females:

| | |
| --- | --- |
| Angleton: | 0.8% (31) |
| Texas: | 3.7% (216,508) |
45 to 59 minutes - Females:

| | |
| --- | --- |
| Angleton: | 6.3% (258) |
| Texas: | 8.1% (472,011) |
60 to 89 minutes - Females:

| | |
| --- | --- |
| Angleton: | 0.5% (19) |
| Texas: | 5.0% (290,218) |
90 or more minutes - Females:

| | |
| --- | --- |
| Angleton: | 0.6% (26) |
| Texas: | 1.7% (97,044) |
Means of transportation to work
Drove car alone:

| | |
| --- | --- |
| Angleton: | 88.7% (7,068) |
| Texas: | 85.0% (4,974,394) |
Carpooled:

| | |
| --- | --- |
| Angleton: | 8.8% (699) |
| Texas: | 10.3% (608,111) |
Bus:

| | |
| --- | --- |
| Angleton: | 0.1% (10) |
| Texas: | 1.2% (68,374) |
Bicycle:

| | |
| --- | --- |
| Angleton: | 0.5% (38) |
| Texas: | 0.2% (7,166) |
Walked:

| | |
| --- | --- |
| Angleton: | 0.8% (62) |
| Texas: | 1.6% (87,329) |
Other means:

| | |
| --- | --- |
| Angleton: | 1.2% (92) |
| Texas: | 1.4% (66,695) |
Drove car alone:

| | |
| --- | --- |
| Angleton: | 81.9% (6,620) |
| Texas: | 77.7% (7,115,590) |
Carpooled:

| | |
| --- | --- |
| Angleton: | 13.6% (1,096) |
| Texas: | 14.5% (1,326,012) |
Bus or trolley bus:

| | |
| --- | --- |
| Angleton: | 0.2% (20) |
| Texas: | 1.7% (157,014) |
Motorcycle:

| | |
| --- | --- |
| Angleton: | 0.1% (10) |
| Texas: | 0.1% (12,068) |
Bicycle:

| | |
| --- | --- |
| Angleton: | 0.4% (31) |
| Texas: | 0.2% (21,551) |
Walked:

| | |
| --- | --- |
| Angleton: | 1.5% (123) |
| Texas: | 1.9% (173,670) |
Other means:

| | |
| --- | --- |
| Angleton: | 0.6% (49) |
| Texas: | 0.9% (86,692) |
Drove car alone - Males:

| | |
| --- | --- |
| Angleton: | 85.6% (3,465) |
| Texas: | 84.7% (4,974,394) |
Carpooled - Males:

| | |
| --- | --- |
| Angleton: | 11.7% (472) |
| Texas: | 10.1% (608,111) |
Bus - Males:

| | |
| --- | --- |
| Angleton: | 0.2% (9) |
| Texas: | 1.2% (68,374) |
Bicycle - Males:

| | |
| --- | --- |
| Angleton: | 0.4% (16) |
| Texas: | 0.3% (7,166) |
Walked - Males:

| | |
| --- | --- |
| Angleton: | 0.3% (14) |
| Texas: | 1.7% (87,329) |
Other means - Males:

| | |
| --- | --- |
| Angleton: | 1.8% (72) |
| Texas: | 1.6% (66,695) |
Drove car alone - Females:

| | |
| --- | --- |
| Angleton: | 91.9% (3,603) |
| Texas: | 85.4% (4,974,394) |
Carpooled - Females:

| | |
| --- | --- |
| Angleton: | 5.8% (227) |
| Texas: | 10.4% (608,111) |
Bus - Females:

| | |
| --- | --- |
| Angleton: | 0.0% (1) |
| Texas: | 1.2% (68,374) |
Bicycle - Females:

| | |
| --- | --- |
| Angleton: | 0.6% (22) |
| Texas: | 0.1% (7,166) |
Walked - Females:

| | |
| --- | --- |
| Angleton: | 1.2% (48) |
| Texas: | 1.5% (87,329) |
Other means - Females:

| | |
| --- | --- |
| Angleton: | 0.5% (20) |
| Texas: | 1.1% (66,695) |
Private vehicle occupancy

Drove alone:

| | |
| --- | --- |
| Angleton: | 91.9% (8,150) |
| Texas: | 89.2% (10,992,403) |
In 2 person carpool:

| | |
| --- | --- |
| Angleton: | 6.9% (609) |
| Texas: | 7.9% (973,786) |
In 3 person carpool:

| | |
| --- | --- |
| Angleton: | 0.4% (38) |
| Texas: | 1.6% (195,199) |
In 4 person carpool:

| | |
| --- | --- |
| Angleton: | 0.5% (44) |
| Texas: | 0.7% (86,987) |
In 7+ person carpool:

| | |
| --- | --- |
| Angleton: | 0.3% (28) |
| Texas: | 0.2% (20,842) |

Drove alone:

| | |
| --- | --- |
| Angleton: | 85.8% (6,620) |
| Texas: | 84.3% (7,115,590) |
In 2 person carpool:

| | |
| --- | --- |
| Angleton: | 11.1% (857) |
| Texas: | 11.6% (982,994) |
In 3 person carpool:

| | |
| --- | --- |
| Angleton: | 1.8% (141) |
| Texas: | 2.4% (201,602) |
In 4 person carpool:

| | |
| --- | --- |
| Angleton: | 1.1% (85) |
| Texas: | 1.0% (83,518) |
In 5-6 person carpool:

| | |
| --- | --- |
| Angleton: | 0.1% (7) |
| Texas: | 0.5% (40,662) |
In 7+ person carpool:

| | |
| --- | --- |
| Angleton: | 0.1% (6) |
| Texas: | 0.2% (17,236) |
Class of workers
Employee of private company:

| | |
| --- | --- |
| Angleton: | 73.4% (6,935) |
| Texas: | 71.3% (9,866,175) |
Self-employed in own incorporated business:

| | |
| --- | --- |
| Angleton: | 1.4% (130) |
| Texas: | 3.1% (425,756) |
Private not-for-profit wage and salary workers:

| | |
| --- | --- |
| Angleton: | 2.7% (253) |
| Texas: | 5.4% (750,124) |
Local government workers:

| | |
| --- | --- |
| Angleton: | 9.9% (937) |
| Texas: | 7.2% (992,151) |
State government workers:

| | |
| --- | --- |
| Angleton: | 5.1% (486) |
| Texas: | 4.1% (572,106) |
Federal government workers:

| | |
| --- | --- |
| Angleton: | 2.5% (237) |
| Texas: | 2.0% (275,613) |
Self-employed workers in own not incorporated business:

| | |
| --- | --- |
| Angleton: | 5.0% (475) |
| Texas: | 6.6% (910,897) |
Employee of private company:

| | |
| --- | --- |
| Angleton: | 65.7% (5,402) |
| Texas: | 69.6% (6,425,274) |
Self-employed in own incorporated business:

| | |
| --- | --- |
| Angleton: | 1.0% (82) |
| Texas: | 2.7% (250,864) |
Private not-for-profit wage and salary workers:

| | |
| --- | --- |
| Angleton: | 4.9% (400) |
| Texas: | 5.7% (526,631) |
Local government workers:

| | |
| --- | --- |
| Angleton: | 10.3% (845) |
| Texas: | 6.6% (608,479) |
State government workers:

| | |
| --- | --- |
| Angleton: | 10.1% (828) |
| Texas: | 5.4% (501,082) |
Federal government workers:

| | |
| --- | --- |
| Angleton: | 1.0% (86) |
| Texas: | 2.6% (237,177) |
Self-employed workers in own not incorporated business:

| | |
| --- | --- |
| Angleton: | 6.6% (543) |
| Texas: | 7.1% (653,527) |
Unpaid family workers:

| | |
| --- | --- |
| Angleton: | 0.4% (31) |
| Texas: | 0.3% (31,338) |
Employee of private company - Males:

| | |
| --- | --- |
| Angleton: | 79.4% (3,932) |
| Texas: | 74.7% (5,607,036) |
Self-employed in own incorporated business - Males:

| | |
| --- | --- |
| Angleton: | 1.1% (56) |
| Texas: | 3.6% (270,638) |
Private not-for-profit wage and salary workers - Males:

| | |
| --- | --- |
| Angleton: | 1.9% (92) |
| Texas: | 3.6% (270,714) |
Local government workers - Males:

| | |
| --- | --- |
| Angleton: | 7.2% (356) |
| Texas: | 5.1% (385,628) |
State government workers - Males:

| | |
| --- | --- |
| Angleton: | 2.2% (111) |
| Texas: | 3.0% (226,109) |
Federal government workers - Males:

| | |
| --- | --- |
| Angleton: | 2.6% (131) |
| Texas: | 2.1% (159,979) |
Self-employed workers in own not incorporated business - Males:

| | |
| --- | --- |
| Angleton: | 5.4% (269) |
| Texas: | 7.5% (562,126) |
Employee of private company - Females:

| | |
| --- | --- |
| Angleton: | 66.8% (3,002) |
| Texas: | 67.3% (4,259,139) |
Self-employed in own incorporated business - Females:

| | |
| --- | --- |
| Angleton: | 1.7% (74) |
| Texas: | 2.5% (155,118) |
Private not-for-profit wage and salary workers - Females:

| | |
| --- | --- |
| Angleton: | 3.6% (161) |
| Texas: | 7.6% (479,410) |
Local government workers - Females:

| | |
| --- | --- |
| Angleton: | 12.9% (581) |
| Texas: | 9.6% (606,523) |
State government workers - Females:

| | |
| --- | --- |
| Angleton: | 8.4% (375) |
| Texas: | 5.5% (345,997) |
Federal government workers - Females:

| | |
| --- | --- |
| Angleton: | 2.4% (106) |
| Texas: | 1.8% (115,634) |
Self-employed workers in own not incorporated business - Females:

| | |
| --- | --- |
| Angleton: | 4.6% (206) |
| Texas: | 5.5% (348,771) |