Work and Jobs in Ashland, Mississippi (MS) Detailed Stats


Occupations, Industries, Unemployment, Workers, Commute




Opacity:
%
Hide borders
Hide US histogram
---
Reset to defaults
Latest news about work in Ashland, MS collected exclusively by city-data.com from local newspapers, TV, and radio stations
The most common industries in Ashland are: Construction (13.2% of civilian employees), Health care (8.0% of civilian employees), Computer & electronic products (7.5% of civilian employees). 32.4% of workers work in Benton County and 5.7% of all workers work at home. 66.1% of workers are employees of private companies, which is 2.8% less than the rate of 68.0% across the entire state of Mississippi.
Whole page based on the data from 2000 / 2017 when the population of Ashland, Mississippi was 577 / 545
Most common industries


Most common industries

Industry

All

Males

Females

Construction
13.2%
(28)
20.8%
(21)
6.3%
(7)
Health care
8.0%
(17)
0.0%
(0)
15.3%
(17)
Computer and electronic products
7.5%
(16)
0.0%
(0)
14.4%
(16)
Public administration
7.1%
(15)
7.9%
(8)
6.3%
(7)
Truck transportation
4.2%
(9)
8.9%
(9)
0.0%
(0)
Food and beverage stores
3.8%
(8)
4.0%
(4)
3.6%
(4)
Religious, grantmaking, civic, professional, and similar organizations
3.8%
(8)
5.0%
(5)
2.7%
(3)
Furniture and related product manufacturing
3.8%
(8)
2.0%
(2)
5.4%
(6)
Finance and insurance
3.8%
(8)
3.0%
(3)
4.5%
(5)
Educational services
3.3%
(7)
3.0%
(3)
3.6%
(4)
Agriculture, forestry, fishing and hunting
2.8%
(6)
5.9%
(6)
0.0%
(0)
Apparel
2.8%
(6)
0.0%
(0)
5.4%
(6)
Other direct selling establishments
2.4%
(5)
0.0%
(0)
4.5%
(5)
Gasoline stations
2.4%
(5)
5.0%
(5)
0.0%
(0)
Machinery
2.4%
(5)
5.0%
(5)
0.0%
(0)
Miscellaneous manufacturing
2.4%
(5)
5.0%
(5)
0.0%
(0)
Personal and laundry services
1.9%
(4)
0.0%
(0)
3.6%
(4)
Social assistance
1.9%
(4)
0.0%
(0)
3.6%
(4)
Department and other general merchandise stores
1.9%
(4)
0.0%
(0)
3.6%
(4)
Metal and metal products
1.9%
(4)
2.0%
(2)
1.8%
(2)
Pharmacies and drug stores
1.4%
(3)
0.0%
(0)
2.7%
(3)
Wood products
1.4%
(3)
3.0%
(3)
0.0%
(0)
Miscellaneous durable goods merchant wholesalers
1.4%
(3)
0.0%
(0)
2.7%
(3)
Transportation equipment
1.4%
(3)
3.0%
(3)
0.0%
(0)
Lumber and other construction materials merchant wholesalers
0.9%
(2)
2.0%
(2)
0.0%
(0)
Publishing, and motion picture and sound recording industries
0.9%
(2)
0.0%
(0)
1.8%
(2)
Real estate and rental and leasing
0.9%
(2)
2.0%
(2)
0.0%
(0)
Arts, entertainment, and recreation
0.9%
(2)
2.0%
(2)
0.0%
(0)
Accommodation and food services
0.9%
(2)
0.0%
(0)
1.8%
(2)
Paper
0.9%
(2)
2.0%
(2)
0.0%
(0)
Printing and related support activities
0.9%
(2)
0.0%
(0)
1.8%
(2)
Miscellaneous nondurable goods merchant wholesalers
0.9%
(2)
2.0%
(2)
0.0%
(0)
Motor vehicle and parts dealers
0.9%
(2)
2.0%
(2)
0.0%
(0)
Building material and garden equipment and supplies dealers
0.9%
(2)
2.0%
(2)
0.0%
(0)
Sewing, needlework, and piece goods stores
0.9%
(2)
0.0%
(0)
1.8%
(2)
Retail florists
0.9%
(2)
0.0%
(0)
1.8%
(2)
U. S. Postal service
0.9%
(2)
2.0%
(2)
0.0%
(0)
Repair and maintenance
0.5%
(1)
1.0%
(1)
0.0%
(0)
Private households
0.5%
(1)
0.0%
(0)
0.9%
(1)
Unemployment in Ashland
Unemployment by race in 2017
Unemployment rate for White non-Hispanic residents

11.1%

Males
Unemployment rate for two or more race residents

44.2%

Males
Unemployment by race in 2000
Unemployment rate for White non-Hispanic residents

9.2%

Males

4.3%

Females
Time leaving home to go to work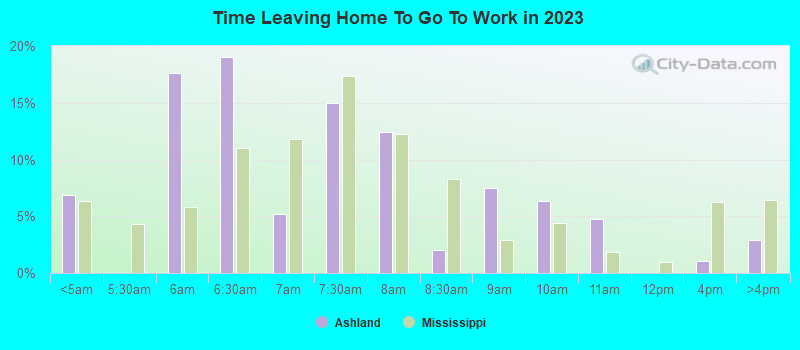 12:00 a.m. to 4:59 a.m.:

| | |
| --- | --- |
| Ashland: | 13.6% (22) |
| Mississippi: | 6.3% (75,234) |
5:00 a.m. to 5:29 a.m.:

| | |
| --- | --- |
| Ashland: | 9.4% (15) |
| Mississippi: | 4.7% (56,224) |
5:30 a.m. to 5:59 a.m.:

| | |
| --- | --- |
| Ashland: | 4.6% (7) |
| Mississippi: | 5.8% (68,684) |
6:00 a.m. to 6:29 a.m.:

| | |
| --- | --- |
| Ashland: | 5.1% (8) |
| Mississippi: | 11.0% (130,298) |
6:30 a.m. to 6:59 a.m.:

| | |
| --- | --- |
| Ashland: | 7.7% (12) |
| Mississippi: | 12.9% (153,643) |
7:00 a.m. to 7:29 a.m.:

| | |
| --- | --- |
| Ashland: | 16.6% (27) |
| Mississippi: | 15.9% (188,713) |
7:30 a.m. to 7:59 a.m.:

| | |
| --- | --- |
| Ashland: | 17.2% (28) |
| Mississippi: | 12.6% (149,778) |
8:00 a.m. to 8:29 a.m.:

| | |
| --- | --- |
| Ashland: | 5.4% (9) |
| Mississippi: | 8.2% (96,840) |
8:30 a.m. to 8:59 a.m.:

| | |
| --- | --- |
| Ashland: | 13.9% (22) |
| Mississippi: | 3.0% (36,104) |
10:00 a.m. to 10:59 a.m.:

| | |
| --- | --- |
| Ashland: | 3.4% (5) |
| Mississippi: | 1.9% (22,333) |
12:00 p.m. to 3:59 p.m.:

| | |
| --- | --- |
| Ashland: | 2.9% (5) |
| Mississippi: | 5.9% (70,004) |
4:00 p.m. to 11:59 p.m.:

| | |
| --- | --- |
| Ashland: | 1.2% (2) |
| Mississippi: | 7.1% (84,711) |
<5am:

| | |
| --- | --- |
| Ashland: | 1.9% (4) |
| Mississippi: | 4.3% (50,086) |
5:30am:

| | |
| --- | --- |
| Ashland: | 7.2% (15) |
| Mississippi: | 3.4% (39,399) |
6am:

| | |
| --- | --- |
| Ashland: | 3.9% (8) |
| Mississippi: | 5.4% (62,297) |
6:30am:

| | |
| --- | --- |
| Ashland: | 15.9% (33) |
| Mississippi: | 10.7% (125,036) |
7am:

| | |
| --- | --- |
| Ashland: | 15.9% (33) |
| Mississippi: | 14.0% (163,121) |
7:30am:

| | |
| --- | --- |
| Ashland: | 11.6% (24) |
| Mississippi: | 15.7% (182,928) |
8am:

| | |
| --- | --- |
| Ashland: | 11.1% (23) |
| Mississippi: | 15.7% (182,414) |
8:30am:

| | |
| --- | --- |
| Ashland: | 11.1% (23) |
| Mississippi: | 6.9% (80,436) |
9am:

| | |
| --- | --- |
| Ashland: | 2.9% (6) |
| Mississippi: | 2.7% (31,822) |
10am:

| | |
| --- | --- |
| Ashland: | 8.2% (17) |
| Mississippi: | 3.4% (39,736) |
4pm:

| | |
| --- | --- |
| Ashland: | 6.8% (14) |
| Mississippi: | 6.6% (77,163) |
>4pm:

| | |
| --- | --- |
| Ashland: | 1.9% (4) |
| Mississippi: | 6.9% (80,157) |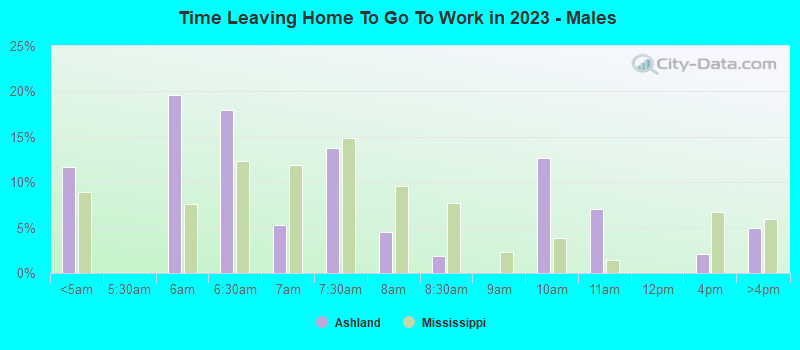 12:00 a.m. to 4:59 a.m. - Males:

| | |
| --- | --- |
| Ashland: | 22.4% (18) |
| Mississippi: | 8.8% (53,869) |
5:00 a.m. to 5:29 a.m. - Males:

| | |
| --- | --- |
| Ashland: | 17.8% (14) |
| Mississippi: | 6.3% (38,652) |
5:30 a.m. to 5:59 a.m. - Males:

| | |
| --- | --- |
| Ashland: | 7.3% (6) |
| Mississippi: | 6.8% (41,451) |
6:00 a.m. to 6:29 a.m. - Males:

| | |
| --- | --- |
| Ashland: | 8.8% (7) |
| Mississippi: | 13.3% (80,960) |
6:30 a.m. to 6:59 a.m. - Males:

| | |
| --- | --- |
| Ashland: | 13.5% (11) |
| Mississippi: | 13.0% (79,465) |
7:00 a.m. to 7:29 a.m. - Males:

| | |
| --- | --- |
| Ashland: | 13.1% (11) |
| Mississippi: | 14.1% (86,186) |
8:00 a.m. to 8:29 a.m. - Males:

| | |
| --- | --- |
| Ashland: | 7.6% (6) |
| Mississippi: | 7.3% (44,693) |
8:30 a.m. to 8:59 a.m. - Males:

| | |
| --- | --- |
| Ashland: | 5.1% (4) |
| Mississippi: | 2.4% (14,780) |
10:00 a.m. to 10:59 a.m. - Males:

| | |
| --- | --- |
| Ashland: | 6.4% (5) |
| Mississippi: | 1.4% (8,636) |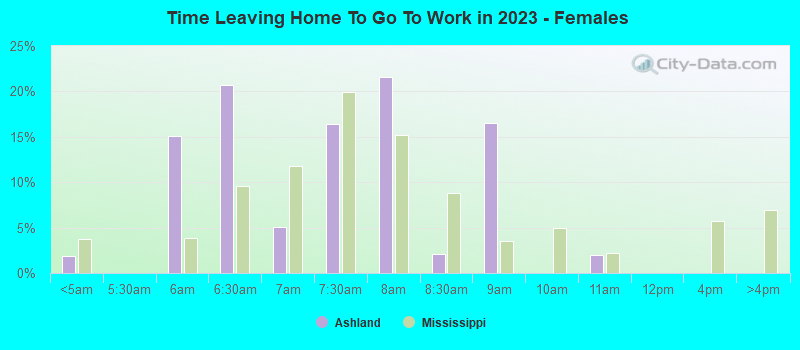 12:00 a.m. to 4:59 a.m. - Females:

| | |
| --- | --- |
| Ashland: | 4.3% (3) |
| Mississippi: | 3.7% (21,365) |
5:30 a.m. to 5:59 a.m. - Females:

| | |
| --- | --- |
| Ashland: | 1.5% (1) |
| Mississippi: | 4.7% (27,233) |
6:00 a.m. to 6:29 a.m. - Females:

| | |
| --- | --- |
| Ashland: | 1.3% (1) |
| Mississippi: | 8.5% (49,338) |
6:30 a.m. to 6:59 a.m. - Females:

| | |
| --- | --- |
| Ashland: | 1.4% (1) |
| Mississippi: | 12.9% (74,178) |
7:00 a.m. to 7:29 a.m. - Females:

| | |
| --- | --- |
| Ashland: | 20.1% (16) |
| Mississippi: | 17.8% (102,527) |
7:30 a.m. to 7:59 a.m. - Females:

| | |
| --- | --- |
| Ashland: | 34.9% (27) |
| Mississippi: | 15.6% (89,938) |
8:00 a.m. to 8:29 a.m. - Females:

| | |
| --- | --- |
| Ashland: | 2.8% (2) |
| Mississippi: | 9.0% (52,147) |
8:30 a.m. to 8:59 a.m. - Females:

| | |
| --- | --- |
| Ashland: | 23.0% (18) |
| Mississippi: | 3.7% (21,324) |
12:00 p.m. to 3:59 p.m. - Females:

| | |
| --- | --- |
| Ashland: | 5.9% (5) |
| Mississippi: | 6.1% (35,107) |
4:00 p.m. to 11:59 p.m. - Females:

| | |
| --- | --- |
| Ashland: | 2.5% (2) |
| Mississippi: | 7.1% (41,037) |
Travel time to work
Percentage of workers working in this county: 32.4%
Number of people working at home: 9 (5.7% of all workers)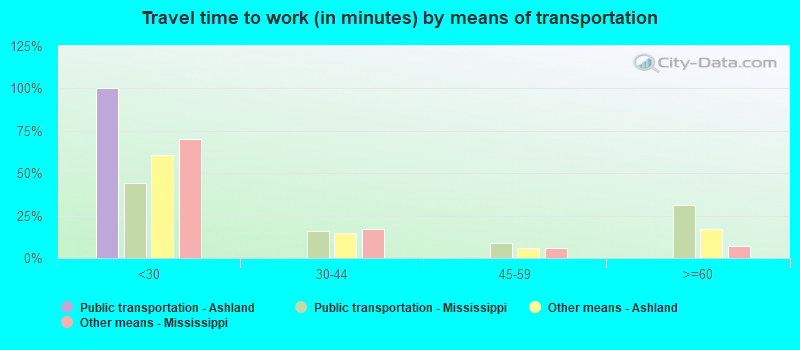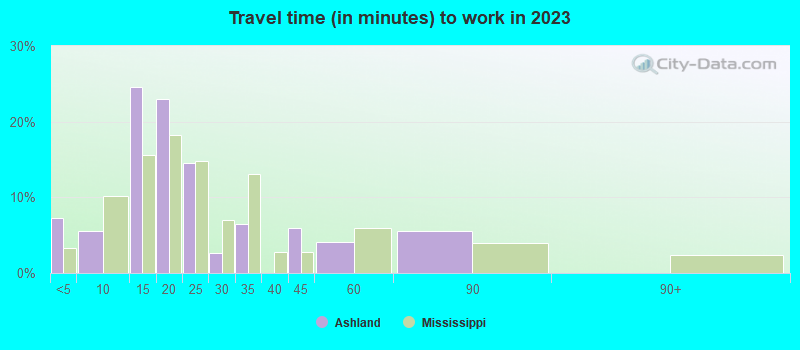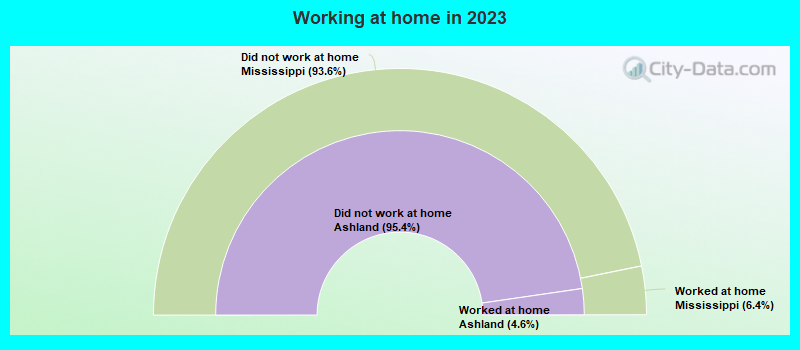 Less than 5 minutes:

| | |
| --- | --- |
| Ashland: | 1.0% (5) |
| Mississippi: | 3.0% (33,878) |
5 to 9 minutes:

| | |
| --- | --- |
| Ashland: | 7.0% (36) |
| Mississippi: | 11.6% (131,039) |
10 to 14 minutes:

| | |
| --- | --- |
| Ashland: | 13.9% (71) |
| Mississippi: | 16.0% (180,869) |
15 to 19 minutes:

| | |
| --- | --- |
| Ashland: | 25.1% (129) |
| Mississippi: | 16.3% (184,948) |
20 to 24 minutes:

| | |
| --- | --- |
| Ashland: | 15.7% (80) |
| Mississippi: | 15.4% (174,851) |
25 to 29 minutes:

| | |
| --- | --- |
| Ashland: | 5.9% (30) |
| Mississippi: | 6.1% (69,399) |
30 to 34 minutes:

| | |
| --- | --- |
| Ashland: | 18.5% (95) |
| Mississippi: | 14.3% (162,628) |
40 to 44 minutes:

| | |
| --- | --- |
| Ashland: | 3.8% (19) |
| Mississippi: | 2.7% (30,434) |
45 to 59 minutes:

| | |
| --- | --- |
| Ashland: | 1.0% (5) |
| Mississippi: | 6.2% (70,293) |
60 to 89 minutes:

| | |
| --- | --- |
| Ashland: | 9.0% (46) |
| Mississippi: | 3.9% (44,651) |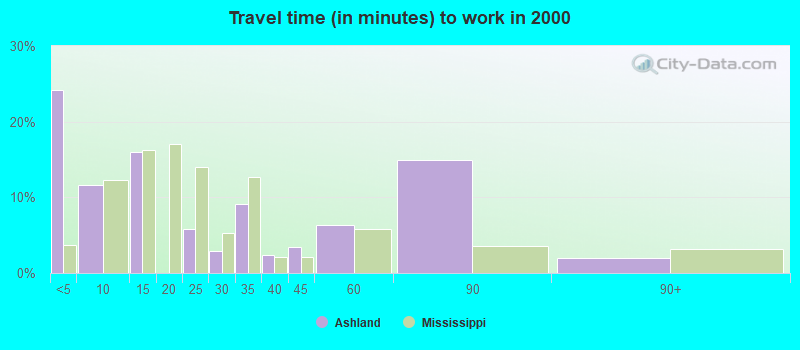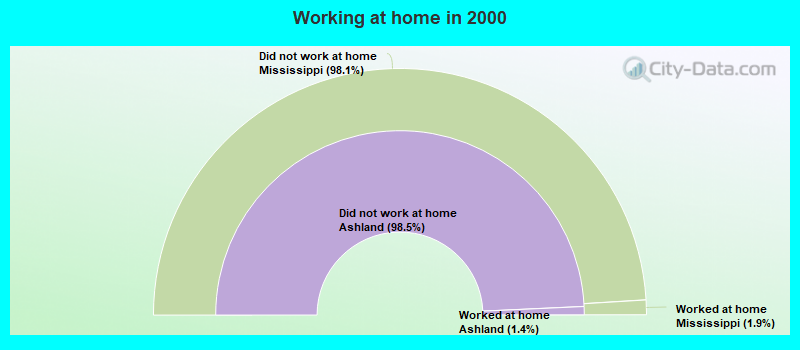 Less than 5 minutes:

| | |
| --- | --- |
| Ashland: | 24.2% (50) |
| Mississippi: | 3.7% (43,278) |
5 to 9 minutes:

| | |
| --- | --- |
| Ashland: | 11.6% (24) |
| Mississippi: | 12.3% (142,991) |
10 to 14 minutes:

| | |
| --- | --- |
| Ashland: | 15.9% (33) |
| Mississippi: | 16.2% (188,931) |
20 to 24 minutes:

| | |
| --- | --- |
| Ashland: | 5.8% (12) |
| Mississippi: | 14.0% (163,362) |
25 to 29 minutes:

| | |
| --- | --- |
| Ashland: | 2.9% (6) |
| Mississippi: | 5.2% (60,981) |
30 to 34 minutes:

| | |
| --- | --- |
| Ashland: | 9.2% (19) |
| Mississippi: | 12.7% (147,453) |
35 to 39 minutes:

| | |
| --- | --- |
| Ashland: | 2.4% (5) |
| Mississippi: | 2.1% (24,839) |
40 to 44 minutes:

| | |
| --- | --- |
| Ashland: | 3.4% (7) |
| Mississippi: | 2.2% (25,310) |
45 to 59 minutes:

| | |
| --- | --- |
| Ashland: | 6.3% (13) |
| Mississippi: | 5.9% (68,120) |
60 to 89 minutes:

| | |
| --- | --- |
| Ashland: | 15.0% (31) |
| Mississippi: | 3.6% (41,974) |
90 or more minutes:

| | |
| --- | --- |
| Ashland: | 1.9% (4) |
| Mississippi: | 3.1% (36,405) |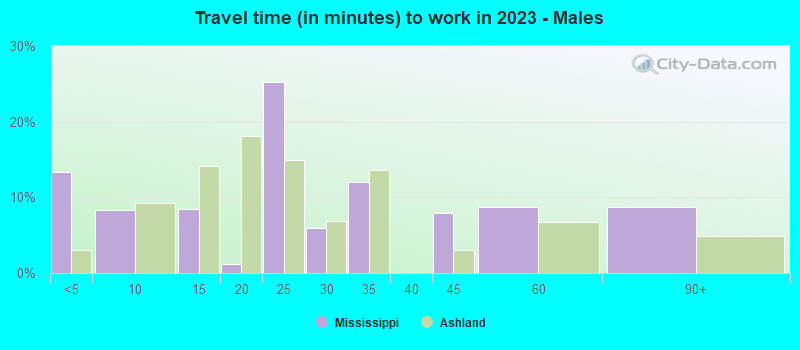 Less than 5 minutes - Males:

| | |
| --- | --- |
| Ashland: | 1.0% (3) |
| Mississippi: | 3.3% (19,133) |
5 to 9 minutes - Males:

| | |
| --- | --- |
| Ashland: | 6.6% (16) |
| Mississippi: | 10.5% (60,782) |
10 to 14 minutes - Males:

| | |
| --- | --- |
| Ashland: | 15.2% (37) |
| Mississippi: | 15.2% (87,752) |
15 to 19 minutes - Males:

| | |
| --- | --- |
| Ashland: | 7.6% (19) |
| Mississippi: | 16.3% (94,175) |
20 to 24 minutes - Males:

| | |
| --- | --- |
| Ashland: | 22.2% (54) |
| Mississippi: | 14.4% (82,977) |
25 to 29 minutes - Males:

| | |
| --- | --- |
| Ashland: | 6.4% (16) |
| Mississippi: | 5.6% (32,328) |
30 to 34 minutes - Males:

| | |
| --- | --- |
| Ashland: | 23.6% (57) |
| Mississippi: | 14.6% (84,372) |
40 to 44 minutes - Males:

| | |
| --- | --- |
| Ashland: | 4.1% (10) |
| Mississippi: | 3.1% (18,053) |
60 to 89 minutes - Males:

| | |
| --- | --- |
| Ashland: | 14.3% (35) |
| Mississippi: | 4.8% (27,477) |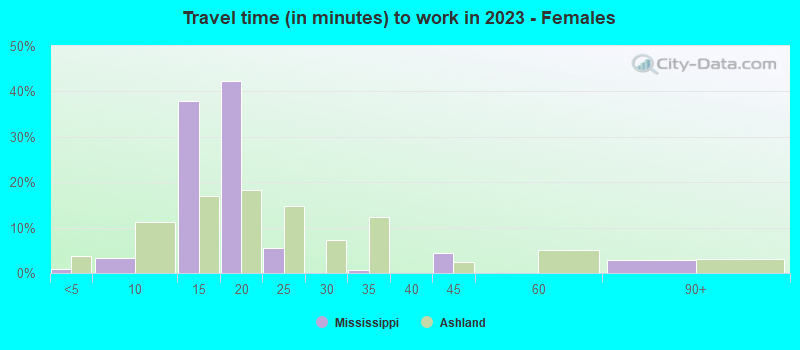 Less than 5 minutes - Females:

| | |
| --- | --- |
| Ashland: | 0.9% (2) |
| Mississippi: | 2.6% (14,745) |
5 to 9 minutes - Females:

| | |
| --- | --- |
| Ashland: | 7.4% (20) |
| Mississippi: | 12.6% (70,257) |
10 to 14 minutes - Females:

| | |
| --- | --- |
| Ashland: | 12.7% (34) |
| Mississippi: | 16.7% (93,117) |
15 to 19 minutes - Females:

| | |
| --- | --- |
| Ashland: | 39.1% (106) |
| Mississippi: | 16.3% (90,773) |
20 to 24 minutes - Females:

| | |
| --- | --- |
| Ashland: | 9.1% (25) |
| Mississippi: | 16.5% (91,874) |
25 to 29 minutes - Females:

| | |
| --- | --- |
| Ashland: | 5.4% (15) |
| Mississippi: | 6.7% (37,071) |
30 to 34 minutes - Females:

| | |
| --- | --- |
| Ashland: | 13.7% (37) |
| Mississippi: | 14.1% (78,256) |
40 to 44 minutes - Females:

| | |
| --- | --- |
| Ashland: | 3.4% (9) |
| Mississippi: | 2.2% (12,381) |
45 to 59 minutes - Females:

| | |
| --- | --- |
| Ashland: | 1.9% (5) |
| Mississippi: | 5.5% (30,841) |
60 to 89 minutes - Females:

| | |
| --- | --- |
| Ashland: | 4.1% (11) |
| Mississippi: | 3.1% (17,174) |
Means of transportation to work
Drove car alone:

| | |
| --- | --- |
| Ashland: | 89.8% (461) |
| Mississippi: | 87.4% (491,316) |
Carpooled:

| | |
| --- | --- |
| Ashland: | 10.0% (52) |
| Mississippi: | 9.4% (51,910) |
Other means:

| | |
| --- | --- |
| Ashland: | 0.2% (1) |
| Mississippi: | 1.3% (5,577) |
Drove car alone:

| | |
| --- | --- |
| Ashland: | 72.5% (150) |
| Mississippi: | 79.4% (924,506) |
Carpooled:

| | |
| --- | --- |
| Ashland: | 19.3% (40) |
| Mississippi: | 15.2% (176,465) |
Streetcar or trolley car:

| | |
| --- | --- |
| Ashland: | 1.0% (2) |
| Mississippi: | 0.0% (137) |
Walked:

| | |
| --- | --- |
| Ashland: | 4.3% (9) |
| Mississippi: | 1.9% (21,868) |
Other means:

| | |
| --- | --- |
| Ashland: | 1.4% (3) |
| Mississippi: | 0.9% (10,269) |
Drove car alone - Males:

| | |
| --- | --- |
| Ashland: | 83.5% (203) |
| Mississippi: | 86.7% (491,316) |
Carpooled - Males:

| | |
| --- | --- |
| Ashland: | 16.1% (39) |
| Mississippi: | 9.5% (51,910) |
Other means - Males:

| | |
| --- | --- |
| Ashland: | 0.4% (1) |
| Mississippi: | 1.6% (5,577) |
Drove car alone - Females:

| | |
| --- | --- |
| Ashland: | 95.5% (259) |
| Mississippi: | 88.2% (491,316) |
Carpooled - Females:

| | |
| --- | --- |
| Ashland: | 4.5% (12) |
| Mississippi: | 9.3% (51,910) |
Private vehicle occupancy

Drove alone:

| | |
| --- | --- |
| Ashland: | 89.9% (144) |
| Mississippi: | 90.4% (1,038,393) |
In 2 person carpool:

| | |
| --- | --- |
| Ashland: | 10.1% (16) |
| Mississippi: | 7.3% (83,894) |

Drove alone:

| | |
| --- | --- |
| Ashland: | 78.9% (150) |
| Mississippi: | 84.0% (924,506) |
In 2 person carpool:

| | |
| --- | --- |
| Ashland: | 12.1% (23) |
| Mississippi: | 12.0% (131,637) |
In 3 person carpool:

| | |
| --- | --- |
| Ashland: | 3.7% (7) |
| Mississippi: | 2.4% (26,778) |
In 4 person carpool:

| | |
| --- | --- |
| Ashland: | 4.2% (8) |
| Mississippi: | 0.9% (10,226) |
In 5-6 person carpool:

| | |
| --- | --- |
| Ashland: | 1.1% (2) |
| Mississippi: | 0.4% (4,859) |
Class of workers
Employee of private company:

| | |
| --- | --- |
| Ashland: | 66.1% (112) |
| Mississippi: | 68.0% (833,953) |
Self-employed in own incorporated business:

| | |
| --- | --- |
| Ashland: | 3.0% (5) |
| Mississippi: | 3.2% (38,760) |
Private not-for-profit wage and salary workers:

| | |
| --- | --- |
| Ashland: | 3.8% (6) |
| Mississippi: | 5.1% (63,118) |
Local government workers:

| | |
| --- | --- |
| Ashland: | 1.1% (2) |
| Mississippi: | 5.4% (66,359) |
State government workers:

| | |
| --- | --- |
| Ashland: | 8.2% (14) |
| Mississippi: | 9.6% (117,734) |
Federal government workers:

| | |
| --- | --- |
| Ashland: | 2.9% (5) |
| Mississippi: | 3.0% (37,387) |
Self-employed workers in own not incorporated business:

| | |
| --- | --- |
| Ashland: | 15.5% (26) |
| Mississippi: | 5.5% (67,815) |
Employee of private company:

| | |
| --- | --- |
| Ashland: | 69.3% (147) |
| Mississippi: | 67.9% (796,519) |
Self-employed in own incorporated business:

| | |
| --- | --- |
| Ashland: | 3.8% (8) |
| Mississippi: | 3.0% (34,642) |
Private not-for-profit wage and salary workers:

| | |
| --- | --- |
| Ashland: | 5.7% (12) |
| Mississippi: | 4.8% (56,264) |
Local government workers:

| | |
| --- | --- |
| Ashland: | 7.1% (15) |
| Mississippi: | 6.0% (70,288) |
State government workers:

| | |
| --- | --- |
| Ashland: | 4.7% (10) |
| Mississippi: | 8.4% (98,464) |
Federal government workers:

| | |
| --- | --- |
| Ashland: | 2.4% (5) |
| Mississippi: | 3.2% (37,771) |
Self-employed workers in own not incorporated business:

| | |
| --- | --- |
| Ashland: | 5.7% (12) |
| Mississippi: | 6.4% (75,022) |
Unpaid family workers:

| | |
| --- | --- |
| Ashland: | 1.4% (3) |
| Mississippi: | 0.4% (4,344) |
Employee of private company - Males:

| | |
| --- | --- |
| Ashland: | 63.1% (57) |
| Mississippi: | 70.5% (439,345) |
Self-employed in own incorporated business - Males:

| | |
| --- | --- |
| Ashland: | 5.5% (5) |
| Mississippi: | 4.3% (26,642) |
Local government workers - Males:

| | |
| --- | --- |
| Ashland: | 2.0% (2) |
| Mississippi: | 4.8% (29,775) |
State government workers - Males:

| | |
| --- | --- |
| Ashland: | 11.7% (11) |
| Mississippi: | 6.3% (39,318) |
Federal government workers - Males:

| | |
| --- | --- |
| Ashland: | 2.1% (2) |
| Mississippi: | 3.2% (19,989) |
Self-employed workers in own not incorporated business - Males:

| | |
| --- | --- |
| Ashland: | 16.0% (15) |
| Mississippi: | 7.3% (45,658) |
Employee of private company - Females:

| | |
| --- | --- |
| Ashland: | 69.6% (54) |
| Mississippi: | 65.3% (394,608) |
Private not-for-profit wage and salary workers - Females:

| | |
| --- | --- |
| Ashland: | 8.2% (6) |
| Mississippi: | 6.9% (41,621) |
State government workers - Females:

| | |
| --- | --- |
| Ashland: | 4.2% (3) |
| Mississippi: | 13.0% (78,416) |
Federal government workers - Females:

| | |
| --- | --- |
| Ashland: | 3.8% (3) |
| Mississippi: | 2.9% (17,398) |
Self-employed workers in own not incorporated business - Females:

| | |
| --- | --- |
| Ashland: | 15.0% (12) |
| Mississippi: | 3.7% (22,157) |