Work and Jobs in Bremen, Kentucky (KY) Detailed Stats


Occupations, Industries, Unemployment, Workers, Commute




Opacity:
%
Hide borders
Hide US histogram
---
Reset to defaults
Latest news about work in Bremen, KY collected exclusively by city-data.com from local newspapers, TV, and radio stations
The most common industries in Bremen are: Educational services (13.2% of civilian employees), Apparel (6.6% of civilian employees), Social assistance (6.6% of civilian employees). 53.5% of workers work in Muhlenberg County. 54.8% of workers are employees of private companies, which is 28.3% less than the rate of 70.3% across the entire state of Kentucky.
Whole page based on the data from 2000 / 2017 when the population of Bremen, Kentucky was 365 / 200
Most common industries



Most common industries

Industry

All

Males

Females

Educational services
13.2%
(24)
1.9%
(2)
28.9%
(22)
Apparel
6.6%
(12)
1.9%
(2)
13.2%
(10)
Social assistance
6.6%
(12)
7.5%
(8)
5.3%
(4)
Public administration
6.0%
(11)
6.6%
(7)
5.3%
(4)
Health care
4.9%
(9)
1.9%
(2)
9.2%
(7)
Construction
3.8%
(7)
3.8%
(4)
3.9%
(3)
Food
3.8%
(7)
6.6%
(7)
0.0%
(0)
Wood products
3.8%
(7)
6.6%
(7)
0.0%
(0)
Religious, grantmaking, civic, professional, and similar organizations
3.8%
(7)
6.6%
(7)
0.0%
(0)
Agriculture, forestry, fishing and hunting
3.3%
(6)
5.7%
(6)
0.0%
(0)
Building material and garden equipment and supplies dealers
3.3%
(6)
5.7%
(6)
0.0%
(0)
Groceries and related products merchant wholesalers
3.3%
(6)
3.8%
(4)
2.6%
(2)
Department and other general merchandise stores
2.7%
(5)
2.8%
(3)
2.6%
(2)
Plastics and rubber products
2.7%
(5)
1.9%
(2)
3.9%
(3)
U. S. Postal service
2.2%
(4)
3.8%
(4)
0.0%
(0)
Utilities
2.2%
(4)
3.8%
(4)
0.0%
(0)
Transportation equipment
2.2%
(4)
1.9%
(2)
2.6%
(2)
Administrative and support and waste management services
2.2%
(4)
1.9%
(2)
2.6%
(2)
Other direct selling establishments
2.2%
(4)
0.0%
(0)
5.3%
(4)
Other transportation, and support activities, and couriers
1.6%
(3)
2.8%
(3)
0.0%
(0)
Broadcasting and telecommunications
1.6%
(3)
1.9%
(2)
1.3%
(1)
Accommodation and food services
1.6%
(3)
0.9%
(1)
2.6%
(2)
Mining, quarrying, and oil and gas extraction
1.1%
(2)
1.9%
(2)
0.0%
(0)
Electrical equipment, appliances, and components
1.1%
(2)
1.9%
(2)
0.0%
(0)
Furniture and related product manufacturing
1.1%
(2)
1.9%
(2)
0.0%
(0)
Food and beverage stores
1.1%
(2)
0.0%
(0)
2.6%
(2)
Finance and insurance
1.1%
(2)
0.0%
(0)
2.6%
(2)
Professional, scientific, and technical services
1.1%
(2)
1.9%
(2)
0.0%
(0)
Water transportation
1.1%
(2)
1.9%
(2)
0.0%
(0)
Machinery
1.1%
(2)
1.9%
(2)
0.0%
(0)
Chemicals
1.1%
(2)
1.9%
(2)
0.0%
(0)
Arts, entertainment, and recreation
1.1%
(2)
1.9%
(2)
0.0%
(0)
Repair and maintenance
1.1%
(2)
1.9%
(2)
0.0%
(0)
Personal and laundry services
1.1%
(2)
0.0%
(0)
2.6%
(2)
Machinery, equipment, and supplies merchant wholesalers
1.1%
(2)
1.9%
(2)
0.0%
(0)
Private households
1.1%
(2)
0.0%
(0)
2.6%
(2)
Petroleum and petroleum products merchant wholesalers
0.5%
(1)
0.9%
(1)
0.0%
(0)
Unemployment in Bremen
Unemployment by race in 2017
Unemployment rate for White non-Hispanic residents

18.3%

Females
Unemployment by race in 2000
Unemployment rate for White non-Hispanic residents

6.2%

Females
Time leaving home to go to work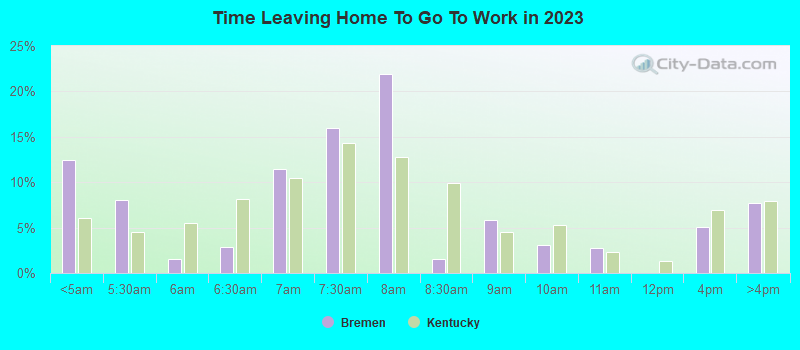 12:00 a.m. to 4:59 a.m.:

| | |
| --- | --- |
| Bremen: | 31.2% (25) |
| Kentucky: | 5.4% (101,509) |
5:30 a.m. to 5:59 a.m.:

| | |
| --- | --- |
| Bremen: | 1.2% (1) |
| Kentucky: | 5.3% (99,040) |
6:00 a.m. to 6:29 a.m.:

| | |
| --- | --- |
| Bremen: | 20.5% (16) |
| Kentucky: | 8.7% (163,009) |
6:30 a.m. to 6:59 a.m.:

| | |
| --- | --- |
| Bremen: | 6.3% (5) |
| Kentucky: | 10.2% (191,306) |
7:00 a.m. to 7:29 a.m.:

| | |
| --- | --- |
| Bremen: | 15.4% (12) |
| Kentucky: | 14.5% (271,633) |
7:30 a.m. to 7:59 a.m.:

| | |
| --- | --- |
| Bremen: | 6.4% (5) |
| Kentucky: | 12.9% (240,919) |
8:00 a.m. to 8:29 a.m.:

| | |
| --- | --- |
| Bremen: | 1.3% (1) |
| Kentucky: | 9.4% (175,225) |
8:30 a.m. to 8:59 a.m.:

| | |
| --- | --- |
| Bremen: | 9.2% (7) |
| Kentucky: | 4.5% (84,454) |
9:00 a.m. to 9:59 a.m.:

| | |
| --- | --- |
| Bremen: | 2.6% (2) |
| Kentucky: | 5.0% (93,509) |
12:00 p.m. to 3:59 p.m.:

| | |
| --- | --- |
| Bremen: | 7.2% (6) |
| Kentucky: | 7.3% (135,714) |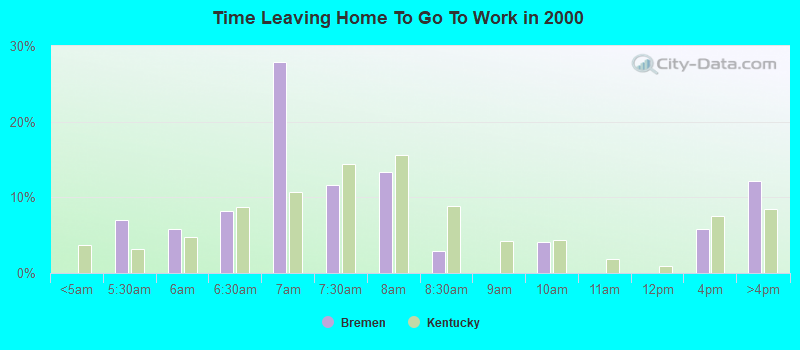 5:30am:

| | |
| --- | --- |
| Bremen: | 7.0% (12) |
| Kentucky: | 3.1% (55,792) |
6am:

| | |
| --- | --- |
| Bremen: | 5.8% (10) |
| Kentucky: | 4.7% (84,161) |
6:30am:

| | |
| --- | --- |
| Bremen: | 8.1% (14) |
| Kentucky: | 8.8% (156,072) |
7am:

| | |
| --- | --- |
| Bremen: | 27.9% (48) |
| Kentucky: | 10.8% (191,924) |
7:30am:

| | |
| --- | --- |
| Bremen: | 11.6% (20) |
| Kentucky: | 14.4% (256,256) |
8am:

| | |
| --- | --- |
| Bremen: | 13.4% (23) |
| Kentucky: | 15.6% (277,275) |
8:30am:

| | |
| --- | --- |
| Bremen: | 2.9% (5) |
| Kentucky: | 8.8% (156,855) |
10am:

| | |
| --- | --- |
| Bremen: | 4.1% (7) |
| Kentucky: | 4.4% (77,954) |
4pm:

| | |
| --- | --- |
| Bremen: | 5.8% (10) |
| Kentucky: | 7.6% (135,045) |
>4pm:

| | |
| --- | --- |
| Bremen: | 12.2% (21) |
| Kentucky: | 8.4% (150,096) |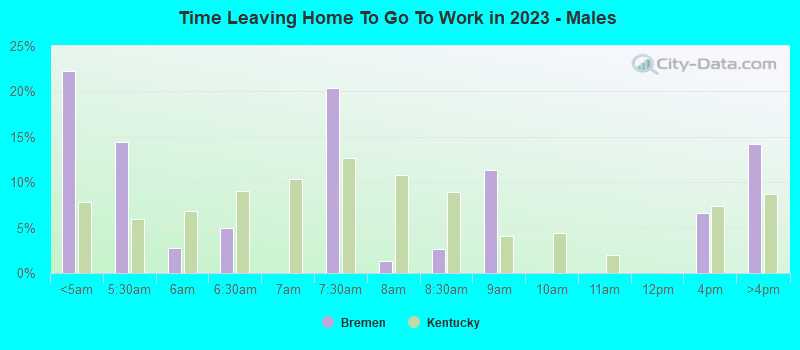 12:00 a.m. to 4:59 a.m. - Males:

| | |
| --- | --- |
| Bremen: | 26.1% (13) |
| Kentucky: | 7.1% (69,776) |
6:00 a.m. to 6:29 a.m. - Males:

| | |
| --- | --- |
| Bremen: | 32.9% (16) |
| Kentucky: | 10.0% (98,910) |
6:30 a.m. to 6:59 a.m. - Males:

| | |
| --- | --- |
| Bremen: | 8.0% (4) |
| Kentucky: | 10.5% (103,704) |
7:00 a.m. to 7:29 a.m. - Males:

| | |
| --- | --- |
| Bremen: | 14.3% (7) |
| Kentucky: | 13.4% (132,011) |
7:30 a.m. to 7:59 a.m. - Males:

| | |
| --- | --- |
| Bremen: | 8.1% (4) |
| Kentucky: | 10.6% (104,736) |
8:30 a.m. to 8:59 a.m. - Males:

| | |
| --- | --- |
| Bremen: | 4.4% (2) |
| Kentucky: | 3.8% (37,897) |
9:00 a.m. to 9:59 a.m. - Males:

| | |
| --- | --- |
| Bremen: | 3.9% (2) |
| Kentucky: | 4.0% (39,732) |
12:00 p.m. to 3:59 p.m. - Males:

| | |
| --- | --- |
| Bremen: | 3.9% (2) |
| Kentucky: | 7.6% (74,546) |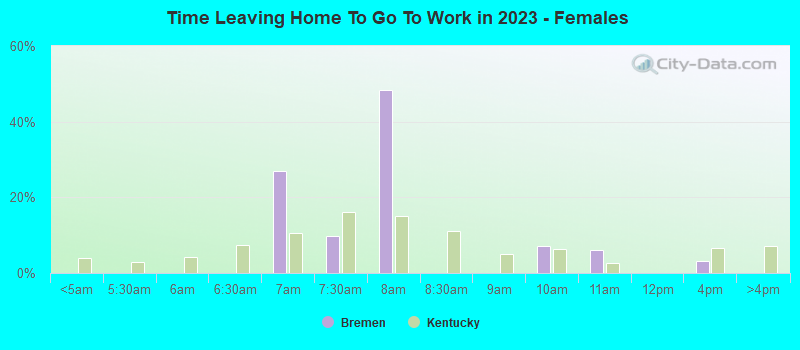 12:00 a.m. to 4:59 a.m. - Females:

| | |
| --- | --- |
| Bremen: | 39.6% (12) |
| Kentucky: | 3.6% (31,733) |
5:30 a.m. to 5:59 a.m. - Females:

| | |
| --- | --- |
| Bremen: | 3.4% (1) |
| Kentucky: | 4.0% (35,501) |
6:30 a.m. to 6:59 a.m. - Females:

| | |
| --- | --- |
| Bremen: | 3.5% (1) |
| Kentucky: | 9.9% (87,602) |
7:00 a.m. to 7:29 a.m. - Females:

| | |
| --- | --- |
| Bremen: | 17.2% (5) |
| Kentucky: | 15.8% (139,622) |
7:30 a.m. to 7:59 a.m. - Females:

| | |
| --- | --- |
| Bremen: | 3.4% (1) |
| Kentucky: | 15.4% (136,183) |
8:00 a.m. to 8:29 a.m. - Females:

| | |
| --- | --- |
| Bremen: | 3.6% (1) |
| Kentucky: | 10.5% (93,435) |
8:30 a.m. to 8:59 a.m. - Females:

| | |
| --- | --- |
| Bremen: | 16.8% (5) |
| Kentucky: | 5.3% (46,557) |
12:00 p.m. to 3:59 p.m. - Females:

| | |
| --- | --- |
| Bremen: | 12.6% (4) |
| Kentucky: | 6.9% (61,168) |
Travel time to work
Percentage of workers working in this county: 53.5%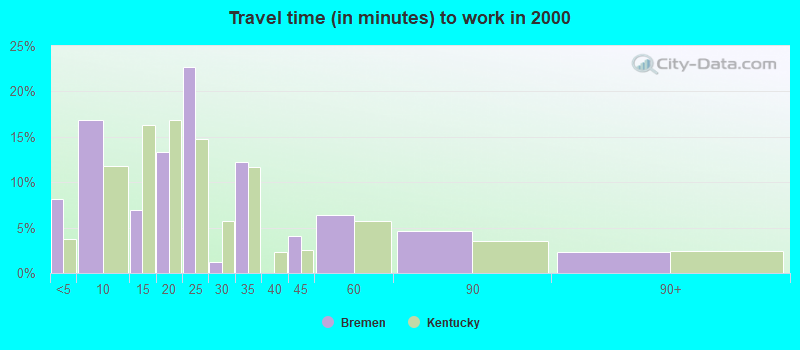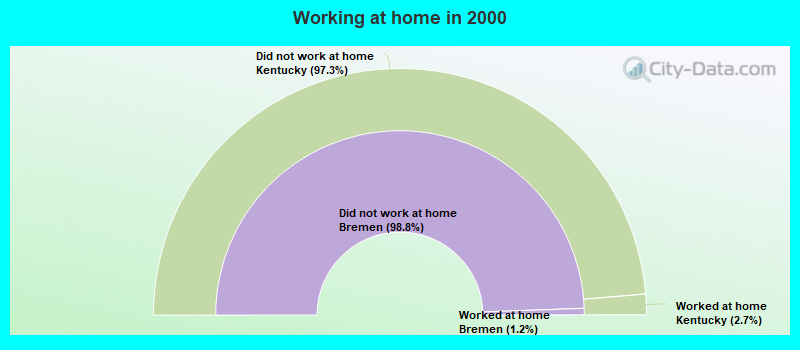 Less than 5 minutes:

| | |
| --- | --- |
| Bremen: | 8.1% (14) |
| Kentucky: | 3.8% (67,210) |
5 to 9 minutes:

| | |
| --- | --- |
| Bremen: | 16.9% (29) |
| Kentucky: | 11.8% (210,440) |
10 to 14 minutes:

| | |
| --- | --- |
| Bremen: | 7.0% (12) |
| Kentucky: | 16.3% (290,128) |
15 to 19 minutes:

| | |
| --- | --- |
| Bremen: | 13.4% (23) |
| Kentucky: | 16.9% (301,009) |
20 to 24 minutes:

| | |
| --- | --- |
| Bremen: | 22.7% (39) |
| Kentucky: | 14.7% (262,418) |
25 to 29 minutes:

| | |
| --- | --- |
| Bremen: | 1.2% (2) |
| Kentucky: | 5.7% (101,130) |
30 to 34 minutes:

| | |
| --- | --- |
| Bremen: | 12.2% (21) |
| Kentucky: | 11.7% (208,362) |
40 to 44 minutes:

| | |
| --- | --- |
| Bremen: | 4.1% (7) |
| Kentucky: | 2.5% (44,172) |
45 to 59 minutes:

| | |
| --- | --- |
| Bremen: | 6.4% (11) |
| Kentucky: | 5.8% (102,842) |
60 to 89 minutes:

| | |
| --- | --- |
| Bremen: | 4.7% (8) |
| Kentucky: | 3.5% (61,841) |
90 or more minutes:

| | |
| --- | --- |
| Bremen: | 2.3% (4) |
| Kentucky: | 2.4% (43,461) |
Means of transportation to work
Drove car alone:

| | |
| --- | --- |
| Bremen: | 83.1% (143) |
| Kentucky: | 80.2% (1,429,053) |
Carpooled:

| | |
| --- | --- |
| Bremen: | 13.4% (23) |
| Kentucky: | 12.6% (224,643) |
Walked:

| | |
| --- | --- |
| Bremen: | 1.2% (2) |
| Kentucky: | 2.4% (42,494) |
Other means:

| | |
| --- | --- |
| Bremen: | 1.2% (2) |
| Kentucky: | 0.7% (12,374) |
Private vehicle occupancy

Drove alone:

| | |
| --- | --- |
| Bremen: | 64.5% (48) |
| Kentucky: | 89.7% (1,597,996) |
In 2 person carpool:

| | |
| --- | --- |
| Bremen: | 34.4% (25) |
| Kentucky: | 8.0% (142,427) |

Drove alone:

| | |
| --- | --- |
| Bremen: | 86.1% (143) |
| Kentucky: | 86.4% (1,429,053) |
In 2 person carpool:

| | |
| --- | --- |
| Bremen: | 12.7% (21) |
| Kentucky: | 10.8% (178,387) |
In 3 person carpool:

| | |
| --- | --- |
| Bremen: | 1.2% (2) |
| Kentucky: | 1.8% (30,156) |
Class of workers
Employee of private company:

| | |
| --- | --- |
| Bremen: | 54.8% (46) |
| Kentucky: | 70.3% (1,389,625) |
Self-employed in own incorporated business:

| | |
| --- | --- |
| Bremen: | 7.5% (6) |
| Kentucky: | 3.1% (61,224) |
Private not-for-profit wage and salary workers:

| | |
| --- | --- |
| Bremen: | 13.5% (11) |
| Kentucky: | 7.1% (141,153) |
Local government workers:

| | |
| --- | --- |
| Bremen: | 1.2% (1) |
| Kentucky: | 5.4% (106,041) |
State government workers:

| | |
| --- | --- |
| Bremen: | 2.3% (2) |
| Kentucky: | 6.3% (124,586) |
Federal government workers:

| | |
| --- | --- |
| Bremen: | 3.6% (3) |
| Kentucky: | 2.3% (44,591) |
Self-employed workers in own not incorporated business:

| | |
| --- | --- |
| Bremen: | 16.9% (14) |
| Kentucky: | 5.3% (105,387) |
Employee of private company:

| | |
| --- | --- |
| Bremen: | 57.7% (105) |
| Kentucky: | 68.7% (1,235,989) |
Self-employed in own incorporated business:

| | |
| --- | --- |
| Bremen: | 2.2% (4) |
| Kentucky: | 3.0% (53,084) |
Private not-for-profit wage and salary workers:

| | |
| --- | --- |
| Bremen: | 8.8% (16) |
| Kentucky: | 6.8% (121,764) |
Local government workers:

| | |
| --- | --- |
| Bremen: | 5.5% (10) |
| Kentucky: | 5.6% (100,920) |
State government workers:

| | |
| --- | --- |
| Bremen: | 14.8% (27) |
| Kentucky: | 6.4% (114,791) |
Federal government workers:

| | |
| --- | --- |
| Bremen: | 3.3% (6) |
| Kentucky: | 2.5% (44,072) |
Self-employed workers in own not incorporated business:

| | |
| --- | --- |
| Bremen: | 6.0% (11) |
| Kentucky: | 6.7% (120,288) |
Unpaid family workers:

| | |
| --- | --- |
| Bremen: | 1.6% (3) |
| Kentucky: | 0.4% (7,356) |
Employee of private company - Males:

| | |
| --- | --- |
| Bremen: | 57.4% (29) |
| Kentucky: | 73.9% (759,088) |
Self-employed in own incorporated business - Males:

| | |
| --- | --- |
| Bremen: | 10.1% (5) |
| Kentucky: | 3.9% (39,814) |
Private not-for-profit wage and salary workers - Males:

| | |
| --- | --- |
| Bremen: | 11.7% (6) |
| Kentucky: | 4.7% (47,892) |
State government workers - Males:

| | |
| --- | --- |
| Bremen: | 1.9% (1) |
| Kentucky: | 4.2% (42,802) |
Federal government workers - Males:

| | |
| --- | --- |
| Bremen: | 1.9% (1) |
| Kentucky: | 2.2% (22,798) |
Self-employed workers in own not incorporated business - Males:

| | |
| --- | --- |
| Bremen: | 16.4% (8) |
| Kentucky: | 6.5% (67,270) |
Employee of private company - Females:

| | |
| --- | --- |
| Bremen: | 51.1% (18) |
| Kentucky: | 66.4% (630,537) |
Self-employed in own incorporated business - Females:

| | |
| --- | --- |
| Bremen: | 3.6% (1) |
| Kentucky: | 2.3% (21,410) |
Private not-for-profit wage and salary workers - Females:

| | |
| --- | --- |
| Bremen: | 16.0% (6) |
| Kentucky: | 9.8% (93,261) |
Local government workers - Females:

| | |
| --- | --- |
| Bremen: | 2.9% (1) |
| Kentucky: | 6.3% (60,146) |
State government workers - Females:

| | |
| --- | --- |
| Bremen: | 2.9% (1) |
| Kentucky: | 8.6% (81,784) |
Federal government workers - Females:

| | |
| --- | --- |
| Bremen: | 6.1% (2) |
| Kentucky: | 2.3% (21,793) |
Self-employed workers in own not incorporated business - Females:

| | |
| --- | --- |
| Bremen: | 17.6% (6) |
| Kentucky: | 4.0% (38,117) |