Work and Jobs in Kennedy, Minnesota (MN) Detailed Stats


Occupations, Industries, Unemployment, Workers, Commute




Opacity:
%
Hide borders
Hide US histogram
---
Reset to defaults
Latest news about work in Kennedy, MN collected exclusively by city-data.com from local newspapers, TV, and radio stations
The most common industries in Kennedy are: Educational services (16.8% of civilian employees), Agriculture, forestry, fishing & hunting (11.8% of civilian employees), Public administration (10.1% of civilian employees). 72.6% of workers work in Kittson County and 4.0% of all workers work at home. 69.1% of workers are employees of private companies, which is about the same as the rate of 68.0% across the entire state of Minnesota.
Whole page based on the data from 2000 / 2017 when the population of Kennedy, Minnesota was 255 / 262
Most common industries



Most common industries

Industry

All

Males

Females

Educational services
16.8%
(20)
10.6%
(7)
24.5%
(13)
Agriculture, forestry, fishing and hunting
11.8%
(14)
21.2%
(14)
0.0%
(0)
Public administration
10.1%
(12)
15.2%
(10)
3.8%
(2)
Health care
7.6%
(9)
0.0%
(0)
17.0%
(9)
Religious, grantmaking, civic, professional, and similar organizations
6.7%
(8)
9.1%
(6)
3.8%
(2)
Food
5.9%
(7)
7.6%
(5)
3.8%
(2)
Social assistance
5.9%
(7)
0.0%
(0)
13.2%
(7)
Construction
5.0%
(6)
9.1%
(6)
0.0%
(0)
Finance and insurance
4.2%
(5)
3.0%
(2)
5.7%
(3)
Machinery, equipment, and supplies merchant wholesalers
3.4%
(4)
6.1%
(4)
0.0%
(0)
Utilities
3.4%
(4)
3.0%
(2)
3.8%
(2)
Professional, scientific, and technical services
3.4%
(4)
3.0%
(2)
3.8%
(2)
Accommodation and food services
3.4%
(4)
0.0%
(0)
7.5%
(4)
Other transportation, and support activities, and couriers
2.5%
(3)
4.5%
(3)
0.0%
(0)
Farm product raw materials merchant wholesalers
1.7%
(2)
0.0%
(0)
3.8%
(2)
Truck transportation
1.7%
(2)
3.0%
(2)
0.0%
(0)
Food and beverage stores
1.7%
(2)
0.0%
(0)
3.8%
(2)
U. S. Postal service
1.7%
(2)
0.0%
(0)
3.8%
(2)
Warehousing and storage
1.7%
(2)
3.0%
(2)
0.0%
(0)
Petroleum and petroleum products merchant wholesalers
0.8%
(1)
0.0%
(0)
1.9%
(1)
Machinery
0.8%
(1)
1.5%
(1)
0.0%
(0)
Unemployment in Kennedy
Unemployment by race in 2017
Unemployment rate for White non-Hispanic residents

0.8%

Males
Unemployment by race in 2000
Unemployment rate for White non-Hispanic residents

5.9%

Males

9.4%

Females
Time leaving home to go to work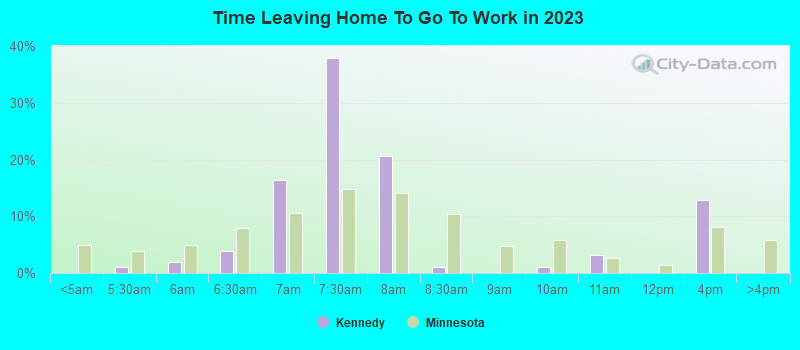 12:00 a.m. to 4:59 a.m.:

| | |
| --- | --- |
| Kennedy: | 1.4% (2) |
| Minnesota: | 4.4% (119,933) |
5:00 a.m. to 5:29 a.m.:

| | |
| --- | --- |
| Kennedy: | 9.5% (15) |
| Minnesota: | 3.7% (102,081) |
5:30 a.m. to 5:59 a.m.:

| | |
| --- | --- |
| Kennedy: | 12.4% (20) |
| Minnesota: | 5.4% (146,498) |
6:00 a.m. to 6:29 a.m.:

| | |
| --- | --- |
| Kennedy: | 5.9% (10) |
| Minnesota: | 8.9% (243,443) |
6:30 a.m. to 6:59 a.m.:

| | |
| --- | --- |
| Kennedy: | 21.2% (34) |
| Minnesota: | 10.9% (299,265) |
7:00 a.m. to 7:29 a.m.:

| | |
| --- | --- |
| Kennedy: | 13.0% (21) |
| Minnesota: | 15.5% (424,345) |
7:30 a.m. to 7:59 a.m.:

| | |
| --- | --- |
| Kennedy: | 19.5% (31) |
| Minnesota: | 13.8% (377,520) |
8:00 a.m. to 8:29 a.m.:

| | |
| --- | --- |
| Kennedy: | 9.3% (15) |
| Minnesota: | 9.3% (255,478) |
8:30 a.m. to 8:59 a.m.:

| | |
| --- | --- |
| Kennedy: | 1.3% (2) |
| Minnesota: | 4.7% (129,976) |
9:00 a.m. to 9:59 a.m.:

| | |
| --- | --- |
| Kennedy: | 1.3% (2) |
| Minnesota: | 5.3% (143,805) |
12:00 p.m. to 3:59 p.m.:

| | |
| --- | --- |
| Kennedy: | 1.3% (2) |
| Minnesota: | 8.1% (222,403) |
4:00 p.m. to 11:59 p.m.:

| | |
| --- | --- |
| Kennedy: | 4.3% (7) |
| Minnesota: | 6.6% (181,214) |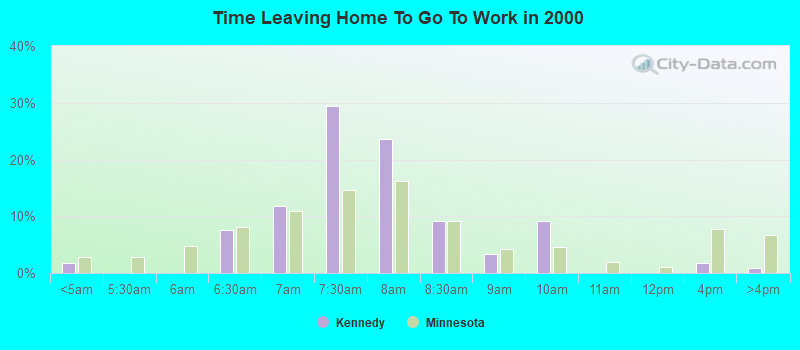 <5am:

| | |
| --- | --- |
| Kennedy: | 1.7% (2) |
| Minnesota: | 2.8% (70,312) |
6:30am:

| | |
| --- | --- |
| Kennedy: | 7.6% (9) |
| Minnesota: | 8.1% (206,893) |
7am:

| | |
| --- | --- |
| Kennedy: | 11.8% (14) |
| Minnesota: | 10.8% (275,657) |
7:30am:

| | |
| --- | --- |
| Kennedy: | 29.4% (35) |
| Minnesota: | 14.6% (371,966) |
8am:

| | |
| --- | --- |
| Kennedy: | 23.5% (28) |
| Minnesota: | 16.2% (410,487) |
8:30am:

| | |
| --- | --- |
| Kennedy: | 9.2% (11) |
| Minnesota: | 9.2% (233,326) |
9am:

| | |
| --- | --- |
| Kennedy: | 3.4% (4) |
| Minnesota: | 4.3% (109,027) |
10am:

| | |
| --- | --- |
| Kennedy: | 9.2% (11) |
| Minnesota: | 4.6% (117,544) |
4pm:

| | |
| --- | --- |
| Kennedy: | 1.7% (2) |
| Minnesota: | 7.7% (195,126) |
>4pm:

| | |
| --- | --- |
| Kennedy: | 0.8% (1) |
| Minnesota: | 6.8% (171,607) |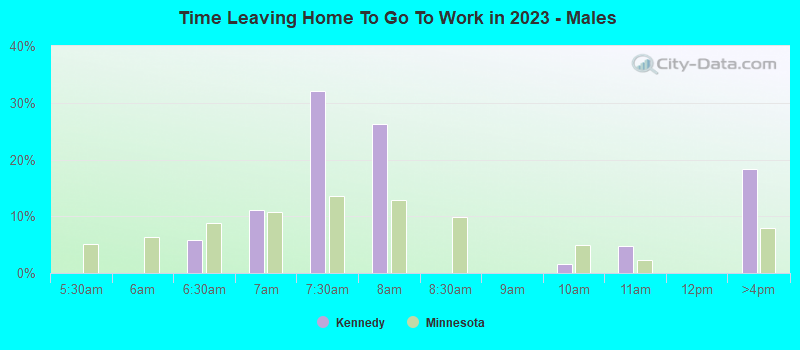 12:00 a.m. to 4:59 a.m. - Males:

| | |
| --- | --- |
| Kennedy: | 2.6% (2) |
| Minnesota: | 5.9% (84,706) |
5:00 a.m. to 5:29 a.m. - Males:

| | |
| --- | --- |
| Kennedy: | 13.8% (12) |
| Minnesota: | 4.9% (70,239) |
5:30 a.m. to 5:59 a.m. - Males:

| | |
| --- | --- |
| Kennedy: | 14.3% (13) |
| Minnesota: | 6.4% (92,352) |
6:00 a.m. to 6:29 a.m. - Males:

| | |
| --- | --- |
| Kennedy: | 4.9% (4) |
| Minnesota: | 10.3% (148,637) |
6:30 a.m. to 6:59 a.m. - Males:

| | |
| --- | --- |
| Kennedy: | 32.9% (29) |
| Minnesota: | 10.9% (157,405) |
7:00 a.m. to 7:29 a.m. - Males:

| | |
| --- | --- |
| Kennedy: | 10.6% (9) |
| Minnesota: | 14.4% (207,314) |
7:30 a.m. to 7:59 a.m. - Males:

| | |
| --- | --- |
| Kennedy: | 12.9% (11) |
| Minnesota: | 12.0% (173,110) |
8:00 a.m. to 8:29 a.m. - Males:

| | |
| --- | --- |
| Kennedy: | 6.8% (6) |
| Minnesota: | 8.5% (122,958) |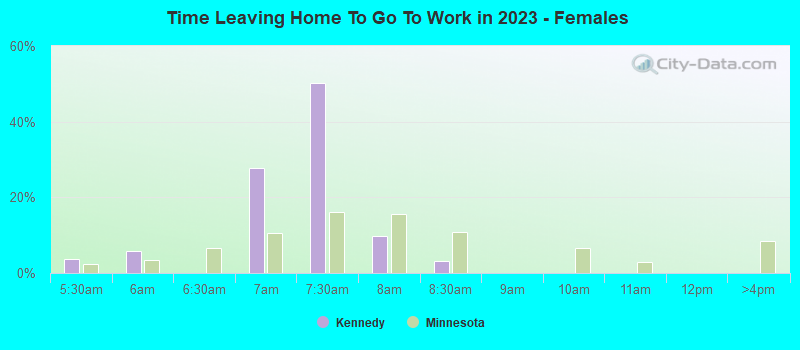 5:00 a.m. to 5:29 a.m. - Females:

| | |
| --- | --- |
| Kennedy: | 4.3% (3) |
| Minnesota: | 2.5% (31,842) |
5:30 a.m. to 5:59 a.m. - Females:

| | |
| --- | --- |
| Kennedy: | 10.1% (7) |
| Minnesota: | 4.2% (54,146) |
6:00 a.m. to 6:29 a.m. - Females:

| | |
| --- | --- |
| Kennedy: | 7.0% (5) |
| Minnesota: | 7.3% (94,806) |
6:30 a.m. to 6:59 a.m. - Females:

| | |
| --- | --- |
| Kennedy: | 5.9% (4) |
| Minnesota: | 10.9% (141,860) |
7:00 a.m. to 7:29 a.m. - Females:

| | |
| --- | --- |
| Kennedy: | 15.9% (12) |
| Minnesota: | 16.7% (217,031) |
7:30 a.m. to 7:59 a.m. - Females:

| | |
| --- | --- |
| Kennedy: | 27.3% (20) |
| Minnesota: | 15.7% (204,410) |
8:00 a.m. to 8:29 a.m. - Females:

| | |
| --- | --- |
| Kennedy: | 12.4% (9) |
| Minnesota: | 10.2% (132,520) |
8:30 a.m. to 8:59 a.m. - Females:

| | |
| --- | --- |
| Kennedy: | 2.7% (2) |
| Minnesota: | 5.4% (69,977) |
9:00 a.m. to 9:59 a.m. - Females:

| | |
| --- | --- |
| Kennedy: | 2.7% (2) |
| Minnesota: | 6.0% (77,324) |
12:00 p.m. to 3:59 p.m. - Females:

| | |
| --- | --- |
| Kennedy: | 2.8% (2) |
| Minnesota: | 8.3% (107,201) |
4:00 p.m. to 11:59 p.m. - Females:

| | |
| --- | --- |
| Kennedy: | 9.3% (7) |
| Minnesota: | 6.5% (84,075) |
Travel time to work
Percentage of workers working in this county: 72.6%
Number of people working at home: 6 (4.0% of all workers)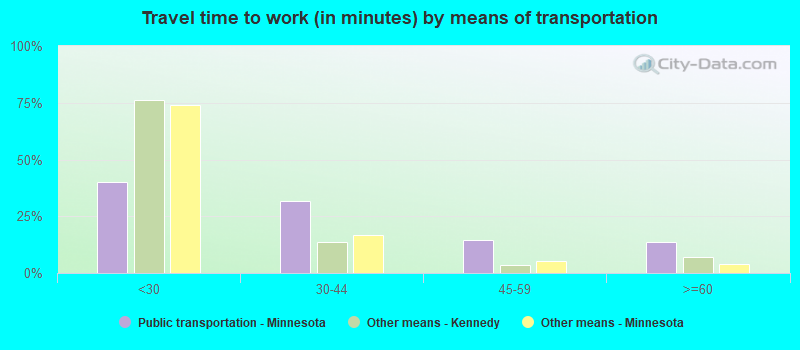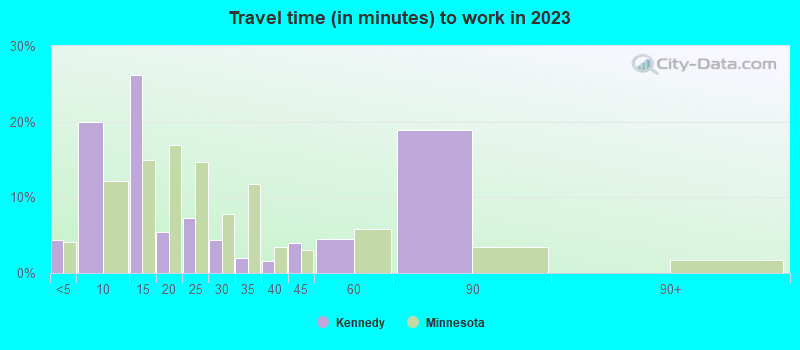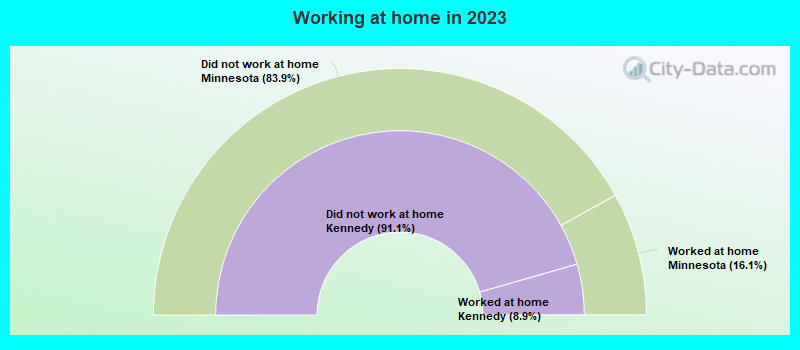 Less than 5 minutes:

| | |
| --- | --- |
| Kennedy: | 3.5% (7) |
| Minnesota: | 3.3% (91,018) |
5 to 9 minutes:

| | |
| --- | --- |
| Kennedy: | 18.4% (36) |
| Minnesota: | 11.7% (322,187) |
10 to 14 minutes:

| | |
| --- | --- |
| Kennedy: | 25.3% (50) |
| Minnesota: | 14.5% (398,981) |
15 to 19 minutes:

| | |
| --- | --- |
| Kennedy: | 5.3% (10) |
| Minnesota: | 15.6% (428,792) |
20 to 24 minutes:

| | |
| --- | --- |
| Kennedy: | 7.4% (15) |
| Minnesota: | 15.0% (412,311) |
25 to 29 minutes:

| | |
| --- | --- |
| Kennedy: | 4.3% (8) |
| Minnesota: | 7.4% (204,458) |
30 to 34 minutes:

| | |
| --- | --- |
| Kennedy: | 2.1% (4) |
| Minnesota: | 12.8% (350,878) |
35 to 39 minutes:

| | |
| --- | --- |
| Kennedy: | 1.6% (3) |
| Minnesota: | 3.3% (89,758) |
40 to 44 minutes:

| | |
| --- | --- |
| Kennedy: | 4.3% (8) |
| Minnesota: | 3.8% (104,539) |
45 to 59 minutes:

| | |
| --- | --- |
| Kennedy: | 5.3% (10) |
| Minnesota: | 6.9% (188,631) |
60 to 89 minutes:

| | |
| --- | --- |
| Kennedy: | 21.8% (43) |
| Minnesota: | 4.1% (112,373) |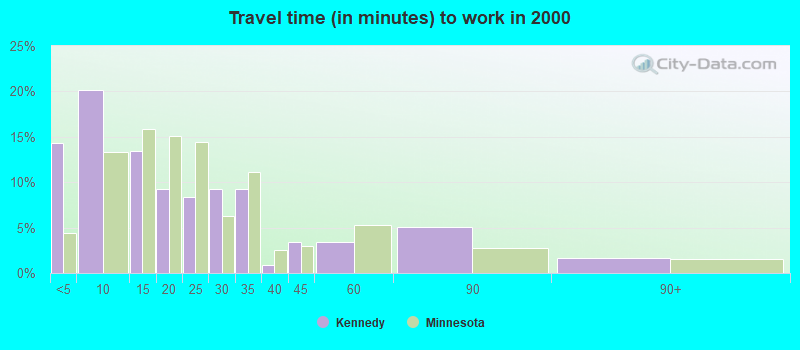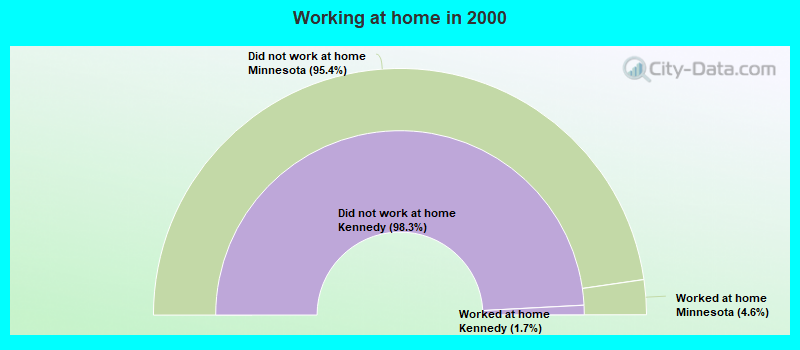 Less than 5 minutes:

| | |
| --- | --- |
| Kennedy: | 14.3% (17) |
| Minnesota: | 4.4% (112,704) |
5 to 9 minutes:

| | |
| --- | --- |
| Kennedy: | 20.2% (24) |
| Minnesota: | 13.3% (338,699) |
10 to 14 minutes:

| | |
| --- | --- |
| Kennedy: | 13.4% (16) |
| Minnesota: | 15.9% (403,004) |
15 to 19 minutes:

| | |
| --- | --- |
| Kennedy: | 9.2% (11) |
| Minnesota: | 15.1% (384,560) |
20 to 24 minutes:

| | |
| --- | --- |
| Kennedy: | 8.4% (10) |
| Minnesota: | 14.4% (365,773) |
25 to 29 minutes:

| | |
| --- | --- |
| Kennedy: | 9.2% (11) |
| Minnesota: | 6.2% (158,419) |
30 to 34 minutes:

| | |
| --- | --- |
| Kennedy: | 9.2% (11) |
| Minnesota: | 11.1% (282,272) |
35 to 39 minutes:

| | |
| --- | --- |
| Kennedy: | 0.8% (1) |
| Minnesota: | 2.5% (63,572) |
40 to 44 minutes:

| | |
| --- | --- |
| Kennedy: | 3.4% (4) |
| Minnesota: | 2.9% (74,188) |
45 to 59 minutes:

| | |
| --- | --- |
| Kennedy: | 3.4% (4) |
| Minnesota: | 5.3% (133,528) |
60 to 89 minutes:

| | |
| --- | --- |
| Kennedy: | 5.0% (6) |
| Minnesota: | 2.7% (69,503) |
90 or more minutes:

| | |
| --- | --- |
| Kennedy: | 1.7% (2) |
| Minnesota: | 1.5% (38,735) |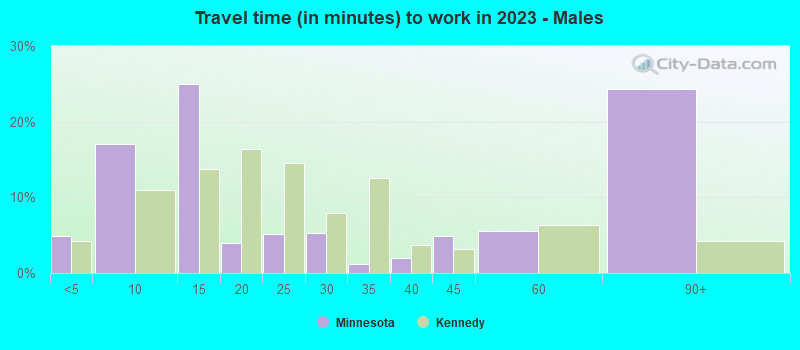 Less than 5 minutes - Males:

| | |
| --- | --- |
| Kennedy: | 4.3% (7) |
| Minnesota: | 3.5% (50,109) |
5 to 9 minutes - Males:

| | |
| --- | --- |
| Kennedy: | 15.8% (26) |
| Minnesota: | 10.9% (157,292) |
10 to 14 minutes - Males:

| | |
| --- | --- |
| Kennedy: | 24.6% (40) |
| Minnesota: | 14.0% (201,841) |
15 to 19 minutes - Males:

| | |
| --- | --- |
| Kennedy: | 3.7% (6) |
| Minnesota: | 14.7% (212,880) |
20 to 24 minutes - Males:

| | |
| --- | --- |
| Kennedy: | 5.1% (8) |
| Minnesota: | 14.6% (210,914) |
25 to 29 minutes - Males:

| | |
| --- | --- |
| Kennedy: | 5.2% (9) |
| Minnesota: | 7.4% (107,379) |
30 to 34 minutes - Males:

| | |
| --- | --- |
| Kennedy: | 1.3% (2) |
| Minnesota: | 13.3% (191,561) |
35 to 39 minutes - Males:

| | |
| --- | --- |
| Kennedy: | 2.0% (3) |
| Minnesota: | 3.5% (50,137) |
40 to 44 minutes - Males:

| | |
| --- | --- |
| Kennedy: | 5.1% (8) |
| Minnesota: | 3.9% (55,888) |
45 to 59 minutes - Males:

| | |
| --- | --- |
| Kennedy: | 6.5% (11) |
| Minnesota: | 7.4% (106,988) |
60 to 89 minutes - Males:

| | |
| --- | --- |
| Kennedy: | 26.3% (43) |
| Minnesota: | 4.7% (68,087) |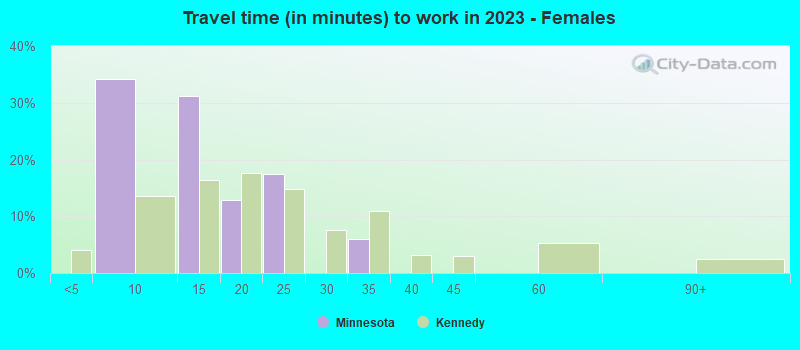 5 to 9 minutes - Females:

| | |
| --- | --- |
| Kennedy: | 31.3% (11) |
| Minnesota: | 12.6% (164,895) |
10 to 14 minutes - Females:

| | |
| --- | --- |
| Kennedy: | 29.6% (10) |
| Minnesota: | 15.1% (197,140) |
15 to 19 minutes - Females:

| | |
| --- | --- |
| Kennedy: | 12.6% (4) |
| Minnesota: | 16.5% (215,912) |
20 to 24 minutes - Females:

| | |
| --- | --- |
| Kennedy: | 18.6% (6) |
| Minnesota: | 15.4% (201,397) |
30 to 34 minutes - Females:

| | |
| --- | --- |
| Kennedy: | 6.2% (2) |
| Minnesota: | 12.2% (159,317) |
Means of transportation to work
Drove car alone:

| | |
| --- | --- |
| Kennedy: | 83.8% (165) |
| Minnesota: | 83.0% (1,078,983) |
Carpooled:

| | |
| --- | --- |
| Kennedy: | 7.3% (14) |
| Minnesota: | 8.7% (117,731) |
Walked:

| | |
| --- | --- |
| Kennedy: | 8.9% (18) |
| Minnesota: | 2.8% (36,188) |
Drove car alone:

| | |
| --- | --- |
| Kennedy: | 80.7% (96) |
| Minnesota: | 77.6% (1,971,668) |
Carpooled:

| | |
| --- | --- |
| Kennedy: | 8.4% (10) |
| Minnesota: | 10.4% (264,690) |
Walked:

| | |
| --- | --- |
| Kennedy: | 9.2% (11) |
| Minnesota: | 3.3% (84,148) |
Drove car alone - Males:

| | |
| --- | --- |
| Kennedy: | 84.2% (138) |
| Minnesota: | 83.3% (1,078,983) |
Carpooled - Males:

| | |
| --- | --- |
| Kennedy: | 7.6% (12) |
| Minnesota: | 8.3% (117,731) |
Walked - Males:

| | |
| --- | --- |
| Kennedy: | 8.2% (13) |
| Minnesota: | 2.8% (36,188) |
Drove car alone - Females:

| | |
| --- | --- |
| Kennedy: | 81.8% (28) |
| Minnesota: | 82.6% (1,078,983) |
Carpooled - Females:

| | |
| --- | --- |
| Kennedy: | 6.1% (2) |
| Minnesota: | 9.0% (117,731) |
Walked - Females:

| | |
| --- | --- |
| Kennedy: | 12.1% (4) |
| Minnesota: | 2.8% (36,188) |
Private vehicle occupancy

Drove alone:

| | |
| --- | --- |
| Kennedy: | 92.0% (144) |
| Minnesota: | 90.5% (2,269,447) |
In 2 person carpool:

| | |
| --- | --- |
| Kennedy: | 7.3% (11) |
| Minnesota: | 7.2% (180,443) |
In 3 person carpool:

| | |
| --- | --- |
| Kennedy: | 0.7% (1) |
| Minnesota: | 1.3% (33,167) |

Drove alone:

| | |
| --- | --- |
| Kennedy: | 90.6% (96) |
| Minnesota: | 88.2% (1,971,668) |
In 2 person carpool:

| | |
| --- | --- |
| Kennedy: | 9.4% (10) |
| Minnesota: | 9.6% (215,251) |
Class of workers
Employee of private company:

| | |
| --- | --- |
| Kennedy: | 69.1% (118) |
| Minnesota: | 68.0% (2,012,806) |
Private not-for-profit wage and salary workers:

| | |
| --- | --- |
| Kennedy: | 7.1% (12) |
| Minnesota: | 11.1% (327,999) |
Local government workers:

| | |
| --- | --- |
| Kennedy: | 2.5% (4) |
| Minnesota: | 6.6% (195,534) |
State government workers:

| | |
| --- | --- |
| Kennedy: | 7.6% (13) |
| Minnesota: | 3.8% (111,371) |
Federal government workers:

| | |
| --- | --- |
| Kennedy: | 2.3% (4) |
| Minnesota: | 1.3% (39,000) |
Self-employed workers in own not incorporated business:

| | |
| --- | --- |
| Kennedy: | 10.6% (18) |
| Minnesota: | 5.2% (152,742) |
Employee of private company:

| | |
| --- | --- |
| Kennedy: | 47.9% (57) |
| Minnesota: | 67.7% (1,747,303) |
Self-employed in own incorporated business:

| | |
| --- | --- |
| Kennedy: | 5.0% (6) |
| Minnesota: | 3.3% (85,391) |
Private not-for-profit wage and salary workers:

| | |
| --- | --- |
| Kennedy: | 16.0% (19) |
| Minnesota: | 9.4% (241,738) |
Local government workers:

| | |
| --- | --- |
| Kennedy: | 17.6% (21) |
| Minnesota: | 6.8% (175,282) |
State government workers:

| | |
| --- | --- |
| Kennedy: | 5.9% (7) |
| Minnesota: | 4.0% (101,959) |
Federal government workers:

| | |
| --- | --- |
| Kennedy: | 4.2% (5) |
| Minnesota: | 1.6% (41,691) |
Self-employed workers in own not incorporated business:

| | |
| --- | --- |
| Kennedy: | 3.4% (4) |
| Minnesota: | 6.9% (178,586) |
Employee of private company - Males:

| | |
| --- | --- |
| Kennedy: | 76.2% (73) |
| Minnesota: | 72.2% (1,111,524) |
Private not-for-profit wage and salary workers - Males:

| | |
| --- | --- |
| Kennedy: | 2.1% (2) |
| Minnesota: | 6.9% (105,551) |
Local government workers - Males:

| | |
| --- | --- |
| Kennedy: | 2.3% (2) |
| Minnesota: | 5.1% (79,029) |
Federal government workers - Males:

| | |
| --- | --- |
| Kennedy: | 1.0% (1) |
| Minnesota: | 1.4% (21,396) |
Self-employed workers in own not incorporated business - Males:

| | |
| --- | --- |
| Kennedy: | 17.7% (17) |
| Minnesota: | 5.9% (90,537) |
Employee of private company - Females:

| | |
| --- | --- |
| Kennedy: | 60.0% (45) |
| Minnesota: | 63.4% (901,282) |
Private not-for-profit wage and salary workers - Females:

| | |
| --- | --- |
| Kennedy: | 13.6% (10) |
| Minnesota: | 15.7% (222,448) |
Local government workers - Females:

| | |
| --- | --- |
| Kennedy: | 2.8% (2) |
| Minnesota: | 8.2% (116,505) |
State government workers - Females:

| | |
| --- | --- |
| Kennedy: | 17.5% (13) |
| Minnesota: | 4.7% (66,061) |
Federal government workers - Females:

| | |
| --- | --- |
| Kennedy: | 4.0% (3) |
| Minnesota: | 1.2% (17,604) |
Self-employed workers in own not incorporated business - Females:

| | |
| --- | --- |
| Kennedy: | 1.3% (1) |
| Minnesota: | 4.4% (62,205) |