Work and Jobs in Kingsley, Michigan (MI) Detailed Stats


Occupations, Industries, Unemployment, Workers, Commute




Opacity:
%
Hide borders
Hide US histogram
---
Reset to defaults
Latest news about work in Kingsley, MI collected exclusively by city-data.com from local newspapers, TV, and radio stations
The most common industries in Kingsley are: Construction (9.8% of civilian employees), Health care (9.5% of civilian employees), Accommodation & food services (8.5% of civilian employees). 89.3% of workers work in Grand Traverse County and 1.4% of all workers work at home. 70.1% of workers are employees of private companies, which is 2.9% less than the rate of 72.1% across the entire state of Michigan.
Whole page based on the data from 2000 / 2017 when the population of Kingsley, Michigan was 1,469 / 1,682
Most common industries



Most common industries

Industry

All

Males

Females

Construction
9.8%
(68)
16.4%
(57)
3.2%
(11)
Health care
9.5%
(66)
2.3%
(8)
16.7%
(58)
Accommodation and food services
8.5%
(59)
6.6%
(23)
10.4%
(36)
Educational services
5.3%
(37)
3.7%
(13)
6.9%
(24)
Public administration
4.2%
(29)
4.0%
(14)
4.3%
(15)
Food
3.7%
(26)
4.9%
(17)
2.6%
(9)
Department and other general merchandise stores
3.6%
(25)
2.3%
(8)
4.9%
(17)
Professional, scientific, and technical services
3.3%
(23)
1.1%
(4)
5.5%
(19)
Metal and metal products
3.3%
(23)
5.7%
(20)
0.9%
(3)
Machinery
2.9%
(20)
4.9%
(17)
0.9%
(3)
Motor vehicle and parts dealers
2.9%
(20)
4.6%
(16)
1.2%
(4)
Finance and insurance
2.7%
(19)
1.1%
(4)
4.3%
(15)
Transportation equipment
2.7%
(19)
2.6%
(9)
2.9%
(10)
Food and beverage stores
2.4%
(17)
0.6%
(2)
4.3%
(15)
Social assistance
2.4%
(17)
0.0%
(0)
4.9%
(17)
Administrative and support and waste management services
2.3%
(16)
2.6%
(9)
2.0%
(7)
Printing and related support activities
2.3%
(16)
4.6%
(16)
0.0%
(0)
Building material and garden equipment and supplies dealers
2.3%
(16)
3.2%
(11)
1.4%
(5)
Miscellaneous manufacturing
2.3%
(16)
3.2%
(11)
1.4%
(5)
Radio, TV, and computer stores
1.7%
(12)
2.0%
(7)
1.4%
(5)
Furniture and home furnishings, and household appliance stores
1.6%
(11)
1.4%
(5)
1.7%
(6)
Arts, entertainment, and recreation
1.6%
(11)
0.6%
(2)
2.6%
(9)
Repair and maintenance
1.4%
(10)
2.0%
(7)
0.9%
(3)
Real estate and rental and leasing
1.2%
(8)
0.6%
(2)
1.7%
(6)
Alcoholic beverages merchant wholesalers
1.2%
(8)
2.3%
(8)
0.0%
(0)
Mining, quarrying, and oil and gas extraction
0.9%
(6)
0.6%
(2)
1.2%
(4)
Textile mills and textile products
0.9%
(6)
0.9%
(3)
0.9%
(3)
Groceries and related products merchant wholesalers
0.9%
(6)
1.7%
(6)
0.0%
(0)
U. S. Postal service
0.9%
(6)
1.7%
(6)
0.0%
(0)
Religious, grantmaking, civic, professional, and similar organizations
0.7%
(5)
0.6%
(2)
0.9%
(3)
Nonmetallic mineral products
0.7%
(5)
0.0%
(0)
1.4%
(5)
Professional and commercial equipment and supplies merchant wholesalers
0.7%
(5)
1.4%
(5)
0.0%
(0)
Truck transportation
0.7%
(5)
1.4%
(5)
0.0%
(0)
Other transportation, and support activities, and couriers
0.7%
(5)
0.9%
(3)
0.6%
(2)
Paper
0.7%
(5)
0.6%
(2)
0.9%
(3)
Broadcasting and telecommunications
0.7%
(5)
0.9%
(3)
0.6%
(2)
Gasoline stations
0.6%
(4)
0.0%
(0)
1.2%
(4)
Used merchandise, gift, novelty, and souvenir, and other miscellaneous stores
0.6%
(4)
0.6%
(2)
0.6%
(2)
Sporting goods, camera, and hobby and toy stores
0.4%
(3)
0.6%
(2)
0.3%
(1)
Plastics and rubber products
0.4%
(3)
0.9%
(3)
0.0%
(0)
Agriculture, forestry, fishing and hunting
0.4%
(3)
0.0%
(0)
0.9%
(3)
Utilities
0.4%
(3)
0.9%
(3)
0.0%
(0)
Motor vehicles, parts and supplies merchant wholesalers
0.4%
(3)
0.0%
(0)
0.9%
(3)
Metals and minerals, except petroleum, merchant wholesalers
0.4%
(3)
0.9%
(3)
0.0%
(0)
Other direct selling establishments
0.3%
(2)
0.6%
(2)
0.0%
(0)
Clothing and accessories, including shoe, stores
0.3%
(2)
0.0%
(0)
0.6%
(2)
Computer and electronic products
0.3%
(2)
0.0%
(0)
0.6%
(2)
Vending machine operators
0.3%
(2)
0.0%
(0)
0.6%
(2)
Air transportation
0.3%
(2)
0.6%
(2)
0.0%
(0)
Petroleum and petroleum products merchant wholesalers
0.3%
(2)
0.6%
(2)
0.0%
(0)
Publishing, and motion picture and sound recording industries
0.3%
(2)
0.0%
(0)
0.6%
(2)
Electrical and electronic goods merchant wholesalers
0.3%
(2)
0.6%
(2)
0.0%
(0)
Personal and laundry services
0.3%
(2)
0.0%
(0)
0.6%
(2)
Unemployment in Kingsley
Unemployment by race in 2017
Unemployment rate for White non-Hispanic residents

9.3%

Males

8.3%

Females
Unemployment by race in 2000
Unemployment rate for White non-Hispanic residents

2.3%

Males

2.5%

Females
Time leaving home to go to work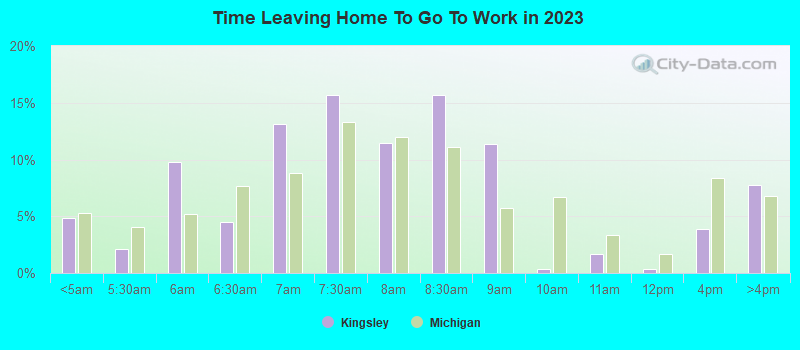 12:00 a.m. to 4:59 a.m.:

| | |
| --- | --- |
| Kingsley: | 14.4% (107) |
| Michigan: | 4.8% (211,629) |
5:00 a.m. to 5:29 a.m.:

| | |
| --- | --- |
| Kingsley: | 2.8% (21) |
| Michigan: | 3.8% (164,048) |
5:30 a.m. to 5:59 a.m.:

| | |
| --- | --- |
| Kingsley: | 6.8% (51) |
| Michigan: | 5.0% (220,102) |
6:00 a.m. to 6:29 a.m.:

| | |
| --- | --- |
| Kingsley: | 6.1% (45) |
| Michigan: | 8.1% (352,274) |
6:30 a.m. to 6:59 a.m.:

| | |
| --- | --- |
| Kingsley: | 7.0% (52) |
| Michigan: | 9.5% (416,470) |
7:00 a.m. to 7:29 a.m.:

| | |
| --- | --- |
| Kingsley: | 13.4% (99) |
| Michigan: | 13.8% (601,982) |
7:30 a.m. to 7:59 a.m.:

| | |
| --- | --- |
| Kingsley: | 15.7% (116) |
| Michigan: | 12.4% (543,156) |
8:00 a.m. to 8:29 a.m.:

| | |
| --- | --- |
| Kingsley: | 9.9% (73) |
| Michigan: | 10.3% (450,432) |
8:30 a.m. to 8:59 a.m.:

| | |
| --- | --- |
| Kingsley: | 5.2% (38) |
| Michigan: | 5.6% (242,965) |
9:00 a.m. to 9:59 a.m.:

| | |
| --- | --- |
| Kingsley: | 4.8% (35) |
| Michigan: | 6.0% (262,286) |
10:00 a.m. to 10:59 a.m.:

| | |
| --- | --- |
| Kingsley: | 2.0% (15) |
| Michigan: | 2.6% (113,671) |
11:00 a.m. to 11:59 a.m.:

| | |
| --- | --- |
| Kingsley: | 1.4% (10) |
| Michigan: | 1.4% (63,215) |
12:00 p.m. to 3:59 p.m.:

| | |
| --- | --- |
| Kingsley: | 5.1% (38) |
| Michigan: | 8.4% (366,272) |
4:00 p.m. to 11:59 p.m.:

| | |
| --- | --- |
| Kingsley: | 5.5% (41) |
| Michigan: | 8.3% (361,129) |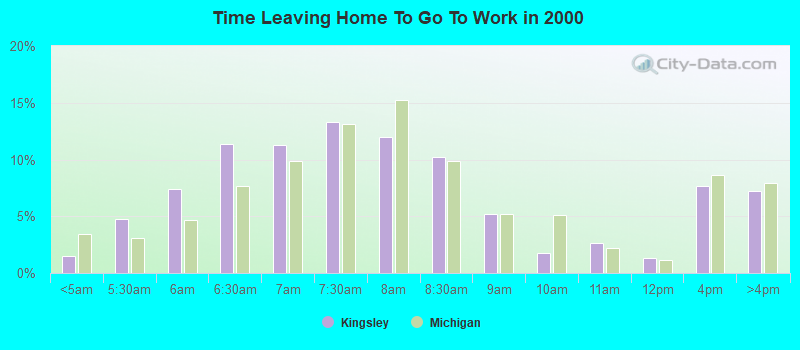 <5am:

| | |
| --- | --- |
| Kingsley: | 1.5% (10) |
| Michigan: | 3.4% (156,327) |
5:30am:

| | |
| --- | --- |
| Kingsley: | 4.7% (32) |
| Michigan: | 3.1% (139,699) |
6am:

| | |
| --- | --- |
| Kingsley: | 7.4% (50) |
| Michigan: | 4.7% (211,446) |
6:30am:

| | |
| --- | --- |
| Kingsley: | 11.4% (77) |
| Michigan: | 7.7% (349,878) |
7am:

| | |
| --- | --- |
| Kingsley: | 11.3% (76) |
| Michigan: | 9.8% (446,636) |
7:30am:

| | |
| --- | --- |
| Kingsley: | 13.3% (90) |
| Michigan: | 13.2% (597,402) |
8am:

| | |
| --- | --- |
| Kingsley: | 12.0% (81) |
| Michigan: | 15.3% (692,901) |
8:30am:

| | |
| --- | --- |
| Kingsley: | 10.2% (69) |
| Michigan: | 9.9% (448,050) |
9am:

| | |
| --- | --- |
| Kingsley: | 5.2% (35) |
| Michigan: | 5.2% (235,689) |
10am:

| | |
| --- | --- |
| Kingsley: | 1.8% (12) |
| Michigan: | 5.1% (233,210) |
11am:

| | |
| --- | --- |
| Kingsley: | 2.7% (18) |
| Michigan: | 2.2% (98,395) |
12pm:

| | |
| --- | --- |
| Kingsley: | 1.3% (9) |
| Michigan: | 1.1% (50,205) |
4pm:

| | |
| --- | --- |
| Kingsley: | 7.7% (52) |
| Michigan: | 8.6% (391,612) |
>4pm:

| | |
| --- | --- |
| Kingsley: | 7.3% (49) |
| Michigan: | 8.0% (361,157) |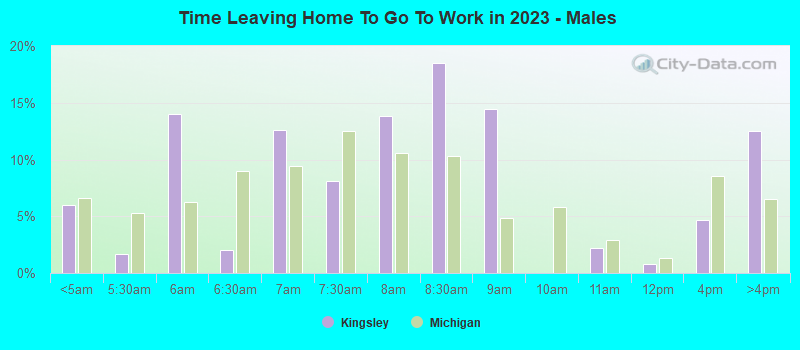 12:00 a.m. to 4:59 a.m. - Males:

| | |
| --- | --- |
| Kingsley: | 12.9% (51) |
| Michigan: | 6.1% (139,973) |
5:00 a.m. to 5:29 a.m. - Males:

| | |
| --- | --- |
| Kingsley: | 3.1% (12) |
| Michigan: | 5.1% (115,897) |
5:30 a.m. to 5:59 a.m. - Males:

| | |
| --- | --- |
| Kingsley: | 6.2% (24) |
| Michigan: | 6.2% (141,819) |
6:00 a.m. to 6:29 a.m. - Males:

| | |
| --- | --- |
| Kingsley: | 12.2% (49) |
| Michigan: | 9.4% (214,622) |
6:30 a.m. to 6:59 a.m. - Males:

| | |
| --- | --- |
| Kingsley: | 14.3% (57) |
| Michigan: | 10.0% (229,214) |
7:00 a.m. to 7:29 a.m. - Males:

| | |
| --- | --- |
| Kingsley: | 10.7% (43) |
| Michigan: | 13.5% (308,803) |
7:30 a.m. to 7:59 a.m. - Males:

| | |
| --- | --- |
| Kingsley: | 11.8% (47) |
| Michigan: | 11.2% (256,567) |
8:00 a.m. to 8:29 a.m. - Males:

| | |
| --- | --- |
| Kingsley: | 11.0% (43) |
| Michigan: | 9.2% (210,385) |
8:30 a.m. to 8:59 a.m. - Males:

| | |
| --- | --- |
| Kingsley: | 1.8% (7) |
| Michigan: | 4.6% (104,580) |
9:00 a.m. to 9:59 a.m. - Males:

| | |
| --- | --- |
| Kingsley: | 3.8% (15) |
| Michigan: | 5.0% (115,217) |
12:00 p.m. to 3:59 p.m. - Males:

| | |
| --- | --- |
| Kingsley: | 8.2% (33) |
| Michigan: | 8.3% (190,078) |
4:00 p.m. to 11:59 p.m. - Males:

| | |
| --- | --- |
| Kingsley: | 2.7% (11) |
| Michigan: | 8.2% (187,714) |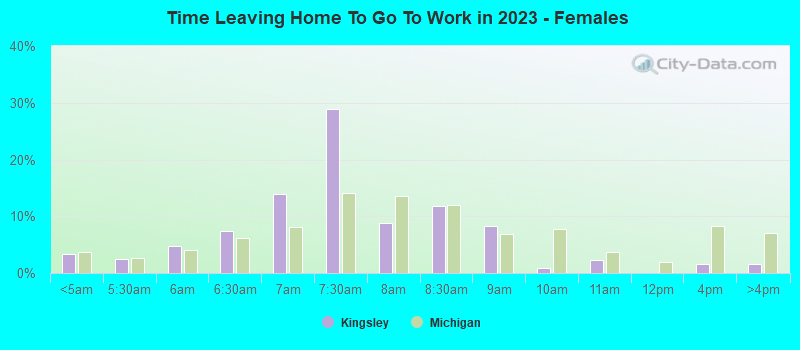 12:00 a.m. to 4:59 a.m. - Females:

| | |
| --- | --- |
| Kingsley: | 15.8% (54) |
| Michigan: | 3.4% (71,656) |
5:00 a.m. to 5:29 a.m. - Females:

| | |
| --- | --- |
| Kingsley: | 2.4% (8) |
| Michigan: | 2.3% (48,151) |
5:30 a.m. to 5:59 a.m. - Females:

| | |
| --- | --- |
| Kingsley: | 7.8% (27) |
| Michigan: | 3.8% (78,283) |
6:00 a.m. to 6:29 a.m. - Females:

| | |
| --- | --- |
| Kingsley: | 1.5% (5) |
| Michigan: | 6.6% (137,652) |
6:30 a.m. to 6:59 a.m. - Females:

| | |
| --- | --- |
| Kingsley: | 0.8% (3) |
| Michigan: | 9.0% (187,256) |
7:00 a.m. to 7:29 a.m. - Females:

| | |
| --- | --- |
| Kingsley: | 16.6% (57) |
| Michigan: | 14.1% (293,179) |
7:30 a.m. to 7:59 a.m. - Females:

| | |
| --- | --- |
| Kingsley: | 20.1% (69) |
| Michigan: | 13.8% (286,589) |
8:00 a.m. to 8:29 a.m. - Females:

| | |
| --- | --- |
| Kingsley: | 8.9% (30) |
| Michigan: | 11.6% (240,047) |
8:30 a.m. to 8:59 a.m. - Females:

| | |
| --- | --- |
| Kingsley: | 9.2% (32) |
| Michigan: | 6.7% (138,385) |
9:00 a.m. to 9:59 a.m. - Females:

| | |
| --- | --- |
| Kingsley: | 5.9% (20) |
| Michigan: | 7.1% (147,069) |
10:00 a.m. to 10:59 a.m. - Females:

| | |
| --- | --- |
| Kingsley: | 2.5% (9) |
| Michigan: | 3.1% (64,523) |
11:00 a.m. to 11:59 a.m. - Females:

| | |
| --- | --- |
| Kingsley: | 4.2% (14) |
| Michigan: | 1.7% (35,066) |
12:00 p.m. to 3:59 p.m. - Females:

| | |
| --- | --- |
| Kingsley: | 2.0% (7) |
| Michigan: | 8.5% (176,194) |
4:00 p.m. to 11:59 p.m. - Females:

| | |
| --- | --- |
| Kingsley: | 9.5% (33) |
| Michigan: | 8.3% (173,415) |
Travel time to work
Percentage of workers working in this county: 89.3%
Number of people working at home: 10 (1.4% of all workers)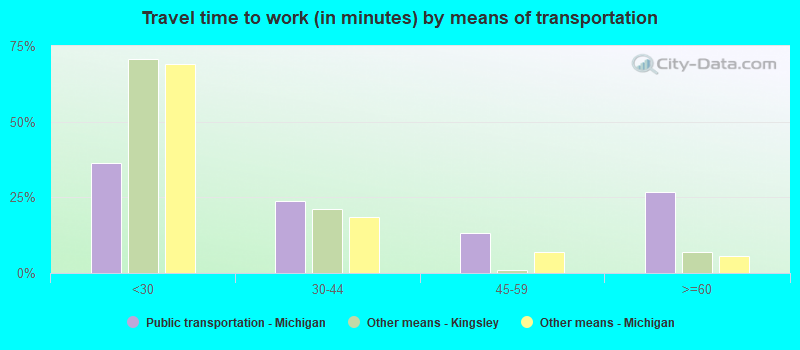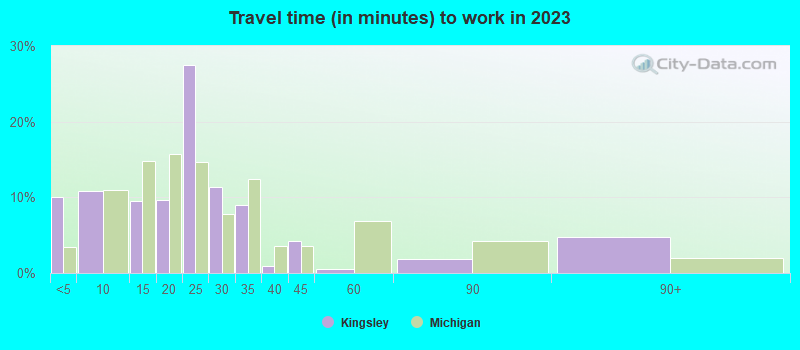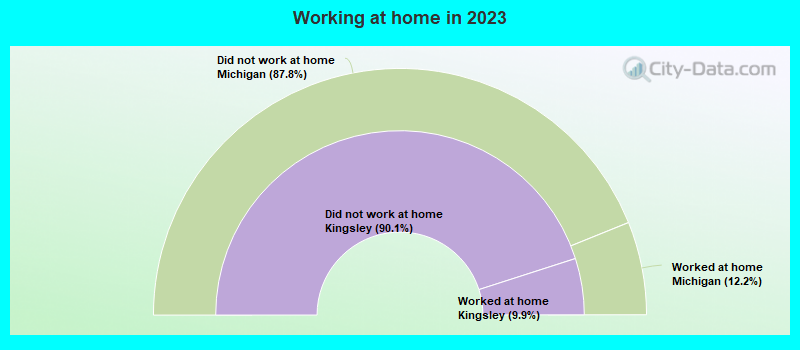 Less than 5 minutes:

| | |
| --- | --- |
| Kingsley: | 3.5% (16) |
| Michigan: | 3.2% (138,247) |
5 to 9 minutes:

| | |
| --- | --- |
| Kingsley: | 16.0% (71) |
| Michigan: | 10.8% (469,153) |
10 to 14 minutes:

| | |
| --- | --- |
| Kingsley: | 11.3% (50) |
| Michigan: | 14.7% (635,608) |
15 to 19 minutes:

| | |
| --- | --- |
| Kingsley: | 7.9% (35) |
| Michigan: | 15.9% (687,129) |
20 to 24 minutes:

| | |
| --- | --- |
| Kingsley: | 24.1% (106) |
| Michigan: | 15.4% (664,828) |
25 to 29 minutes:

| | |
| --- | --- |
| Kingsley: | 16.8% (74) |
| Michigan: | 7.3% (317,528) |
30 to 34 minutes:

| | |
| --- | --- |
| Kingsley: | 7.0% (31) |
| Michigan: | 12.3% (530,455) |
35 to 39 minutes:

| | |
| --- | --- |
| Kingsley: | 4.1% (18) |
| Michigan: | 3.1% (134,303) |
40 to 44 minutes:

| | |
| --- | --- |
| Kingsley: | 1.6% (7) |
| Michigan: | 4.0% (174,555) |
45 to 59 minutes:

| | |
| --- | --- |
| Kingsley: | 4.6% (20) |
| Michigan: | 7.1% (309,409) |
60 to 89 minutes:

| | |
| --- | --- |
| Kingsley: | 0.6% (3) |
| Michigan: | 4.5% (193,639) |
90 or more minutes:

| | |
| --- | --- |
| Kingsley: | 1.1% (5) |
| Michigan: | 1.7% (74,228) |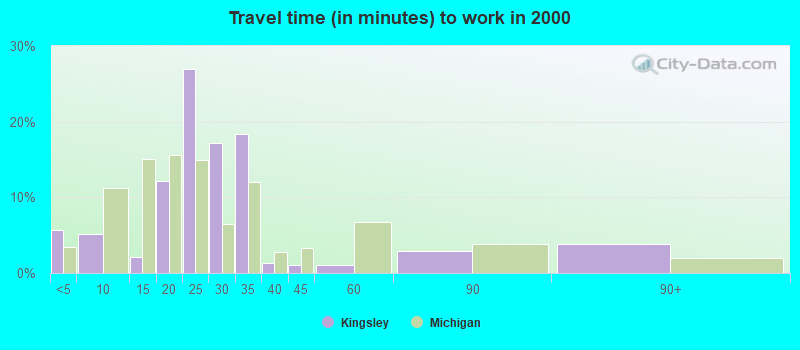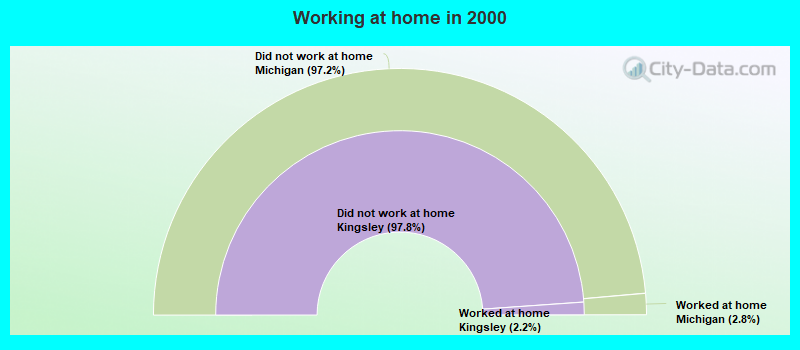 Less than 5 minutes:

| | |
| --- | --- |
| Kingsley: | 5.6% (38) |
| Michigan: | 3.5% (158,315) |
5 to 9 minutes:

| | |
| --- | --- |
| Kingsley: | 5.2% (35) |
| Michigan: | 11.2% (507,653) |
10 to 14 minutes:

| | |
| --- | --- |
| Kingsley: | 2.1% (14) |
| Michigan: | 15.0% (681,990) |
15 to 19 minutes:

| | |
| --- | --- |
| Kingsley: | 12.1% (82) |
| Michigan: | 15.6% (708,036) |
20 to 24 minutes:

| | |
| --- | --- |
| Kingsley: | 27.0% (182) |
| Michigan: | 14.9% (675,865) |
25 to 29 minutes:

| | |
| --- | --- |
| Kingsley: | 17.2% (116) |
| Michigan: | 6.4% (291,938) |
30 to 34 minutes:

| | |
| --- | --- |
| Kingsley: | 18.4% (124) |
| Michigan: | 12.0% (546,870) |
35 to 39 minutes:

| | |
| --- | --- |
| Kingsley: | 1.3% (9) |
| Michigan: | 2.8% (126,158) |
40 to 44 minutes:

| | |
| --- | --- |
| Kingsley: | 1.0% (7) |
| Michigan: | 3.3% (147,930) |
45 to 59 minutes:

| | |
| --- | --- |
| Kingsley: | 1.0% (7) |
| Michigan: | 6.7% (304,785) |
60 to 89 minutes:

| | |
| --- | --- |
| Kingsley: | 3.0% (20) |
| Michigan: | 3.8% (171,403) |
90 or more minutes:

| | |
| --- | --- |
| Kingsley: | 3.9% (26) |
| Michigan: | 2.0% (91,664) |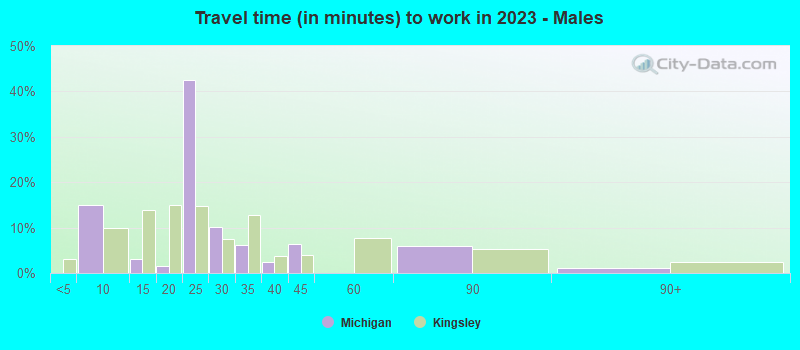 Less than 5 minutes - Males:

| | |
| --- | --- |
| Kingsley: | 0.8% (1) |
| Michigan: | 3.1% (70,995) |
5 to 9 minutes - Males:

| | |
| --- | --- |
| Kingsley: | 23.1% (43) |
| Michigan: | 9.6% (217,496) |
10 to 14 minutes - Males:

| | |
| --- | --- |
| Kingsley: | 14.7% (27) |
| Michigan: | 13.6% (307,821) |
15 to 19 minutes - Males:

| | |
| --- | --- |
| Kingsley: | 4.9% (9) |
| Michigan: | 15.4% (349,167) |
20 to 24 minutes - Males:

| | |
| --- | --- |
| Kingsley: | 7.3% (14) |
| Michigan: | 15.1% (342,968) |
25 to 29 minutes - Males:

| | |
| --- | --- |
| Kingsley: | 24.3% (45) |
| Michigan: | 7.2% (163,764) |
30 to 34 minutes - Males:

| | |
| --- | --- |
| Kingsley: | 12.0% (22) |
| Michigan: | 12.8% (289,460) |
35 to 39 minutes - Males:

| | |
| --- | --- |
| Kingsley: | 6.6% (12) |
| Michigan: | 3.3% (75,642) |
40 to 44 minutes - Males:

| | |
| --- | --- |
| Kingsley: | 3.3% (6) |
| Michigan: | 4.4% (100,652) |
60 to 89 minutes - Males:

| | |
| --- | --- |
| Kingsley: | 1.4% (3) |
| Michigan: | 5.3% (120,349) |
90 or more minutes - Males:

| | |
| --- | --- |
| Kingsley: | 2.8% (5) |
| Michigan: | 2.1% (48,415) |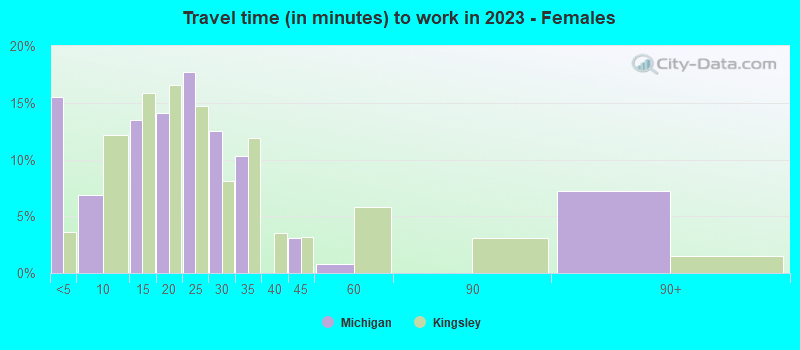 Less than 5 minutes - Females:

| | |
| --- | --- |
| Kingsley: | 5.4% (14) |
| Michigan: | 3.3% (67,252) |
5 to 9 minutes - Females:

| | |
| --- | --- |
| Kingsley: | 11.0% (28) |
| Michigan: | 12.2% (251,657) |
10 to 14 minutes - Females:

| | |
| --- | --- |
| Kingsley: | 8.8% (22) |
| Michigan: | 15.9% (327,787) |
15 to 19 minutes - Females:

| | |
| --- | --- |
| Kingsley: | 9.6% (24) |
| Michigan: | 16.4% (337,962) |
20 to 24 minutes - Females:

| | |
| --- | --- |
| Kingsley: | 37.6% (95) |
| Michigan: | 15.6% (321,860) |
25 to 29 minutes - Females:

| | |
| --- | --- |
| Kingsley: | 11.5% (29) |
| Michigan: | 7.5% (153,764) |
30 to 34 minutes - Females:

| | |
| --- | --- |
| Kingsley: | 3.8% (10) |
| Michigan: | 11.7% (240,995) |
35 to 39 minutes - Females:

| | |
| --- | --- |
| Kingsley: | 2.1% (5) |
| Michigan: | 2.8% (58,661) |
40 to 44 minutes - Females:

| | |
| --- | --- |
| Kingsley: | 0.4% (1) |
| Michigan: | 3.6% (73,903) |
45 to 59 minutes - Females:

| | |
| --- | --- |
| Kingsley: | 7.4% (19) |
| Michigan: | 6.2% (127,493) |
Means of transportation to work
Drove car alone:

| | |
| --- | --- |
| Kingsley: | 77.3% (339) |
| Michigan: | 86.1% (1,777,577) |
Carpooled:

| | |
| --- | --- |
| Kingsley: | 15.0% (66) |
| Michigan: | 9.0% (187,409) |
Walked:

| | |
| --- | --- |
| Kingsley: | 7.6% (33) |
| Michigan: | 2.3% (47,350) |
Drove car alone:

| | |
| --- | --- |
| Kingsley: | 74.1% (500) |
| Michigan: | 83.2% (3,776,535) |
Carpooled:

| | |
| --- | --- |
| Kingsley: | 19.0% (128) |
| Michigan: | 9.7% (440,606) |
Walked:

| | |
| --- | --- |
| Kingsley: | 4.6% (31) |
| Michigan: | 2.2% (101,506) |
Other means:

| | |
| --- | --- |
| Kingsley: | 0.1% (1) |
| Michigan: | 0.5% (21,691) |
Drove car alone - Males:

| | |
| --- | --- |
| Kingsley: | 75.1% (130) |
| Michigan: | 86.0% (1,777,577) |
Carpooled - Males:

| | |
| --- | --- |
| Kingsley: | 15.4% (27) |
| Michigan: | 8.9% (187,409) |
Walked - Males:

| | |
| --- | --- |
| Kingsley: | 9.5% (16) |
| Michigan: | 2.3% (47,350) |
Drove car alone - Females:

| | |
| --- | --- |
| Kingsley: | 78.8% (211) |
| Michigan: | 86.3% (1,777,577) |
Carpooled - Females:

| | |
| --- | --- |
| Kingsley: | 14.8% (40) |
| Michigan: | 9.1% (187,409) |
Walked - Females:

| | |
| --- | --- |
| Kingsley: | 6.4% (17) |
| Michigan: | 2.3% (47,350) |
Private vehicle occupancy

Drove alone:

| | |
| --- | --- |
| Kingsley: | 76.6% (545) |
| Michigan: | 90.4% (3,760,333) |
In 2 person carpool:

| | |
| --- | --- |
| Kingsley: | 18.6% (132) |
| Michigan: | 7.4% (309,443) |
In 3 person carpool:

| | |
| --- | --- |
| Kingsley: | 3.5% (25) |
| Michigan: | 1.3% (52,499) |
In 4 person carpool:

| | |
| --- | --- |
| Kingsley: | 0.6% (5) |
| Michigan: | 0.5% (19,415) |
In 5-6 person carpool:

| | |
| --- | --- |
| Kingsley: | 0.4% (3) |
| Michigan: | 0.2% (9,980) |

Drove alone:

| | |
| --- | --- |
| Kingsley: | 79.6% (500) |
| Michigan: | 89.6% (3,776,535) |
In 2 person carpool:

| | |
| --- | --- |
| Kingsley: | 17.8% (112) |
| Michigan: | 8.5% (358,473) |
In 3 person carpool:

| | |
| --- | --- |
| Kingsley: | 2.5% (16) |
| Michigan: | 1.3% (53,301) |
Class of workers
Employee of private company:

| | |
| --- | --- |
| Kingsley: | 70.1% (551) |
| Michigan: | 72.1% (3,358,082) |
Self-employed in own incorporated business:

| | |
| --- | --- |
| Kingsley: | 1.6% (12) |
| Michigan: | 3.4% (157,154) |
Private not-for-profit wage and salary workers:

| | |
| --- | --- |
| Kingsley: | 9.8% (77) |
| Michigan: | 9.2% (427,818) |
Local government workers:

| | |
| --- | --- |
| Kingsley: | 3.9% (31) |
| Michigan: | 5.1% (238,283) |
State government workers:

| | |
| --- | --- |
| Kingsley: | 4.3% (34) |
| Michigan: | 3.7% (170,087) |
Federal government workers:

| | |
| --- | --- |
| Kingsley: | 0.1% (1) |
| Michigan: | 1.3% (61,775) |
Self-employed workers in own not incorporated business:

| | |
| --- | --- |
| Kingsley: | 11.8% (93) |
| Michigan: | 5.0% (234,306) |
Employee of private company:

| | |
| --- | --- |
| Kingsley: | 81.6% (567) |
| Michigan: | 71.9% (3,336,174) |
Self-employed in own incorporated business:

| | |
| --- | --- |
| Kingsley: | 1.9% (13) |
| Michigan: | 3.1% (145,931) |
Private not-for-profit wage and salary workers:

| | |
| --- | --- |
| Kingsley: | 3.2% (22) |
| Michigan: | 8.0% (370,593) |
Local government workers:

| | |
| --- | --- |
| Kingsley: | 5.5% (38) |
| Michigan: | 6.2% (285,684) |
State government workers:

| | |
| --- | --- |
| Kingsley: | 3.6% (25) |
| Michigan: | 3.7% (170,984) |
Federal government workers:

| | |
| --- | --- |
| Kingsley: | 0.9% (6) |
| Michigan: | 1.5% (71,533) |
Self-employed workers in own not incorporated business:

| | |
| --- | --- |
| Kingsley: | 3.5% (24) |
| Michigan: | 5.2% (243,300) |
Employee of private company - Males:

| | |
| --- | --- |
| Kingsley: | 79.2% (319) |
| Michigan: | 75.7% (1,838,140) |
Self-employed in own incorporated business - Males:

| | |
| --- | --- |
| Kingsley: | 1.7% (7) |
| Michigan: | 4.6% (110,970) |
Private not-for-profit wage and salary workers - Males:

| | |
| --- | --- |
| Kingsley: | 3.8% (15) |
| Michigan: | 5.6% (136,264) |
Local government workers - Males:

| | |
| --- | --- |
| Kingsley: | 2.9% (12) |
| Michigan: | 4.1% (99,934) |
State government workers - Males:

| | |
| --- | --- |
| Kingsley: | 5.7% (23) |
| Michigan: | 2.7% (64,801) |
Self-employed workers in own not incorporated business - Males:

| | |
| --- | --- |
| Kingsley: | 12.5% (50) |
| Michigan: | 5.9% (144,473) |
Employee of private company - Females:

| | |
| --- | --- |
| Kingsley: | 60.5% (232) |
| Michigan: | 68.3% (1,519,942) |
Self-employed in own incorporated business - Females:

| | |
| --- | --- |
| Kingsley: | 1.4% (5) |
| Michigan: | 2.1% (46,184) |
Private not-for-profit wage and salary workers - Females:

| | |
| --- | --- |
| Kingsley: | 16.1% (62) |
| Michigan: | 13.1% (291,554) |
Local government workers - Females:

| | |
| --- | --- |
| Kingsley: | 4.9% (19) |
| Michigan: | 6.2% (138,349) |
State government workers - Females:

| | |
| --- | --- |
| Kingsley: | 2.9% (11) |
| Michigan: | 4.7% (105,286) |
Federal government workers - Females:

| | |
| --- | --- |
| Kingsley: | 0.2% (1) |
| Michigan: | 1.4% (30,267) |
Self-employed workers in own not incorporated business - Females:

| | |
| --- | --- |
| Kingsley: | 11.0% (42) |
| Michigan: | 4.0% (89,833) |