Work and Jobs in New Suffolk, New York (NY) Detailed Stats


Occupations, Industries, Unemployment, Workers, Commute




Opacity:
%
Hide borders
Hide US histogram
---
Reset to defaults
The most common industries in New Suffolk are: Professional, scientific, technical services (13.2% of civilian employees), Accommodation & food services (9.0% of civilian employees), Construction (8.5% of civilian employees). 89.7% of workers work in Suffolk County and 8.9% of all workers work at home. 34.3% of workers are employees of private companies, which is 88.3% less than the rate of 64.7% across the entire state of New York.
Whole page based on the data from 2000 / 2017 when the population of New Suffolk, New York was 337 / 242
Most common industries


Most common industries

Industry

All

Males

Females

Professional, scientific, and technical services
13.2%
(25)
8.9%
(9)
18.2%
(16)
Accommodation and food services
9.0%
(17)
6.9%
(7)
11.4%
(10)
Construction
8.5%
(16)
13.9%
(14)
2.3%
(2)
Administrative and support and waste management services
8.5%
(16)
15.8%
(16)
0.0%
(0)
Finance and insurance
6.3%
(12)
2.0%
(2)
11.4%
(10)
Health care
6.3%
(12)
4.0%
(4)
9.1%
(8)
Educational services
4.8%
(9)
3.0%
(3)
6.8%
(6)
Public administration
4.2%
(8)
5.0%
(5)
3.4%
(3)
Miscellaneous nondurable goods merchant wholesalers
3.2%
(6)
4.0%
(4)
2.3%
(2)
Real estate and rental and leasing
2.6%
(5)
2.0%
(2)
3.4%
(3)
Religious, grantmaking, civic, professional, and similar organizations
2.1%
(4)
2.0%
(2)
2.3%
(2)
Beverage and tobacco products
2.1%
(4)
4.0%
(4)
0.0%
(0)
Motor vehicle and parts dealers
2.1%
(4)
2.0%
(2)
2.3%
(2)
Other transportation, and support activities, and couriers
2.1%
(4)
2.0%
(2)
2.3%
(2)
Arts, entertainment, and recreation
2.1%
(4)
0.0%
(0)
4.5%
(4)
Personal and laundry services
2.1%
(4)
0.0%
(0)
4.5%
(4)
Gasoline stations
1.6%
(3)
3.0%
(3)
0.0%
(0)
Food and beverage stores
1.6%
(3)
3.0%
(3)
0.0%
(0)
Social assistance
1.6%
(3)
0.0%
(0)
3.4%
(3)
Repair and maintenance
1.6%
(3)
3.0%
(3)
0.0%
(0)
Warehousing and storage
1.1%
(2)
2.0%
(2)
0.0%
(0)
Nonmetallic mineral products
1.1%
(2)
1.0%
(1)
1.1%
(1)
Lumber and other construction materials merchant wholesalers
1.1%
(2)
2.0%
(2)
0.0%
(0)
Computer and electronic products
1.1%
(2)
0.0%
(0)
2.3%
(2)
Furniture and home furnishings, and household appliance stores
1.1%
(2)
2.0%
(2)
0.0%
(0)
Truck transportation
1.1%
(2)
2.0%
(2)
0.0%
(0)
Miscellaneous manufacturing
1.1%
(2)
0.0%
(0)
2.3%
(2)
Clothing and accessories, including shoe, stores
1.1%
(2)
0.0%
(0)
2.3%
(2)
Used merchandise, gift, novelty, and souvenir, and other miscellaneous stores
1.1%
(2)
0.0%
(0)
2.3%
(2)
Motor vehicles, parts and supplies merchant wholesalers
1.1%
(2)
2.0%
(2)
0.0%
(0)
U. S. Postal service
1.1%
(2)
0.0%
(0)
2.3%
(2)
Building material and garden equipment and supplies dealers
1.1%
(2)
2.0%
(2)
0.0%
(0)
Fuel dealers
1.1%
(2)
2.0%
(2)
0.0%
(0)
Groceries and related products merchant wholesalers
0.5%
(1)
1.0%
(1)
0.0%
(0)
Unemployment in New Suffolk
Unemployment by race in 2017
Unemployment rate for White non-Hispanic residents

9.5%

Males

6.8%

Females
Time leaving home to go to work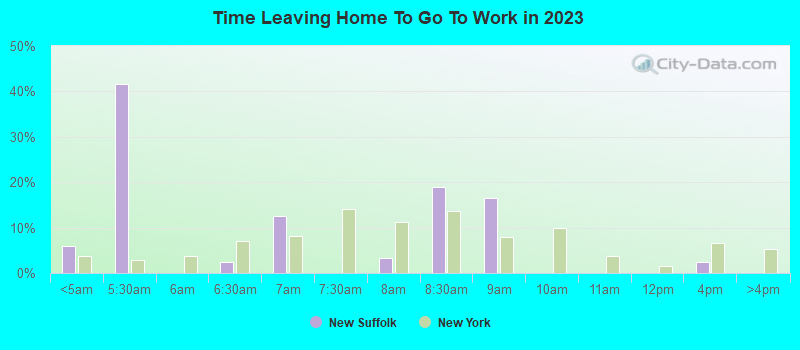 6:00 a.m. to 6:29 a.m.:

| | |
| --- | --- |
| New Suffolk: | 7.0% (7) |
| New York: | 7.6% (688,580) |
6:30 a.m. to 6:59 a.m.:

| | |
| --- | --- |
| New Suffolk: | 8.1% (8) |
| New York: | 8.3% (749,613) |
7:00 a.m. to 7:29 a.m.:

| | |
| --- | --- |
| New Suffolk: | 19.5% (19) |
| New York: | 14.5% (1,311,045) |
7:30 a.m. to 7:59 a.m.:

| | |
| --- | --- |
| New Suffolk: | 10.8% (11) |
| New York: | 11.8% (1,060,605) |
8:00 a.m. to 8:29 a.m.:

| | |
| --- | --- |
| New Suffolk: | 10.8% (11) |
| New York: | 14.3% (1,291,542) |
8:30 a.m. to 8:59 a.m.:

| | |
| --- | --- |
| New Suffolk: | 9.5% (9) |
| New York: | 7.4% (665,405) |
9:00 a.m. to 9:59 a.m.:

| | |
| --- | --- |
| New Suffolk: | 5.2% (5) |
| New York: | 8.4% (756,223) |
10:00 a.m. to 10:59 a.m.:

| | |
| --- | --- |
| New Suffolk: | 5.6% (5) |
| New York: | 3.4% (302,653) |
11:00 a.m. to 11:59 a.m.:

| | |
| --- | --- |
| New Suffolk: | 1.9% (2) |
| New York: | 1.5% (135,021) |
12:00 p.m. to 3:59 p.m.:

| | |
| --- | --- |
| New Suffolk: | 17.9% (17) |
| New York: | 6.9% (623,034) |
4:00 p.m. to 11:59 p.m.:

| | |
| --- | --- |
| New Suffolk: | 3.1% (3) |
| New York: | 6.0% (540,173) |
<5am:

| | |
| --- | --- |
| New Suffolk: | 2.2% (4) |
| New York: | 2.4% (194,562) |
5:30am:

| | |
| --- | --- |
| New Suffolk: | 2.2% (4) |
| New York: | 2.1% (174,328) |
6am:

| | |
| --- | --- |
| New Suffolk: | 5.4% (10) |
| New York: | 3.1% (253,826) |
6:30am:

| | |
| --- | --- |
| New Suffolk: | 12.0% (22) |
| New York: | 7.0% (573,349) |
7am:

| | |
| --- | --- |
| New Suffolk: | 4.3% (8) |
| New York: | 8.6% (706,982) |
7:30am:

| | |
| --- | --- |
| New Suffolk: | 4.9% (9) |
| New York: | 14.0% (1,147,579) |
8am:

| | |
| --- | --- |
| New Suffolk: | 10.9% (20) |
| New York: | 14.8% (1,213,706) |
8:30am:

| | |
| --- | --- |
| New Suffolk: | 17.4% (32) |
| New York: | 13.9% (1,144,298) |
9am:

| | |
| --- | --- |
| New Suffolk: | 14.1% (26) |
| New York: | 7.5% (614,475) |
10am:

| | |
| --- | --- |
| New Suffolk: | 6.0% (11) |
| New York: | 7.2% (593,377) |
4pm:

| | |
| --- | --- |
| New Suffolk: | 6.0% (11) |
| New York: | 6.3% (517,309) |
>4pm:

| | |
| --- | --- |
| New Suffolk: | 6.0% (11) |
| New York: | 6.1% (501,196) |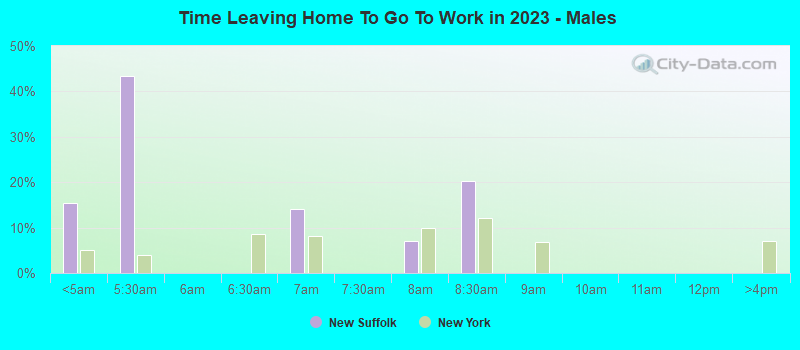 6:30 a.m. to 6:59 a.m. - Males:

| | |
| --- | --- |
| New Suffolk: | 18.3% (8) |
| New York: | 8.8% (412,086) |
7:00 a.m. to 7:29 a.m. - Males:

| | |
| --- | --- |
| New Suffolk: | 27.1% (12) |
| New York: | 14.1% (658,401) |
7:30 a.m. to 7:59 a.m. - Males:

| | |
| --- | --- |
| New Suffolk: | 11.9% (5) |
| New York: | 10.0% (463,883) |
9:00 a.m. to 9:59 a.m. - Males:

| | |
| --- | --- |
| New Suffolk: | 4.7% (2) |
| New York: | 7.7% (356,714) |
10:00 a.m. to 10:59 a.m. - Males:

| | |
| --- | --- |
| New Suffolk: | 10.9% (5) |
| New York: | 3.1% (145,595) |
12:00 p.m. to 3:59 p.m. - Males:

| | |
| --- | --- |
| New Suffolk: | 27.5% (12) |
| New York: | 7.2% (337,575) |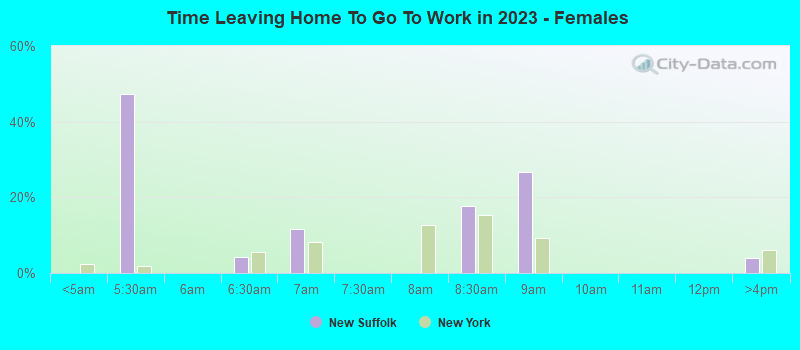 6:00 a.m. to 6:29 a.m. - Females:

| | |
| --- | --- |
| New Suffolk: | 13.1% (7) |
| New York: | 6.0% (260,140) |
7:00 a.m. to 7:29 a.m. - Females:

| | |
| --- | --- |
| New Suffolk: | 13.2% (7) |
| New York: | 15.0% (652,644) |
7:30 a.m. to 7:59 a.m. - Females:

| | |
| --- | --- |
| New Suffolk: | 9.9% (5) |
| New York: | 13.7% (596,722) |
8:00 a.m. to 8:29 a.m. - Females:

| | |
| --- | --- |
| New Suffolk: | 19.7% (11) |
| New York: | 16.4% (715,024) |
8:30 a.m. to 8:59 a.m. - Females:

| | |
| --- | --- |
| New Suffolk: | 18.1% (10) |
| New York: | 8.8% (384,406) |
9:00 a.m. to 9:59 a.m. - Females:

| | |
| --- | --- |
| New Suffolk: | 5.5% (3) |
| New York: | 9.2% (399,509) |
11:00 a.m. to 11:59 a.m. - Females:

| | |
| --- | --- |
| New Suffolk: | 2.9% (2) |
| New York: | 1.5% (63,968) |
12:00 p.m. to 3:59 p.m. - Females:

| | |
| --- | --- |
| New Suffolk: | 10.3% (6) |
| New York: | 6.5% (285,459) |
4:00 p.m. to 11:59 p.m. - Females:

| | |
| --- | --- |
| New Suffolk: | 5.9% (3) |
| New York: | 5.5% (238,825) |
Travel time to work
Percentage of workers working in this county: 89.7%
Number of people working at home: 9 (8.9% of all workers)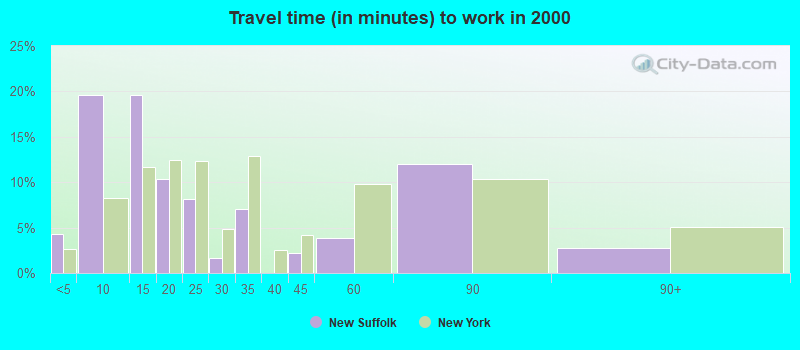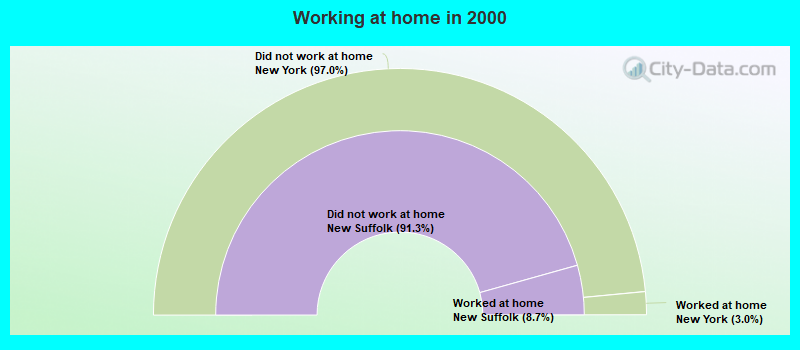 Less than 5 minutes:

| | |
| --- | --- |
| New Suffolk: | 4.3% (8) |
| New York: | 2.7% (219,036) |
5 to 9 minutes:

| | |
| --- | --- |
| New Suffolk: | 19.6% (36) |
| New York: | 8.3% (680,270) |
10 to 14 minutes:

| | |
| --- | --- |
| New Suffolk: | 19.6% (36) |
| New York: | 11.6% (956,590) |
15 to 19 minutes:

| | |
| --- | --- |
| New Suffolk: | 10.3% (19) |
| New York: | 12.4% (1,020,084) |
20 to 24 minutes:

| | |
| --- | --- |
| New Suffolk: | 8.2% (15) |
| New York: | 12.3% (1,013,757) |
25 to 29 minutes:

| | |
| --- | --- |
| New Suffolk: | 1.6% (3) |
| New York: | 4.9% (399,384) |
30 to 34 minutes:

| | |
| --- | --- |
| New Suffolk: | 7.1% (13) |
| New York: | 12.9% (1,058,688) |
40 to 44 minutes:

| | |
| --- | --- |
| New Suffolk: | 2.2% (4) |
| New York: | 4.1% (340,311) |
45 to 59 minutes:

| | |
| --- | --- |
| New Suffolk: | 3.8% (7) |
| New York: | 9.8% (806,556) |
60 to 89 minutes:

| | |
| --- | --- |
| New Suffolk: | 12.0% (22) |
| New York: | 10.3% (848,185) |
90 or more minutes:

| | |
| --- | --- |
| New Suffolk: | 2.7% (5) |
| New York: | 5.1% (417,464) |
Means of transportation to work
Drove car alone:

| | |
| --- | --- |
| New Suffolk: | 75.5% (139) |
| New York: | 56.3% (4,620,178) |
Carpooled:

| | |
| --- | --- |
| New Suffolk: | 11.4% (21) |
| New York: | 9.2% (756,918) |
Bus or trolley bus:

| | |
| --- | --- |
| New Suffolk: | 1.1% (2) |
| New York: | 5.8% (475,389) |
Walked:

| | |
| --- | --- |
| New Suffolk: | 3.3% (6) |
| New York: | 6.2% (511,721) |
Private vehicle occupancy

Drove alone:

| | |
| --- | --- |
| New Suffolk: | 100.0% (72) |
| New York: | 89.5% (5,007,277) |

Drove alone:

| | |
| --- | --- |
| New Suffolk: | 86.9% (139) |
| New York: | 85.9% (4,620,178) |
In 2 person carpool:

| | |
| --- | --- |
| New Suffolk: | 13.1% (21) |
| New York: | 11.0% (590,255) |
Class of workers
Employee of private company:

| | |
| --- | --- |
| New Suffolk: | 34.3% (37) |
| New York: | 64.7% (6,230,224) |
Self-employed in own incorporated business:

| | |
| --- | --- |
| New Suffolk: | 19.5% (21) |
| New York: | 3.9% (371,278) |
Private not-for-profit wage and salary workers:

| | |
| --- | --- |
| New Suffolk: | 4.8% (5) |
| New York: | 10.3% (990,091) |
Local government workers:

| | |
| --- | --- |
| New Suffolk: | 22.7% (25) |
| New York: | 9.4% (901,282) |
Federal government workers:

| | |
| --- | --- |
| New Suffolk: | 4.6% (5) |
| New York: | 1.5% (148,112) |
Self-employed workers in own not incorporated business:

| | |
| --- | --- |
| New Suffolk: | 14.4% (16) |
| New York: | 5.9% (570,592) |
Employee of private company:

| | |
| --- | --- |
| New Suffolk: | 59.8% (113) |
| New York: | 63.7% (5,340,134) |
Self-employed in own incorporated business:

| | |
| --- | --- |
| New Suffolk: | 6.9% (13) |
| New York: | 3.4% (283,619) |
Private not-for-profit wage and salary workers:

| | |
| --- | --- |
| New Suffolk: | 5.8% (11) |
| New York: | 9.7% (810,356) |
Local government workers:

| | |
| --- | --- |
| New Suffolk: | 10.6% (20) |
| New York: | 10.2% (858,120) |
Federal government workers:

| | |
| --- | --- |
| New Suffolk: | 1.1% (2) |
| New York: | 2.2% (185,100) |
Self-employed workers in own not incorporated business:

| | |
| --- | --- |
| New Suffolk: | 15.9% (30) |
| New York: | 6.0% (501,068) |
Employee of private company - Males:

| | |
| --- | --- |
| New Suffolk: | 39.3% (19) |
| New York: | 67.4% (3,335,103) |
Self-employed in own incorporated business - Males:

| | |
| --- | --- |
| New Suffolk: | 18.5% (9) |
| New York: | 5.2% (259,330) |
Local government workers - Males:

| | |
| --- | --- |
| New Suffolk: | 13.4% (6) |
| New York: | 7.9% (388,907) |
Federal government workers - Males:

| | |
| --- | --- |
| New Suffolk: | 10.4% (5) |
| New York: | 1.8% (86,637) |
Self-employed workers in own not incorporated business - Males:

| | |
| --- | --- |
| New Suffolk: | 18.5% (9) |
| New York: | 6.7% (331,676) |
Employee of private company - Females:

| | |
| --- | --- |
| New Suffolk: | 30.4% (18) |
| New York: | 61.8% (2,895,121) |
Self-employed in own incorporated business - Females:

| | |
| --- | --- |
| New Suffolk: | 20.3% (12) |
| New York: | 2.4% (111,948) |
Private not-for-profit wage and salary workers - Females:

| | |
| --- | --- |
| New Suffolk: | 8.5% (5) |
| New York: | 13.5% (630,486) |
Local government workers - Females:

| | |
| --- | --- |
| New Suffolk: | 30.0% (18) |
| New York: | 10.9% (512,375) |
Self-employed workers in own not incorporated business - Females:

| | |
| --- | --- |
| New Suffolk: | 11.1% (7) |
| New York: | 5.1% (238,916) |