Work and Jobs in Rake, Iowa (IA) Detailed Stats


Occupations, Industries, Unemployment, Workers, Commute




Opacity:
%
Hide borders
Hide US histogram
---
Reset to defaults
The most common industries in Rake are: Construction (19.6% of civilian employees), Finance & insurance (8.0% of civilian employees), Agriculture, forestry, fishing & hunting (5.4% of civilian employees). 70.0% of workers work in Winnebago County and 2.9% of all workers work at home. 56.8% of workers are employees of private companies, which is 17.2% less than the rate of 66.6% across the entire state of Iowa.
Whole page based on the data from 2000 / 2019 when the population of Rake, Iowa was 227 / 162
Most common industries



Most common industries

Industry

All

Males

Females

Construction
19.6%
(22)
34.4%
(22)
0.0%
(0)
Finance and insurance
8.0%
(9)
3.1%
(2)
14.6%
(7)
Agriculture, forestry, fishing and hunting
5.4%
(6)
9.4%
(6)
0.0%
(0)
Food and beverage stores
5.4%
(6)
4.7%
(3)
6.3%
(3)
Food
4.5%
(5)
3.1%
(2)
6.3%
(3)
Social assistance
4.5%
(5)
0.0%
(0)
10.4%
(5)
Machinery
3.6%
(4)
6.3%
(4)
0.0%
(0)
Public administration
3.6%
(4)
3.1%
(2)
4.2%
(2)
Metal and metal products
3.6%
(4)
0.0%
(0)
8.3%
(4)
Truck transportation
3.6%
(4)
6.3%
(4)
0.0%
(0)
Warehousing and storage
3.6%
(4)
6.3%
(4)
0.0%
(0)
Health care
3.6%
(4)
0.0%
(0)
8.3%
(4)
Furniture and related product manufacturing
2.7%
(3)
4.7%
(3)
0.0%
(0)
Educational services
2.7%
(3)
0.0%
(0)
6.3%
(3)
Computer and electronic products
1.8%
(2)
0.0%
(0)
4.2%
(2)
Petroleum and petroleum products merchant wholesalers
1.8%
(2)
3.1%
(2)
0.0%
(0)
Transportation equipment
1.8%
(2)
0.0%
(0)
4.2%
(2)
Motor vehicle and parts dealers
1.8%
(2)
3.1%
(2)
0.0%
(0)
Paper
1.8%
(2)
3.1%
(2)
0.0%
(0)
Printing and related support activities
1.8%
(2)
3.1%
(2)
0.0%
(0)
Farm supplies merchant wholesalers
1.8%
(2)
3.1%
(2)
0.0%
(0)
Department and other general merchandise stores
1.8%
(2)
0.0%
(0)
4.2%
(2)
Machinery, equipment, and supplies merchant wholesalers
1.8%
(2)
0.0%
(0)
4.2%
(2)
U. S. Postal service
1.8%
(2)
0.0%
(0)
4.2%
(2)
Data processing, libraries, and other information services
1.8%
(2)
0.0%
(0)
4.2%
(2)
Professional, scientific, and technical services
1.8%
(2)
0.0%
(0)
4.2%
(2)
Administrative and support and waste management services
1.8%
(2)
0.0%
(0)
4.2%
(2)
Repair and maintenance
1.8%
(2)
3.1%
(2)
0.0%
(0)
Accommodation and food services
0.9%
(1)
0.0%
(0)
2.1%
(1)
Unemployment in Rake
Unemployment by race in 2019
Unemployment rate for White non-Hispanic residents

4.9%

Males
Unemployment by race in 2000
Unemployment rate for White non-Hispanic residents

9.1%

Males
Time leaving home to go to work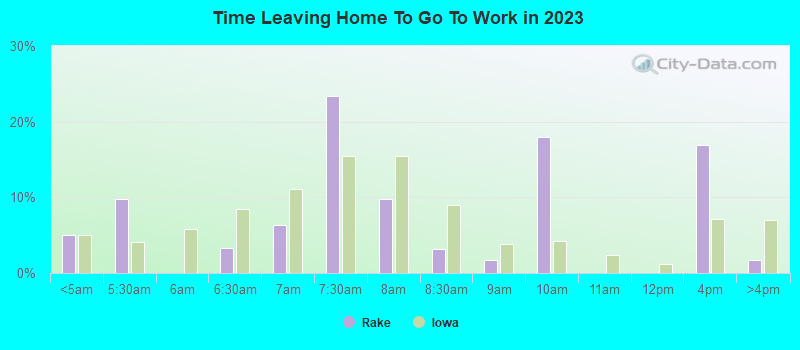 12:00 a.m. to 4:59 a.m.:

| | |
| --- | --- |
| Rake: | 9.5% (7) |
| Iowa: | 4.5% (67,428) |
5:00 a.m. to 5:29 a.m.:

| | |
| --- | --- |
| Rake: | 3.8% (3) |
| Iowa: | 3.9% (59,043) |
5:30 a.m. to 5:59 a.m.:

| | |
| --- | --- |
| Rake: | 2.7% (2) |
| Iowa: | 5.7% (85,675) |
6:00 a.m. to 6:29 a.m.:

| | |
| --- | --- |
| Rake: | 8.1% (6) |
| Iowa: | 8.8% (131,631) |
6:30 a.m. to 6:59 a.m.:

| | |
| --- | --- |
| Rake: | 5.1% (4) |
| Iowa: | 11.8% (176,118) |
7:00 a.m. to 7:29 a.m.:

| | |
| --- | --- |
| Rake: | 15.6% (12) |
| Iowa: | 15.8% (236,746) |
7:30 a.m. to 7:59 a.m.:

| | |
| --- | --- |
| Rake: | 11.1% (9) |
| Iowa: | 15.4% (230,213) |
8:00 a.m. to 8:29 a.m.:

| | |
| --- | --- |
| Rake: | 16.1% (13) |
| Iowa: | 9.2% (137,474) |
8:30 a.m. to 8:59 a.m.:

| | |
| --- | --- |
| Rake: | 2.4% (2) |
| Iowa: | 3.6% (53,458) |
9:00 a.m. to 9:59 a.m.:

| | |
| --- | --- |
| Rake: | 10.1% (8) |
| Iowa: | 4.0% (60,157) |
11:00 a.m. to 11:59 a.m.:

| | |
| --- | --- |
| Rake: | 2.4% (2) |
| Iowa: | 1.1% (16,129) |
12:00 p.m. to 3:59 p.m.:

| | |
| --- | --- |
| Rake: | 4.9% (4) |
| Iowa: | 7.4% (110,826) |
4:00 p.m. to 11:59 p.m.:

| | |
| --- | --- |
| Rake: | 8.3% (7) |
| Iowa: | 7.0% (104,228) |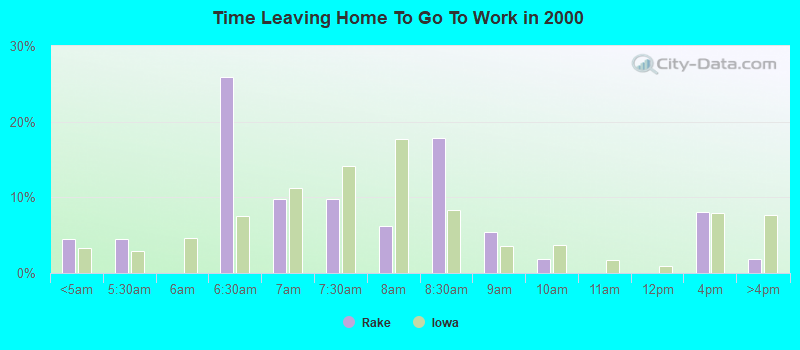 <5am:

| | |
| --- | --- |
| Rake: | 4.5% (5) |
| Iowa: | 3.2% (47,736) |
5:30am:

| | |
| --- | --- |
| Rake: | 4.5% (5) |
| Iowa: | 2.9% (42,797) |
6:30am:

| | |
| --- | --- |
| Rake: | 25.9% (29) |
| Iowa: | 7.5% (110,529) |
7am:

| | |
| --- | --- |
| Rake: | 9.8% (11) |
| Iowa: | 11.2% (164,470) |
7:30am:

| | |
| --- | --- |
| Rake: | 9.8% (11) |
| Iowa: | 14.2% (208,547) |
8am:

| | |
| --- | --- |
| Rake: | 6.3% (7) |
| Iowa: | 17.7% (260,172) |
8:30am:

| | |
| --- | --- |
| Rake: | 17.9% (20) |
| Iowa: | 8.3% (121,843) |
9am:

| | |
| --- | --- |
| Rake: | 5.4% (6) |
| Iowa: | 3.6% (53,363) |
10am:

| | |
| --- | --- |
| Rake: | 1.8% (2) |
| Iowa: | 3.6% (53,533) |
4pm:

| | |
| --- | --- |
| Rake: | 8.0% (9) |
| Iowa: | 8.0% (117,038) |
>4pm:

| | |
| --- | --- |
| Rake: | 1.8% (2) |
| Iowa: | 7.7% (112,601) |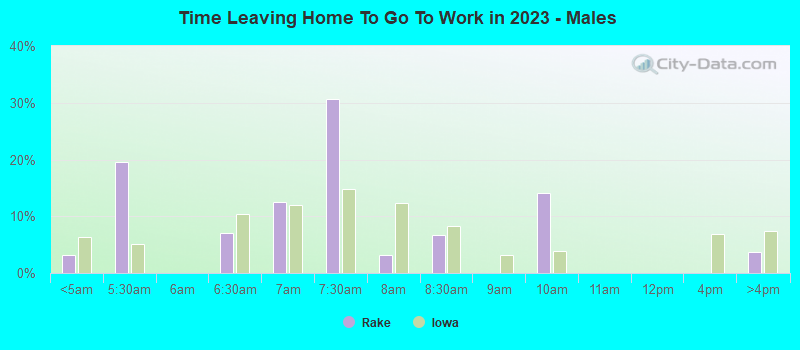 12:00 a.m. to 4:59 a.m. - Males:

| | |
| --- | --- |
| Rake: | 9.1% (4) |
| Iowa: | 5.8% (45,991) |
5:00 a.m. to 5:29 a.m. - Males:

| | |
| --- | --- |
| Rake: | 7.7% (3) |
| Iowa: | 5.3% (41,403) |
6:00 a.m. to 6:29 a.m. - Males:

| | |
| --- | --- |
| Rake: | 9.5% (4) |
| Iowa: | 10.0% (78,891) |
6:30 a.m. to 6:59 a.m. - Males:

| | |
| --- | --- |
| Rake: | 9.6% (4) |
| Iowa: | 13.1% (103,185) |
7:00 a.m. to 7:29 a.m. - Males:

| | |
| --- | --- |
| Rake: | 17.1% (7) |
| Iowa: | 15.0% (118,602) |
7:30 a.m. to 7:59 a.m. - Males:

| | |
| --- | --- |
| Rake: | 13.7% (6) |
| Iowa: | 12.5% (98,616) |
8:00 a.m. to 8:29 a.m. - Males:

| | |
| --- | --- |
| Rake: | 15.7% (6) |
| Iowa: | 8.6% (67,696) |
9:00 a.m. to 9:59 a.m. - Males:

| | |
| --- | --- |
| Rake: | 10.0% (4) |
| Iowa: | 3.5% (27,685) |
12:00 p.m. to 3:59 p.m. - Males:

| | |
| --- | --- |
| Rake: | 7.0% (3) |
| Iowa: | 7.3% (57,850) |
4:00 p.m. to 11:59 p.m. - Males:

| | |
| --- | --- |
| Rake: | 2.1% (1) |
| Iowa: | 6.7% (52,481) |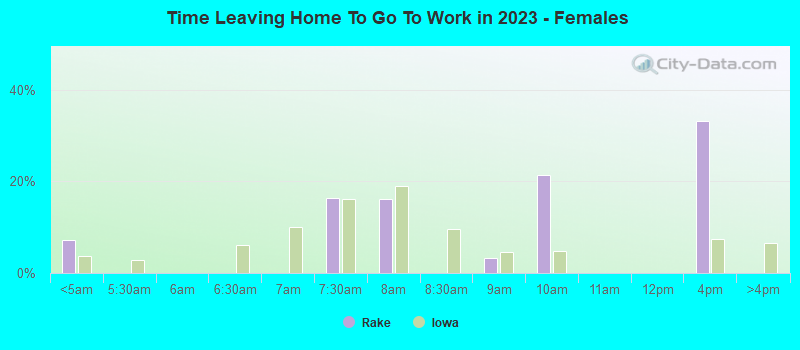 12:00 a.m. to 4:59 a.m. - Females:

| | |
| --- | --- |
| Rake: | 9.9% (4) |
| Iowa: | 3.0% (21,437) |
5:30 a.m. to 5:59 a.m. - Females:

| | |
| --- | --- |
| Rake: | 5.7% (2) |
| Iowa: | 4.5% (31,765) |
6:00 a.m. to 6:29 a.m. - Females:

| | |
| --- | --- |
| Rake: | 6.4% (2) |
| Iowa: | 7.4% (52,740) |
7:00 a.m. to 7:29 a.m. - Females:

| | |
| --- | --- |
| Rake: | 13.9% (5) |
| Iowa: | 16.7% (118,144) |
7:30 a.m. to 7:59 a.m. - Females:

| | |
| --- | --- |
| Rake: | 8.0% (3) |
| Iowa: | 18.5% (131,597) |
8:00 a.m. to 8:29 a.m. - Females:

| | |
| --- | --- |
| Rake: | 16.6% (6) |
| Iowa: | 9.8% (69,778) |
8:30 a.m. to 8:59 a.m. - Females:

| | |
| --- | --- |
| Rake: | 5.0% (2) |
| Iowa: | 4.3% (30,448) |
9:00 a.m. to 9:59 a.m. - Females:

| | |
| --- | --- |
| Rake: | 10.2% (4) |
| Iowa: | 4.6% (32,472) |
11:00 a.m. to 11:59 a.m. - Females:

| | |
| --- | --- |
| Rake: | 4.9% (2) |
| Iowa: | 1.2% (8,786) |
12:00 p.m. to 3:59 p.m. - Females:

| | |
| --- | --- |
| Rake: | 2.5% (1) |
| Iowa: | 7.5% (52,976) |
4:00 p.m. to 11:59 p.m. - Females:

| | |
| --- | --- |
| Rake: | 16.2% (6) |
| Iowa: | 7.3% (51,747) |
Travel time to work
Percentage of workers working in this county: 70.0%
Number of people working at home: 2 (2.9% of all workers)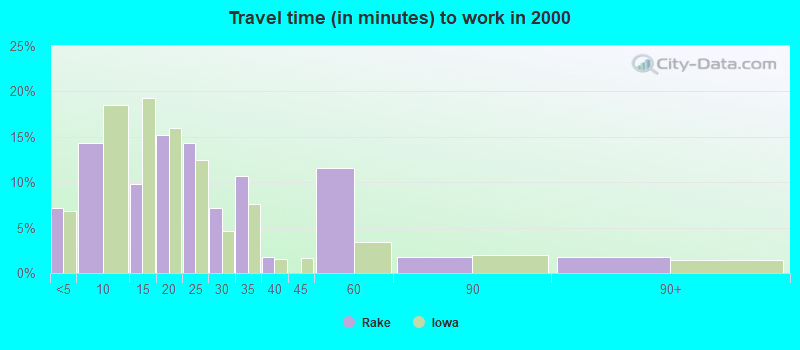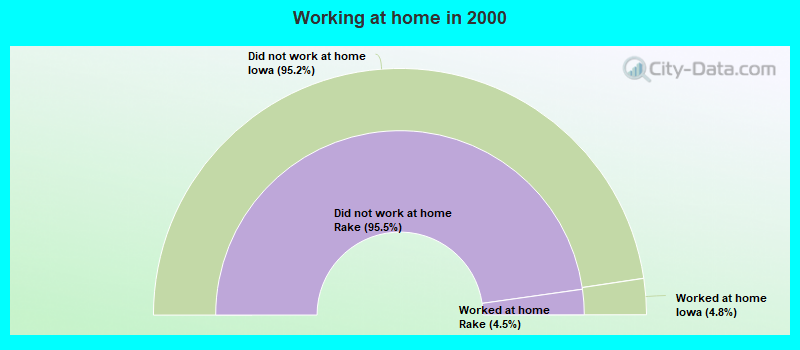 Less than 5 minutes:

| | |
| --- | --- |
| Rake: | 7.1% (8) |
| Iowa: | 6.8% (100,616) |
5 to 9 minutes:

| | |
| --- | --- |
| Rake: | 14.3% (16) |
| Iowa: | 18.5% (271,589) |
10 to 14 minutes:

| | |
| --- | --- |
| Rake: | 9.8% (11) |
| Iowa: | 19.3% (283,804) |
15 to 19 minutes:

| | |
| --- | --- |
| Rake: | 15.2% (17) |
| Iowa: | 16.0% (234,745) |
20 to 24 minutes:

| | |
| --- | --- |
| Rake: | 14.3% (16) |
| Iowa: | 12.5% (183,539) |
25 to 29 minutes:

| | |
| --- | --- |
| Rake: | 7.1% (8) |
| Iowa: | 4.6% (67,775) |
30 to 34 minutes:

| | |
| --- | --- |
| Rake: | 10.7% (12) |
| Iowa: | 7.6% (111,454) |
35 to 39 minutes:

| | |
| --- | --- |
| Rake: | 1.8% (2) |
| Iowa: | 1.5% (22,220) |
45 to 59 minutes:

| | |
| --- | --- |
| Rake: | 11.6% (13) |
| Iowa: | 3.4% (49,913) |
60 to 89 minutes:

| | |
| --- | --- |
| Rake: | 1.8% (2) |
| Iowa: | 2.0% (28,703) |
90 or more minutes:

| | |
| --- | --- |
| Rake: | 1.8% (2) |
| Iowa: | 1.4% (20,741) |
Means of transportation to work
Drove car alone:

| | |
| --- | --- |
| Rake: | 65.2% (73) |
| Iowa: | 78.6% (1,155,008) |
Carpooled:

| | |
| --- | --- |
| Rake: | 13.4% (15) |
| Iowa: | 10.8% (158,699) |
Bus or trolley bus:

| | |
| --- | --- |
| Rake: | 1.8% (2) |
| Iowa: | 0.9% (13,917) |
Walked:

| | |
| --- | --- |
| Rake: | 15.2% (17) |
| Iowa: | 4.0% (58,088) |
Private vehicle occupancy

Drove alone:

| | |
| --- | --- |
| Rake: | 82.5% (58) |
| Iowa: | 90.3% (1,274,662) |
In 2 person carpool:

| | |
| --- | --- |
| Rake: | 14.6% (10) |
| Iowa: | 7.4% (104,699) |
In 3 person carpool:

| | |
| --- | --- |
| Rake: | 2.9% (2) |
| Iowa: | 1.3% (18,893) |

Drove alone:

| | |
| --- | --- |
| Rake: | 83.0% (73) |
| Iowa: | 87.9% (1,155,008) |
In 2 person carpool:

| | |
| --- | --- |
| Rake: | 9.1% (8) |
| Iowa: | 9.8% (128,891) |
In 4 person carpool:

| | |
| --- | --- |
| Rake: | 8.0% (7) |
| Iowa: | 0.5% (6,602) |
Class of workers
Employee of private company:

| | |
| --- | --- |
| Rake: | 56.8% (46) |
| Iowa: | 66.6% (1,078,313) |
Self-employed in own incorporated business:

| | |
| --- | --- |
| Rake: | 1.3% (1) |
| Iowa: | 3.6% (58,110) |
Private not-for-profit wage and salary workers:

| | |
| --- | --- |
| Rake: | 9.0% (7) |
| Iowa: | 9.1% (146,638) |
Local government workers:

| | |
| --- | --- |
| Rake: | 7.1% (6) |
| Iowa: | 7.3% (118,957) |
State government workers:

| | |
| --- | --- |
| Rake: | 2.3% (2) |
| Iowa: | 5.3% (86,481) |
Federal government workers:

| | |
| --- | --- |
| Rake: | 1.4% (1) |
| Iowa: | 1.6% (26,027) |
Self-employed workers in own not incorporated business:

| | |
| --- | --- |
| Rake: | 19.9% (16) |
| Iowa: | 6.2% (100,879) |
Unpaid family workers:

| | |
| --- | --- |
| Rake: | 2.1% (2) |
| Iowa: | 0.2% (3,151) |
Employee of private company:

| | |
| --- | --- |
| Rake: | 76.8% (86) |
| Iowa: | 66.6% (992,122) |
Self-employed in own incorporated business:

| | |
| --- | --- |
| Rake: | 1.8% (2) |
| Iowa: | 3.0% (44,330) |
Local government workers:

| | |
| --- | --- |
| Rake: | 6.3% (7) |
| Iowa: | 6.1% (90,430) |
Federal government workers:

| | |
| --- | --- |
| Rake: | 1.8% (2) |
| Iowa: | 1.8% (27,176) |
Self-employed workers in own not incorporated business:

| | |
| --- | --- |
| Rake: | 13.4% (15) |
| Iowa: | 8.2% (121,579) |
Employee of private company - Males:

| | |
| --- | --- |
| Rake: | 51.5% (23) |
| Iowa: | 71.3% (602,650) |
Self-employed in own incorporated business - Males:

| | |
| --- | --- |
| Rake: | 2.4% (1) |
| Iowa: | 4.9% (41,511) |
Private not-for-profit wage and salary workers - Males:

| | |
| --- | --- |
| Rake: | 9.5% (4) |
| Iowa: | 5.2% (44,208) |
Local government workers - Males:

| | |
| --- | --- |
| Rake: | 4.6% (2) |
| Iowa: | 5.0% (42,082) |
Self-employed workers in own not incorporated business - Males:

| | |
| --- | --- |
| Rake: | 32.2% (14) |
| Iowa: | 7.5% (63,748) |
Employee of private company - Females:

| | |
| --- | --- |
| Rake: | 63.1% (23) |
| Iowa: | 61.5% (475,663) |
Private not-for-profit wage and salary workers - Females:

| | |
| --- | --- |
| Rake: | 8.4% (3) |
| Iowa: | 13.3% (102,430) |
Local government workers - Females:

| | |
| --- | --- |
| Rake: | 10.2% (4) |
| Iowa: | 9.9% (76,875) |
State government workers - Females:

| | |
| --- | --- |
| Rake: | 5.1% (2) |
| Iowa: | 6.5% (50,070) |
Federal government workers - Females:

| | |
| --- | --- |
| Rake: | 3.0% (1) |
| Iowa: | 1.7% (12,923) |
Self-employed workers in own not incorporated business - Females:

| | |
| --- | --- |
| Rake: | 5.3% (2) |
| Iowa: | 4.8% (37,131) |
Unpaid family workers - Females:

| | |
| --- | --- |
| Rake: | 4.6% (2) |
| Iowa: | 0.1% (1,156) |