Work and Jobs in Sidney, Nebraska (NE) Detailed Stats


Occupations, Industries, Unemployment, Workers, Commute




Opacity:
%
Hide borders
Hide US histogram
---
Reset to defaults
Latest news about work in Sidney, NE collected exclusively by city-data.com from local newspapers, TV, and radio stations
The most common industries in Sidney are: Sporting goods, camera, hobby & toy stores (10.0% of civilian employees), Electronic shopping & mail-order houses (9.6% of civilian employees), Health care (8.7% of civilian employees). 95.1% of workers work in Cheyenne County and 2.8% of all workers work at home. 67.6% of workers are employees of private companies, which is 3.3% greater than the rate of 65.3% across the entire state of Nebraska.
Whole page based on the data from 2000 / 2019 when the population of Sidney, Nebraska was 6,282 / 6,640
Most common industries



Most common industries

Industry

All

Males

Females

Sporting goods, camera, and hobby and toy stores
10.0%
(320)
9.9%
(165)
10.1%
(155)
Electronic shopping and mail-order houses
9.6%
(307)
9.5%
(157)
9.8%
(150)
Health care
8.7%
(278)
3.1%
(51)
14.8%
(227)
Educational services
7.0%
(223)
3.3%
(54)
11.0%
(169)
Accommodation and food services
5.7%
(181)
3.4%
(56)
8.2%
(125)
Construction
5.6%
(178)
10.5%
(174)
0.3%
(4)
Agriculture, forestry, fishing and hunting
4.7%
(149)
7.0%
(116)
2.2%
(33)
Metal and metal products
3.7%
(117)
5.2%
(87)
2.0%
(30)
Finance and insurance
3.5%
(111)
1.7%
(29)
5.4%
(82)
Social assistance
3.3%
(105)
0.0%
(0)
6.9%
(105)
Public administration
3.1%
(98)
3.1%
(52)
3.0%
(46)
Repair and maintenance
2.7%
(87)
3.9%
(64)
1.5%
(23)
Truck transportation
2.6%
(82)
4.9%
(82)
0.0%
(0)
Personal and laundry services
2.3%
(74)
2.0%
(33)
2.7%
(41)
Real estate and rental and leasing
1.6%
(51)
1.8%
(30)
1.4%
(21)
Food and beverage stores
1.6%
(50)
0.9%
(15)
2.3%
(35)
Building material and garden equipment and supplies dealers
1.5%
(47)
1.9%
(32)
1.0%
(15)
Other transportation, and support activities, and couriers
1.3%
(42)
2.3%
(38)
0.3%
(4)
Furniture and home furnishings, and household appliance stores
1.3%
(41)
1.4%
(24)
1.1%
(17)
Motor vehicle and parts dealers
1.2%
(38)
1.6%
(27)
0.7%
(11)
Utilities
1.2%
(37)
2.2%
(37)
0.0%
(0)
Clothing and accessories, including shoe, stores
1.2%
(37)
0.5%
(8)
1.9%
(29)
Rail transportation
1.0%
(32)
1.9%
(32)
0.0%
(0)
Food
0.9%
(29)
1.1%
(19)
0.7%
(10)
Professional, scientific, and technical services
0.9%
(29)
1.0%
(16)
0.8%
(13)
Religious, grantmaking, civic, professional, and similar organizations
0.8%
(27)
1.3%
(21)
0.4%
(6)
Administrative and support and waste management services
0.8%
(26)
1.6%
(26)
0.0%
(0)
Machinery, equipment, and supplies merchant wholesalers
0.8%
(26)
1.2%
(20)
0.4%
(6)
Gasoline stations
0.6%
(20)
0.7%
(11)
0.6%
(9)
Transportation equipment
0.6%
(20)
0.8%
(14)
0.4%
(6)
Arts, entertainment, and recreation
0.6%
(20)
0.9%
(15)
0.3%
(5)
Department and other general merchandise stores
0.6%
(18)
0.4%
(6)
0.8%
(12)
Publishing, and motion picture and sound recording industries
0.5%
(17)
0.3%
(5)
0.8%
(12)
Electrical equipment, appliances, and components
0.5%
(17)
0.6%
(10)
0.5%
(7)
Pharmacies and drug stores
0.4%
(14)
0.8%
(14)
0.0%
(0)
Petroleum and petroleum products merchant wholesalers
0.4%
(14)
0.5%
(9)
0.3%
(5)
Air transportation
0.4%
(13)
0.4%
(7)
0.4%
(6)
Mining, quarrying, and oil and gas extraction
0.4%
(13)
0.8%
(13)
0.0%
(0)
Furniture and related product manufacturing
0.4%
(13)
0.8%
(13)
0.0%
(0)
Broadcasting and telecommunications
0.4%
(13)
0.7%
(11)
0.1%
(2)
Miscellaneous manufacturing
0.4%
(12)
0.4%
(7)
0.3%
(5)
Computer and electronic products
0.4%
(12)
0.7%
(12)
0.0%
(0)
Miscellaneous nondurable goods merchant wholesalers
0.4%
(12)
0.4%
(7)
0.3%
(5)
Recyclable material merchant wholesalers
0.3%
(11)
0.7%
(11)
0.0%
(0)
U. S. Postal service
0.3%
(11)
0.3%
(5)
0.4%
(6)
Private households
0.3%
(10)
0.0%
(0)
0.7%
(10)
Health and personal care, except drug, stores
0.3%
(10)
0.0%
(0)
0.7%
(10)
Professional and commercial equipment and supplies merchant wholesalers
0.3%
(10)
0.4%
(6)
0.3%
(4)
Printing and related support activities
0.3%
(9)
0.0%
(0)
0.6%
(9)
Motor vehicles, parts and supplies merchant wholesalers
0.3%
(9)
0.3%
(5)
0.3%
(4)
Miscellaneous durable goods merchant wholesalers
0.3%
(9)
0.0%
(0)
0.6%
(9)
Other direct selling establishments
0.3%
(8)
0.0%
(0)
0.5%
(8)
Used merchandise, gift, novelty, and souvenir, and other miscellaneous stores
0.3%
(8)
0.0%
(0)
0.5%
(8)
Nonmetallic mineral products
0.2%
(7)
0.0%
(0)
0.5%
(7)
Radio, TV, and computer stores
0.2%
(7)
0.4%
(7)
0.0%
(0)
Apparel, fabrics, and notions merchant wholesalers
0.2%
(6)
0.4%
(6)
0.0%
(0)
Warehousing and storage
0.2%
(6)
0.0%
(0)
0.4%
(6)
Management of companies and enterprises
0.2%
(6)
0.0%
(0)
0.4%
(6)
Farm product raw materials merchant wholesalers
0.2%
(5)
0.0%
(0)
0.3%
(5)
Metals and minerals, except petroleum, merchant wholesalers
0.1%
(4)
0.0%
(0)
0.3%
(4)
Chemicals
0.1%
(2)
0.1%
(2)
0.0%
(0)
Unemployment in Sidney
Unemployment by race in 2019
Unemployment rate for White non-Hispanic residents

2.9%

Males

1.4%

Females
Unemployment by race in 2000
Unemployment rate for White non-Hispanic residents

2.7%

Males

2.8%

Females
Unemployment rate for American Indian and Alaska Native residents

23.1%

Males
Time leaving home to go to work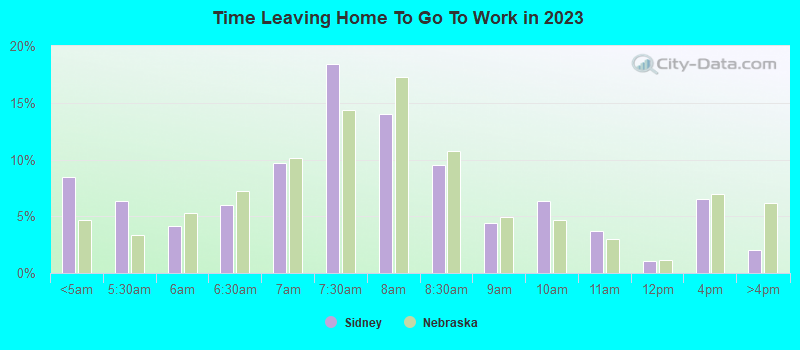 12:00 a.m. to 4:59 a.m.:

| | |
| --- | --- |
| Sidney: | 8.3% (277) |
| Nebraska: | 3.6% (34,540) |
5:00 a.m. to 5:29 a.m.:

| | |
| --- | --- |
| Sidney: | 8.1% (269) |
| Nebraska: | 3.3% (31,286) |
5:30 a.m. to 5:59 a.m.:

| | |
| --- | --- |
| Sidney: | 6.5% (217) |
| Nebraska: | 5.1% (48,799) |
6:00 a.m. to 6:29 a.m.:

| | |
| --- | --- |
| Sidney: | 4.0% (132) |
| Nebraska: | 8.0% (76,280) |
6:30 a.m. to 6:59 a.m.:

| | |
| --- | --- |
| Sidney: | 6.8% (228) |
| Nebraska: | 10.4% (99,310) |
7:00 a.m. to 7:29 a.m.:

| | |
| --- | --- |
| Sidney: | 16.3% (546) |
| Nebraska: | 16.1% (153,767) |
7:30 a.m. to 7:59 a.m.:

| | |
| --- | --- |
| Sidney: | 22.9% (764) |
| Nebraska: | 17.5% (166,804) |
8:00 a.m. to 8:29 a.m.:

| | |
| --- | --- |
| Sidney: | 10.0% (333) |
| Nebraska: | 10.0% (95,331) |
8:30 a.m. to 8:59 a.m.:

| | |
| --- | --- |
| Sidney: | 1.2% (40) |
| Nebraska: | 4.6% (44,381) |
9:00 a.m. to 9:59 a.m.:

| | |
| --- | --- |
| Sidney: | 3.1% (105) |
| Nebraska: | 4.9% (46,752) |
10:00 a.m. to 10:59 a.m.:

| | |
| --- | --- |
| Sidney: | 2.0% (68) |
| Nebraska: | 2.2% (21,062) |
11:00 a.m. to 11:59 a.m.:

| | |
| --- | --- |
| Sidney: | 0.3% (10) |
| Nebraska: | 1.1% (10,613) |
12:00 p.m. to 3:59 p.m.:

| | |
| --- | --- |
| Sidney: | 4.0% (135) |
| Nebraska: | 6.1% (58,674) |
4:00 p.m. to 11:59 p.m.:

| | |
| --- | --- |
| Sidney: | 6.5% (217) |
| Nebraska: | 7.0% (67,233) |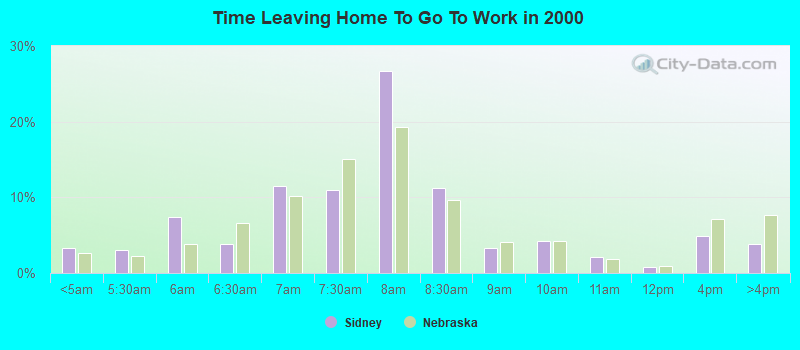 <5am:

| | |
| --- | --- |
| Sidney: | 3.3% (106) |
| Nebraska: | 2.6% (22,860) |
5:30am:

| | |
| --- | --- |
| Sidney: | 3.0% (95) |
| Nebraska: | 2.3% (19,970) |
6am:

| | |
| --- | --- |
| Sidney: | 7.5% (237) |
| Nebraska: | 3.8% (33,408) |
6:30am:

| | |
| --- | --- |
| Sidney: | 3.8% (121) |
| Nebraska: | 6.6% (57,307) |
7am:

| | |
| --- | --- |
| Sidney: | 11.6% (367) |
| Nebraska: | 10.2% (89,341) |
7:30am:

| | |
| --- | --- |
| Sidney: | 11.0% (350) |
| Nebraska: | 15.0% (131,291) |
8am:

| | |
| --- | --- |
| Sidney: | 26.6% (846) |
| Nebraska: | 19.3% (168,546) |
8:30am:

| | |
| --- | --- |
| Sidney: | 11.3% (358) |
| Nebraska: | 9.6% (83,777) |
9am:

| | |
| --- | --- |
| Sidney: | 3.3% (105) |
| Nebraska: | 4.1% (36,098) |
10am:

| | |
| --- | --- |
| Sidney: | 4.3% (135) |
| Nebraska: | 4.2% (36,918) |
11am:

| | |
| --- | --- |
| Sidney: | 2.0% (65) |
| Nebraska: | 1.9% (16,466) |
12pm:

| | |
| --- | --- |
| Sidney: | 0.9% (27) |
| Nebraska: | 1.0% (8,370) |
4pm:

| | |
| --- | --- |
| Sidney: | 4.9% (154) |
| Nebraska: | 7.1% (61,933) |
>4pm:

| | |
| --- | --- |
| Sidney: | 3.9% (123) |
| Nebraska: | 7.6% (66,396) |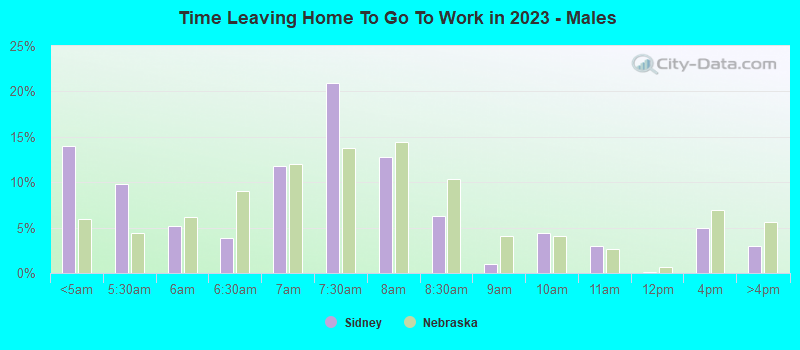 12:00 a.m. to 4:59 a.m. - Males:

| | |
| --- | --- |
| Sidney: | 11.0% (207) |
| Nebraska: | 4.4% (22,246) |
5:00 a.m. to 5:29 a.m. - Males:

| | |
| --- | --- |
| Sidney: | 11.7% (220) |
| Nebraska: | 4.0% (20,341) |
5:30 a.m. to 5:59 a.m. - Males:

| | |
| --- | --- |
| Sidney: | 5.1% (96) |
| Nebraska: | 5.8% (29,420) |
6:00 a.m. to 6:29 a.m. - Males:

| | |
| --- | --- |
| Sidney: | 3.1% (58) |
| Nebraska: | 9.8% (49,830) |
6:30 a.m. to 6:59 a.m. - Males:

| | |
| --- | --- |
| Sidney: | 5.5% (103) |
| Nebraska: | 12.0% (61,026) |
7:00 a.m. to 7:29 a.m. - Males:

| | |
| --- | --- |
| Sidney: | 16.1% (303) |
| Nebraska: | 15.8% (80,460) |
7:30 a.m. to 7:59 a.m. - Males:

| | |
| --- | --- |
| Sidney: | 22.4% (420) |
| Nebraska: | 15.6% (79,255) |
8:00 a.m. to 8:29 a.m. - Males:

| | |
| --- | --- |
| Sidney: | 6.9% (130) |
| Nebraska: | 8.8% (44,972) |
8:30 a.m. to 8:59 a.m. - Males:

| | |
| --- | --- |
| Sidney: | 0.4% (8) |
| Nebraska: | 3.6% (18,278) |
9:00 a.m. to 9:59 a.m. - Males:

| | |
| --- | --- |
| Sidney: | 4.6% (87) |
| Nebraska: | 4.1% (21,067) |
10:00 a.m. to 10:59 a.m. - Males:

| | |
| --- | --- |
| Sidney: | 1.3% (24) |
| Nebraska: | 2.0% (10,391) |
11:00 a.m. to 11:59 a.m. - Males:

| | |
| --- | --- |
| Sidney: | 0.5% (9) |
| Nebraska: | 0.8% (4,193) |
12:00 p.m. to 3:59 p.m. - Males:

| | |
| --- | --- |
| Sidney: | 5.1% (95) |
| Nebraska: | 6.3% (31,909) |
4:00 p.m. to 11:59 p.m. - Males:

| | |
| --- | --- |
| Sidney: | 6.1% (114) |
| Nebraska: | 6.9% (35,354) |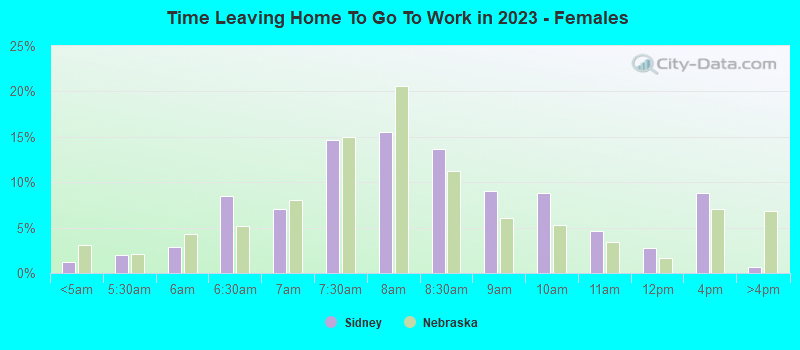 12:00 a.m. to 4:59 a.m. - Females:

| | |
| --- | --- |
| Sidney: | 4.5% (66) |
| Nebraska: | 2.8% (12,294) |
5:00 a.m. to 5:29 a.m. - Females:

| | |
| --- | --- |
| Sidney: | 3.5% (51) |
| Nebraska: | 2.5% (10,945) |
5:30 a.m. to 5:59 a.m. - Females:

| | |
| --- | --- |
| Sidney: | 8.3% (122) |
| Nebraska: | 4.3% (19,379) |
6:00 a.m. to 6:29 a.m. - Females:

| | |
| --- | --- |
| Sidney: | 4.9% (72) |
| Nebraska: | 5.9% (26,450) |
6:30 a.m. to 6:59 a.m. - Females:

| | |
| --- | --- |
| Sidney: | 8.6% (126) |
| Nebraska: | 8.6% (38,284) |
7:00 a.m. to 7:29 a.m. - Females:

| | |
| --- | --- |
| Sidney: | 16.6% (243) |
| Nebraska: | 16.4% (73,307) |
7:30 a.m. to 7:59 a.m. - Females:

| | |
| --- | --- |
| Sidney: | 23.6% (346) |
| Nebraska: | 19.6% (87,549) |
8:00 a.m. to 8:29 a.m. - Females:

| | |
| --- | --- |
| Sidney: | 14.0% (204) |
| Nebraska: | 11.3% (50,359) |
8:30 a.m. to 8:59 a.m. - Females:

| | |
| --- | --- |
| Sidney: | 2.2% (32) |
| Nebraska: | 5.9% (26,103) |
9:00 a.m. to 9:59 a.m. - Females:

| | |
| --- | --- |
| Sidney: | 1.5% (21) |
| Nebraska: | 5.8% (25,685) |
10:00 a.m. to 10:59 a.m. - Females:

| | |
| --- | --- |
| Sidney: | 2.9% (42) |
| Nebraska: | 2.4% (10,671) |
12:00 p.m. to 3:59 p.m. - Females:

| | |
| --- | --- |
| Sidney: | 2.8% (42) |
| Nebraska: | 6.0% (26,765) |
4:00 p.m. to 11:59 p.m. - Females:

| | |
| --- | --- |
| Sidney: | 7.1% (103) |
| Nebraska: | 7.1% (31,879) |
Travel time to work
Percentage of workers working in this county: 95.1%
Number of people working at home: 95 (2.8% of all workers)
Daytime population change due to commuting: +798 (+12.7%)
Workers who live and work in this city: 2,646 (83.3%)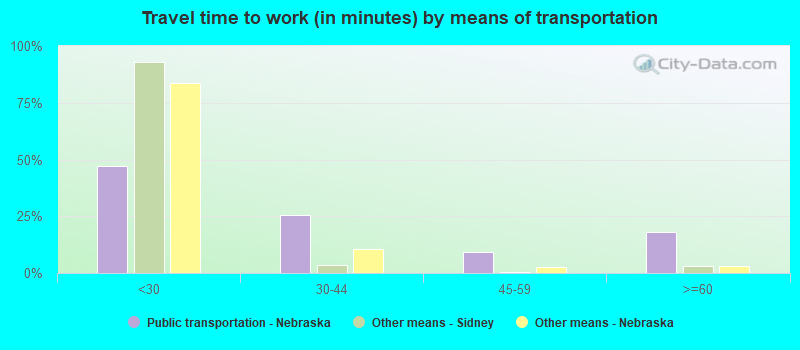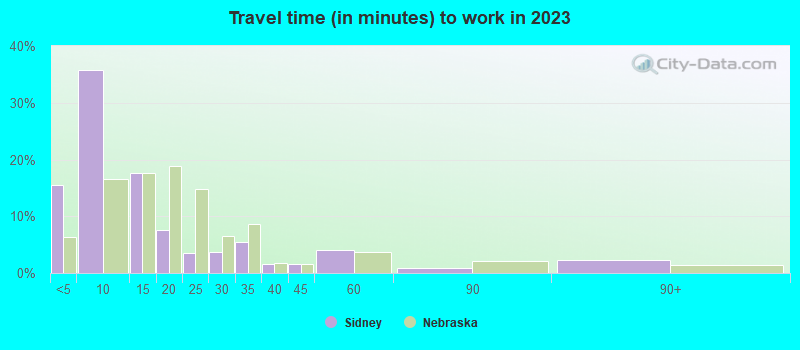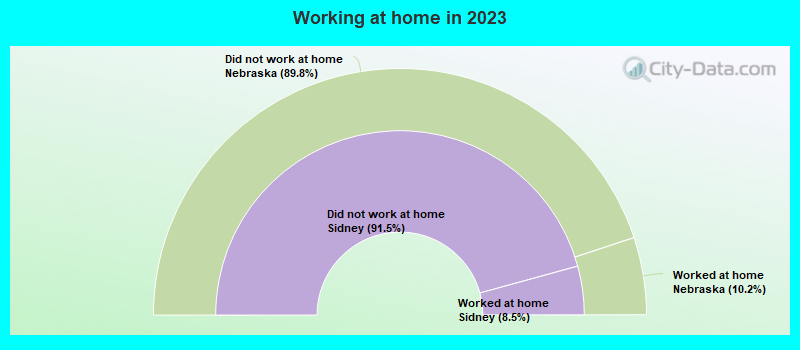 Less than 5 minutes:

| | |
| --- | --- |
| Sidney: | 11.7% (476) |
| Nebraska: | 6.6% (64,326) |
5 to 9 minutes:

| | |
| --- | --- |
| Sidney: | 29.8% (1,208) |
| Nebraska: | 15.4% (149,959) |
10 to 14 minutes:

| | |
| --- | --- |
| Sidney: | 21.4% (867) |
| Nebraska: | 17.7% (172,098) |
15 to 19 minutes:

| | |
| --- | --- |
| Sidney: | 7.4% (301) |
| Nebraska: | 17.3% (168,988) |
20 to 24 minutes:

| | |
| --- | --- |
| Sidney: | 6.1% (245) |
| Nebraska: | 15.1% (147,221) |
25 to 29 minutes:

| | |
| --- | --- |
| Sidney: | 3.8% (154) |
| Nebraska: | 6.6% (63,913) |
30 to 34 minutes:

| | |
| --- | --- |
| Sidney: | 7.5% (302) |
| Nebraska: | 9.5% (92,405) |
35 to 39 minutes:

| | |
| --- | --- |
| Sidney: | 1.2% (48) |
| Nebraska: | 1.8% (17,565) |
40 to 44 minutes:

| | |
| --- | --- |
| Sidney: | 0.7% (30) |
| Nebraska: | 2.1% (20,189) |
45 to 59 minutes:

| | |
| --- | --- |
| Sidney: | 3.9% (157) |
| Nebraska: | 3.9% (38,057) |
60 to 89 minutes:

| | |
| --- | --- |
| Sidney: | 1.6% (66) |
| Nebraska: | 2.5% (24,670) |
90 or more minutes:

| | |
| --- | --- |
| Sidney: | 3.5% (142) |
| Nebraska: | 1.5% (14,697) |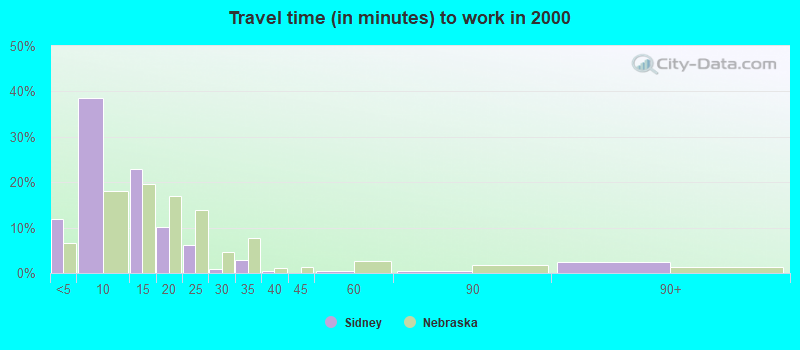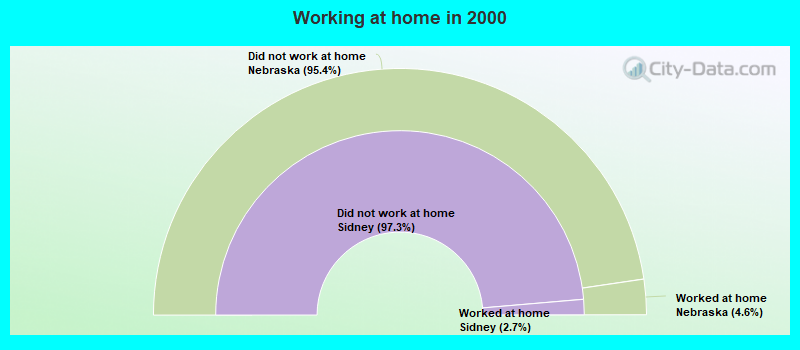 Less than 5 minutes:

| | |
| --- | --- |
| Sidney: | 11.8% (376) |
| Nebraska: | 6.6% (57,839) |
5 to 9 minutes:

| | |
| --- | --- |
| Sidney: | 38.5% (1,222) |
| Nebraska: | 18.0% (156,837) |
10 to 14 minutes:

| | |
| --- | --- |
| Sidney: | 22.8% (725) |
| Nebraska: | 19.5% (170,281) |
15 to 19 minutes:

| | |
| --- | --- |
| Sidney: | 10.2% (325) |
| Nebraska: | 16.9% (147,864) |
20 to 24 minutes:

| | |
| --- | --- |
| Sidney: | 6.3% (199) |
| Nebraska: | 13.9% (121,568) |
25 to 29 minutes:

| | |
| --- | --- |
| Sidney: | 0.9% (28) |
| Nebraska: | 4.6% (39,900) |
30 to 34 minutes:

| | |
| --- | --- |
| Sidney: | 3.0% (94) |
| Nebraska: | 7.7% (67,161) |
35 to 39 minutes:

| | |
| --- | --- |
| Sidney: | 0.4% (13) |
| Nebraska: | 1.1% (9,881) |
45 to 59 minutes:

| | |
| --- | --- |
| Sidney: | 0.5% (17) |
| Nebraska: | 2.7% (23,190) |
60 to 89 minutes:

| | |
| --- | --- |
| Sidney: | 0.4% (13) |
| Nebraska: | 1.8% (15,536) |
90 or more minutes:

| | |
| --- | --- |
| Sidney: | 2.4% (77) |
| Nebraska: | 1.3% (11,214) |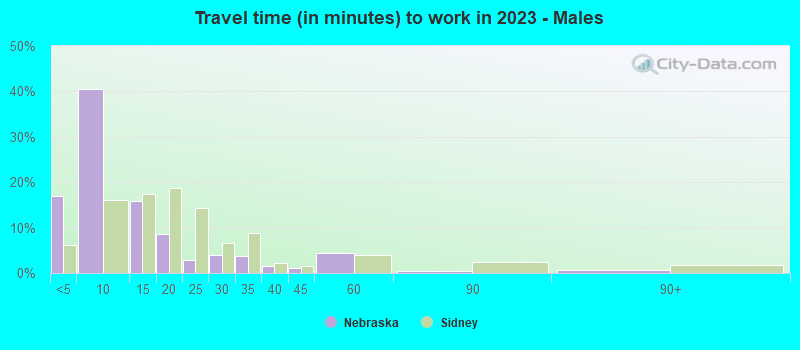 Less than 5 minutes - Males:

| | |
| --- | --- |
| Sidney: | 15.6% (300) |
| Nebraska: | 7.0% (36,155) |
5 to 9 minutes - Males:

| | |
| --- | --- |
| Sidney: | 27.0% (519) |
| Nebraska: | 14.5% (75,253) |
10 to 14 minutes - Males:

| | |
| --- | --- |
| Sidney: | 26.4% (507) |
| Nebraska: | 17.3% (89,879) |
15 to 19 minutes - Males:

| | |
| --- | --- |
| Sidney: | 8.9% (170) |
| Nebraska: | 17.3% (90,013) |
20 to 24 minutes - Males:

| | |
| --- | --- |
| Sidney: | 5.2% (100) |
| Nebraska: | 15.2% (79,012) |
25 to 29 minutes - Males:

| | |
| --- | --- |
| Sidney: | 4.0% (76) |
| Nebraska: | 6.5% (33,832) |
30 to 34 minutes - Males:

| | |
| --- | --- |
| Sidney: | 5.5% (105) |
| Nebraska: | 9.8% (50,804) |
35 to 39 minutes - Males:

| | |
| --- | --- |
| Sidney: | 0.8% (16) |
| Nebraska: | 1.6% (8,550) |
40 to 44 minutes - Males:

| | |
| --- | --- |
| Sidney: | 0.4% (7) |
| Nebraska: | 1.9% (9,892) |
45 to 59 minutes - Males:

| | |
| --- | --- |
| Sidney: | 3.2% (62) |
| Nebraska: | 3.9% (20,533) |
60 to 89 minutes - Males:

| | |
| --- | --- |
| Sidney: | 1.2% (22) |
| Nebraska: | 3.2% (16,481) |
90 or more minutes - Males:

| | |
| --- | --- |
| Sidney: | 0.4% (7) |
| Nebraska: | 1.8% (9,474) |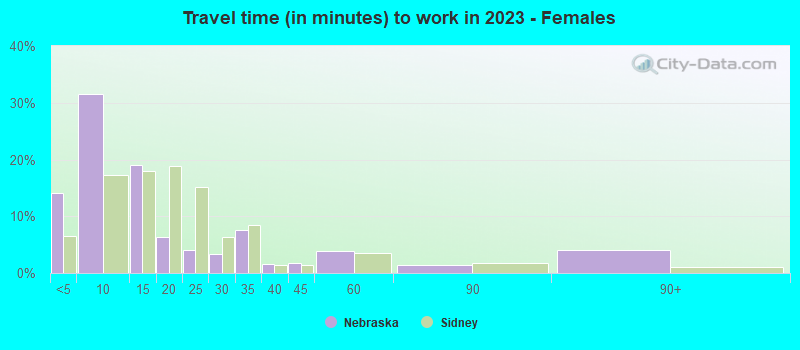 Less than 5 minutes - Females:

| | |
| --- | --- |
| Sidney: | 8.4% (179) |
| Nebraska: | 6.2% (28,171) |
5 to 9 minutes - Females:

| | |
| --- | --- |
| Sidney: | 32.3% (688) |
| Nebraska: | 16.4% (74,706) |
10 to 14 minutes - Females:

| | |
| --- | --- |
| Sidney: | 16.9% (360) |
| Nebraska: | 18.1% (82,219) |
15 to 19 minutes - Females:

| | |
| --- | --- |
| Sidney: | 6.2% (131) |
| Nebraska: | 17.4% (78,975) |
20 to 24 minutes - Females:

| | |
| --- | --- |
| Sidney: | 6.8% (144) |
| Nebraska: | 15.0% (68,209) |
25 to 29 minutes - Females:

| | |
| --- | --- |
| Sidney: | 3.6% (78) |
| Nebraska: | 6.6% (30,081) |
30 to 34 minutes - Females:

| | |
| --- | --- |
| Sidney: | 9.3% (198) |
| Nebraska: | 9.2% (41,601) |
35 to 39 minutes - Females:

| | |
| --- | --- |
| Sidney: | 1.6% (34) |
| Nebraska: | 2.0% (9,015) |
40 to 44 minutes - Females:

| | |
| --- | --- |
| Sidney: | 1.2% (25) |
| Nebraska: | 2.3% (10,297) |
45 to 59 minutes - Females:

| | |
| --- | --- |
| Sidney: | 4.6% (97) |
| Nebraska: | 3.9% (17,524) |
60 to 89 minutes - Females:

| | |
| --- | --- |
| Sidney: | 1.9% (40) |
| Nebraska: | 1.8% (8,189) |
90 or more minutes - Females:

| | |
| --- | --- |
| Sidney: | 6.1% (130) |
| Nebraska: | 1.1% (5,223) |
Means of transportation to work
Drove car alone:

| | |
| --- | --- |
| Sidney: | 84.1% (3,412) |
| Nebraska: | 85.9% (389,292) |
Carpooled:

| | |
| --- | --- |
| Sidney: | 11.8% (480) |
| Nebraska: | 9.3% (44,693) |
Bicycle:

| | |
| --- | --- |
| Sidney: | 0.8% (32) |
| Nebraska: | 0.3% (870) |
Walked:

| | |
| --- | --- |
| Sidney: | 2.8% (114) |
| Nebraska: | 2.8% (12,187) |
Other means:

| | |
| --- | --- |
| Sidney: | 0.4% (17) |
| Nebraska: | 0.8% (3,569) |
Drove car alone:

| | |
| --- | --- |
| Sidney: | 83.9% (2,665) |
| Nebraska: | 80.0% (698,680) |
Carpooled:

| | |
| --- | --- |
| Sidney: | 10.9% (346) |
| Nebraska: | 10.5% (91,901) |
Bicycle:

| | |
| --- | --- |
| Sidney: | 0.2% (6) |
| Nebraska: | 0.3% (2,547) |
Walked:

| | |
| --- | --- |
| Sidney: | 1.9% (60) |
| Nebraska: | 3.2% (28,003) |
Other means:

| | |
| --- | --- |
| Sidney: | 0.4% (12) |
| Nebraska: | 0.5% (4,731) |
Drove car alone - Males:

| | |
| --- | --- |
| Sidney: | 83.1% (1,594) |
| Nebraska: | 86.1% (389,292) |
Carpooled - Males:

| | |
| --- | --- |
| Sidney: | 10.2% (195) |
| Nebraska: | 8.9% (44,693) |
Bicycle - Males:

| | |
| --- | --- |
| Sidney: | 1.2% (22) |
| Nebraska: | 0.4% (870) |
Walked - Males:

| | |
| --- | --- |
| Sidney: | 4.7% (91) |
| Nebraska: | 2.9% (12,187) |
Other means - Males:

| | |
| --- | --- |
| Sidney: | 0.8% (15) |
| Nebraska: | 0.9% (3,569) |
Drove car alone - Females:

| | |
| --- | --- |
| Sidney: | 85.0% (1,819) |
| Nebraska: | 85.7% (389,292) |
Carpooled - Females:

| | |
| --- | --- |
| Sidney: | 13.3% (285) |
| Nebraska: | 9.8% (44,693) |
Bicycle - Females:

| | |
| --- | --- |
| Sidney: | 0.5% (10) |
| Nebraska: | 0.2% (870) |
Walked - Females:

| | |
| --- | --- |
| Sidney: | 1.1% (23) |
| Nebraska: | 2.7% (12,187) |
Other means - Females:

| | |
| --- | --- |
| Sidney: | 0.1% (2) |
| Nebraska: | 0.8% (3,569) |
Private vehicle occupancy

Drove alone:

| | |
| --- | --- |
| Sidney: | 90.8% (2,885) |
| Nebraska: | 90.1% (818,915) |
In 2 person carpool:

| | |
| --- | --- |
| Sidney: | 7.9% (252) |
| Nebraska: | 7.6% (69,283) |
In 3 person carpool:

| | |
| --- | --- |
| Sidney: | 1.2% (37) |
| Nebraska: | 1.3% (12,021) |
In 4 person carpool:

| | |
| --- | --- |
| Sidney: | 0.1% (4) |
| Nebraska: | 0.5% (4,712) |

Drove alone:

| | |
| --- | --- |
| Sidney: | 88.5% (2,665) |
| Nebraska: | 88.4% (698,680) |
In 2 person carpool:

| | |
| --- | --- |
| Sidney: | 9.0% (271) |
| Nebraska: | 9.2% (72,443) |
In 3 person carpool:

| | |
| --- | --- |
| Sidney: | 1.2% (36) |
| Nebraska: | 1.6% (12,650) |
In 4 person carpool:

| | |
| --- | --- |
| Sidney: | 0.2% (5) |
| Nebraska: | 0.5% (4,061) |
In 5-6 person carpool:

| | |
| --- | --- |
| Sidney: | 0.7% (21) |
| Nebraska: | 0.2% (1,968) |
In 7+ person carpool:

| | |
| --- | --- |
| Sidney: | 0.4% (13) |
| Nebraska: | 0.1% (779) |
Class of workers
Employee of private company:

| | |
| --- | --- |
| Sidney: | 67.6% (2,353) |
| Nebraska: | 65.3% (658,840) |
Self-employed in own incorporated business:

| | |
| --- | --- |
| Sidney: | 2.8% (97) |
| Nebraska: | 3.7% (36,854) |
Private not-for-profit wage and salary workers:

| | |
| --- | --- |
| Sidney: | 8.6% (299) |
| Nebraska: | 10.2% (102,461) |
Local government workers:

| | |
| --- | --- |
| Sidney: | 9.8% (341) |
| Nebraska: | 7.9% (79,649) |
State government workers:

| | |
| --- | --- |
| Sidney: | 6.6% (231) |
| Nebraska: | 4.5% (45,551) |
Federal government workers:

| | |
| --- | --- |
| Sidney: | 0.4% (15) |
| Nebraska: | 1.9% (19,603) |
Self-employed workers in own not incorporated business:

| | |
| --- | --- |
| Sidney: | 3.9% (135) |
| Nebraska: | 6.3% (63,559) |
Unpaid family workers:

| | |
| --- | --- |
| Sidney: | 0.2% (8) |
| Nebraska: | 0.2% (2,440) |
Employee of private company:

| | |
| --- | --- |
| Sidney: | 65.5% (2,090) |
| Nebraska: | 65.6% (575,647) |
Self-employed in own incorporated business:

| | |
| --- | --- |
| Sidney: | 4.0% (127) |
| Nebraska: | 3.4% (30,129) |
Private not-for-profit wage and salary workers:

| | |
| --- | --- |
| Sidney: | 7.1% (226) |
| Nebraska: | 8.0% (70,608) |
Local government workers:

| | |
| --- | --- |
| Sidney: | 7.5% (239) |
| Nebraska: | 6.6% (57,943) |
State government workers:

| | |
| --- | --- |
| Sidney: | 3.0% (96) |
| Nebraska: | 4.9% (43,368) |
Federal government workers:

| | |
| --- | --- |
| Sidney: | 0.6% (19) |
| Nebraska: | 2.1% (18,848) |
Self-employed workers in own not incorporated business:

| | |
| --- | --- |
| Sidney: | 11.5% (366) |
| Nebraska: | 8.7% (76,150) |
Unpaid family workers:

| | |
| --- | --- |
| Sidney: | 0.9% (30) |
| Nebraska: | 0.5% (4,544) |
Employee of private company - Males:

| | |
| --- | --- |
| Sidney: | 71.9% (1,389) |
| Nebraska: | 69.0% (366,717) |
Self-employed in own incorporated business - Males:

| | |
| --- | --- |
| Sidney: | 3.9% (76) |
| Nebraska: | 4.9% (26,089) |
Private not-for-profit wage and salary workers - Males:

| | |
| --- | --- |
| Sidney: | 4.3% (84) |
| Nebraska: | 6.5% (34,703) |
Local government workers - Males:

| | |
| --- | --- |
| Sidney: | 9.9% (192) |
| Nebraska: | 5.8% (30,927) |
State government workers - Males:

| | |
| --- | --- |
| Sidney: | 5.5% (105) |
| Nebraska: | 4.0% (21,489) |
Self-employed workers in own not incorporated business - Males:

| | |
| --- | --- |
| Sidney: | 4.3% (83) |
| Nebraska: | 7.5% (39,752) |
Unpaid family workers - Males:

| | |
| --- | --- |
| Sidney: | 0.4% (8) |
| Nebraska: | 0.2% (1,154) |
Employee of private company - Females:

| | |
| --- | --- |
| Sidney: | 62.2% (965) |
| Nebraska: | 61.2% (292,123) |
Self-employed in own incorporated business - Females:

| | |
| --- | --- |
| Sidney: | 1.3% (21) |
| Nebraska: | 2.3% (10,765) |
Private not-for-profit wage and salary workers - Females:

| | |
| --- | --- |
| Sidney: | 13.9% (215) |
| Nebraska: | 14.2% (67,758) |
Local government workers - Females:

| | |
| --- | --- |
| Sidney: | 9.6% (150) |
| Nebraska: | 10.2% (48,722) |
State government workers - Females:

| | |
| --- | --- |
| Sidney: | 8.1% (126) |
| Nebraska: | 5.0% (24,062) |
Federal government workers - Females:

| | |
| --- | --- |
| Sidney: | 0.9% (15) |
| Nebraska: | 1.8% (8,624) |
Self-employed workers in own not incorporated business - Females:

| | |
| --- | --- |
| Sidney: | 3.4% (52) |
| Nebraska: | 5.0% (23,807) |