Work and Jobs in Weeki Wachee Gardens, Florida (FL) Detailed Stats


Occupations, Industries, Unemployment, Workers, Commute




Opacity:
%
Hide borders
Hide US histogram
---
Reset to defaults
The most common industries in Weeki Wachee Gardens are: Health care (14.2% of civilian employees), Construction (14.0% of civilian employees), Administrative & support & waste management services (7.4% of civilian employees). 65.3% of workers work in Hernando County and 2.7% of all workers work at home. 75.7% of workers are employees of private companies, which is 6.7% greater than the rate of 70.6% across the entire state of Florida.
Whole page based on the data from 2000 / 2017 when the population of Weeki Wachee Gardens, Florida was 1,140 / 1,876
Most common industries



Most common industries

Industry

All

Males

Females

Health care
14.2%
(67)
0.0%
(0)
24.8%
(67)
Construction
14.0%
(66)
20.7%
(42)
8.9%
(24)
Administrative and support and waste management services
7.4%
(35)
2.5%
(5)
11.1%
(30)
Educational services
5.5%
(26)
6.9%
(14)
4.4%
(12)
Public administration
5.5%
(26)
6.4%
(13)
4.8%
(13)
Arts, entertainment, and recreation
5.3%
(25)
6.9%
(14)
4.1%
(11)
Professional, scientific, and technical services
4.9%
(23)
5.9%
(12)
4.1%
(11)
Personal and laundry services
4.2%
(20)
0.0%
(0)
7.4%
(20)
Real estate and rental and leasing
3.2%
(15)
3.9%
(8)
2.6%
(7)
Finance and insurance
3.2%
(15)
0.0%
(0)
5.6%
(15)
Publishing, and motion picture and sound recording industries
2.3%
(11)
0.0%
(0)
4.1%
(11)
Department and other general merchandise stores
2.1%
(10)
0.0%
(0)
3.7%
(10)
Accommodation and food services
1.9%
(9)
0.0%
(0)
3.3%
(9)
Computer and electronic products
1.9%
(9)
0.0%
(0)
3.3%
(9)
Mining, quarrying, and oil and gas extraction
1.7%
(8)
3.9%
(8)
0.0%
(0)
Groceries and related products merchant wholesalers
1.7%
(8)
3.9%
(8)
0.0%
(0)
Utilities
1.7%
(8)
3.9%
(8)
0.0%
(0)
Rail transportation
1.7%
(8)
3.9%
(8)
0.0%
(0)
Agriculture, forestry, fishing and hunting
1.5%
(7)
3.4%
(7)
0.0%
(0)
Religious, grantmaking, civic, professional, and similar organizations
1.5%
(7)
0.0%
(0)
2.6%
(7)
Repair and maintenance
1.5%
(7)
3.4%
(7)
0.0%
(0)
Nonmetallic mineral products
1.5%
(7)
3.4%
(7)
0.0%
(0)
Metal and metal products
1.5%
(7)
3.4%
(7)
0.0%
(0)
Used merchandise, gift, novelty, and souvenir, and other miscellaneous stores
1.5%
(7)
0.0%
(0)
2.6%
(7)
Clothing and accessories, including shoe, stores
1.5%
(7)
0.0%
(0)
2.6%
(7)
Furniture and related product manufacturing
1.3%
(6)
3.0%
(6)
0.0%
(0)
Building material and garden equipment and supplies dealers
1.3%
(6)
3.0%
(6)
0.0%
(0)
Truck transportation
1.3%
(6)
3.0%
(6)
0.0%
(0)
Drugs, sundries, and chemical and allied products merchant wholesalers
1.3%
(6)
3.0%
(6)
0.0%
(0)
Food and beverage stores
1.3%
(6)
3.0%
(6)
0.0%
(0)
Hardware, plumbing and heating equipment, and supplies merchant wholesalers
1.1%
(5)
2.5%
(5)
0.0%
(0)
Unemployment in Weeki Wachee Gardens
Unemployment by race in 2017
Unemployment rate for White non-Hispanic residents

2.4%

Males

10.6%

Females
Unemployment rate for two or more race residents

100.0%

Females
Unemployment by race in 2000
Unemployment rate for White non-Hispanic residents

11.8%

Males

6.7%

Females
Time leaving home to go to work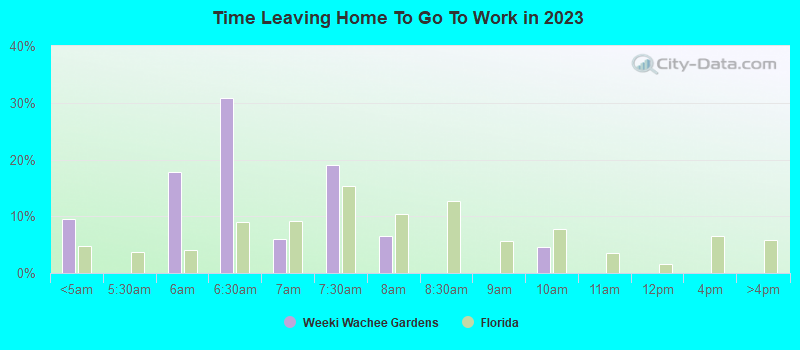 12:00 a.m. to 4:59 a.m.:

| | |
| --- | --- |
| Weeki Wachee Gardens: | 7.3% (58) |
| Florida: | 3.8% (337,128) |
5:00 a.m. to 5:29 a.m.:

| | |
| --- | --- |
| Weeki Wachee Gardens: | 1.9% (15) |
| Florida: | 3.2% (283,379) |
5:30 a.m. to 5:59 a.m.:

| | |
| --- | --- |
| Weeki Wachee Gardens: | 14.3% (113) |
| Florida: | 4.1% (359,524) |
6:00 a.m. to 6:29 a.m.:

| | |
| --- | --- |
| Weeki Wachee Gardens: | 20.1% (158) |
| Florida: | 9.1% (800,709) |
7:00 a.m. to 7:29 a.m.:

| | |
| --- | --- |
| Weeki Wachee Gardens: | 20.7% (163) |
| Florida: | 15.6% (1,373,435) |
7:30 a.m. to 7:59 a.m.:

| | |
| --- | --- |
| Weeki Wachee Gardens: | 3.1% (25) |
| Florida: | 11.0% (963,093) |
8:00 a.m. to 8:29 a.m.:

| | |
| --- | --- |
| Weeki Wachee Gardens: | 11.0% (87) |
| Florida: | 12.3% (1,080,460) |
8:30 a.m. to 8:59 a.m.:

| | |
| --- | --- |
| Weeki Wachee Gardens: | 5.7% (45) |
| Florida: | 5.6% (493,750) |
9:00 a.m. to 9:59 a.m.:

| | |
| --- | --- |
| Weeki Wachee Gardens: | 5.0% (40) |
| Florida: | 7.4% (649,744) |
12:00 p.m. to 3:59 p.m.:

| | |
| --- | --- |
| Weeki Wachee Gardens: | 12.6% (99) |
| Florida: | 6.7% (584,965) |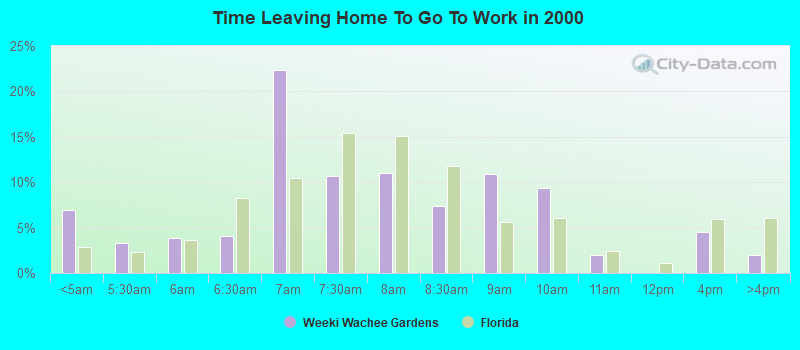 <5am:

| | |
| --- | --- |
| Weeki Wachee Gardens: | 6.9% (32) |
| Florida: | 2.8% (195,491) |
5:30am:

| | |
| --- | --- |
| Weeki Wachee Gardens: | 3.3% (15) |
| Florida: | 2.4% (162,873) |
6am:

| | |
| --- | --- |
| Weeki Wachee Gardens: | 3.9% (18) |
| Florida: | 3.6% (247,678) |
6:30am:

| | |
| --- | --- |
| Weeki Wachee Gardens: | 4.1% (19) |
| Florida: | 8.2% (569,201) |
7am:

| | |
| --- | --- |
| Weeki Wachee Gardens: | 22.3% (103) |
| Florida: | 10.4% (720,998) |
7:30am:

| | |
| --- | --- |
| Weeki Wachee Gardens: | 10.6% (49) |
| Florida: | 15.4% (1,063,673) |
8am:

| | |
| --- | --- |
| Weeki Wachee Gardens: | 11.1% (51) |
| Florida: | 15.1% (1,046,414) |
8:30am:

| | |
| --- | --- |
| Weeki Wachee Gardens: | 7.4% (34) |
| Florida: | 11.8% (812,057) |
9am:

| | |
| --- | --- |
| Weeki Wachee Gardens: | 10.8% (50) |
| Florida: | 5.6% (388,700) |
10am:

| | |
| --- | --- |
| Weeki Wachee Gardens: | 9.3% (43) |
| Florida: | 6.1% (419,450) |
11am:

| | |
| --- | --- |
| Weeki Wachee Gardens: | 2.0% (9) |
| Florida: | 2.4% (167,860) |
4pm:

| | |
| --- | --- |
| Weeki Wachee Gardens: | 4.6% (21) |
| Florida: | 6.0% (413,569) |
>4pm:

| | |
| --- | --- |
| Weeki Wachee Gardens: | 2.0% (9) |
| Florida: | 6.0% (418,050) |
12:00 a.m. to 4:59 a.m. - Males:

| | |
| --- | --- |
| Weeki Wachee Gardens: | 11.7% (58) |
| Florida: | 4.9% (225,240) |
5:00 a.m. to 5:29 a.m. - Males:

| | |
| --- | --- |
| Weeki Wachee Gardens: | 2.4% (12) |
| Florida: | 4.3% (200,057) |
5:30 a.m. to 5:59 a.m. - Males:

| | |
| --- | --- |
| Weeki Wachee Gardens: | 23.2% (114) |
| Florida: | 5.1% (237,461) |
7:00 a.m. to 7:29 a.m. - Males:

| | |
| --- | --- |
| Weeki Wachee Gardens: | 22.0% (108) |
| Florida: | 15.1% (699,379) |
8:00 a.m. to 8:29 a.m. - Males:

| | |
| --- | --- |
| Weeki Wachee Gardens: | 21.5% (106) |
| Florida: | 11.4% (527,559) |
9:00 a.m. to 9:59 a.m. - Males:

| | |
| --- | --- |
| Weeki Wachee Gardens: | 6.0% (29) |
| Florida: | 6.7% (308,214) |
12:00 p.m. to 3:59 p.m. - Males:

| | |
| --- | --- |
| Weeki Wachee Gardens: | 24.9% (123) |
| Florida: | 6.6% (304,150) |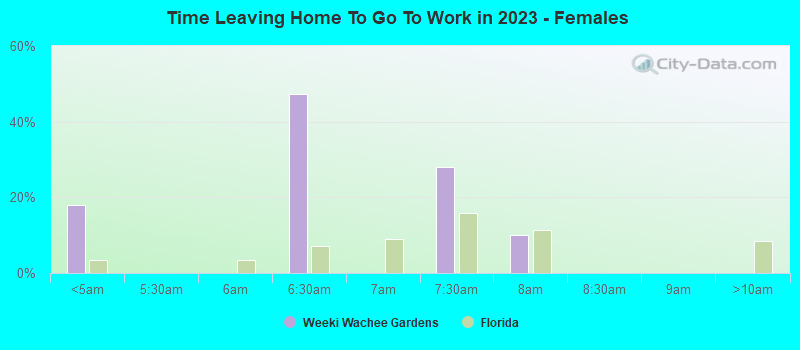 5:30 a.m. to 5:59 a.m. - Females:

| | |
| --- | --- |
| Weeki Wachee Gardens: | 4.4% (13) |
| Florida: | 2.9% (122,063) |
6:00 a.m. to 6:29 a.m. - Females:

| | |
| --- | --- |
| Weeki Wachee Gardens: | 50.5% (152) |
| Florida: | 7.1% (295,008) |
7:00 a.m. to 7:29 a.m. - Females:

| | |
| --- | --- |
| Weeki Wachee Gardens: | 16.6% (50) |
| Florida: | 16.2% (674,056) |
7:30 a.m. to 7:59 a.m. - Females:

| | |
| --- | --- |
| Weeki Wachee Gardens: | 7.6% (23) |
| Florida: | 12.5% (519,990) |
8:30 a.m. to 8:59 a.m. - Females:

| | |
| --- | --- |
| Weeki Wachee Gardens: | 16.1% (49) |
| Florida: | 6.6% (275,236) |
12:00 p.m. to 3:59 p.m. - Females:

| | |
| --- | --- |
| Weeki Wachee Gardens: | 3.1% (9) |
| Florida: | 6.8% (280,815) |
Travel time to work
Percentage of workers working in this county: 65.3%
Number of people working at home: 20 (2.7% of all workers)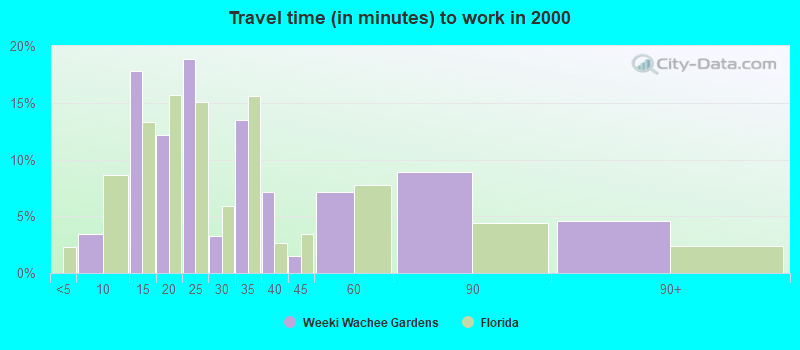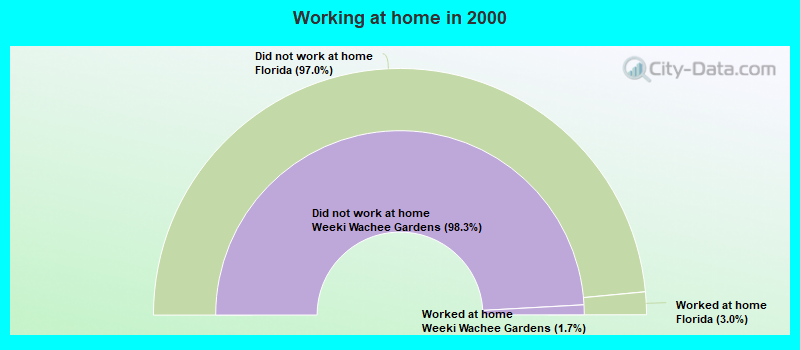 5 to 9 minutes:

| | |
| --- | --- |
| Weeki Wachee Gardens: | 3.5% (16) |
| Florida: | 8.6% (595,769) |
10 to 14 minutes:

| | |
| --- | --- |
| Weeki Wachee Gardens: | 17.8% (82) |
| Florida: | 13.3% (922,343) |
15 to 19 minutes:

| | |
| --- | --- |
| Weeki Wachee Gardens: | 12.1% (56) |
| Florida: | 15.7% (1,085,636) |
20 to 24 minutes:

| | |
| --- | --- |
| Weeki Wachee Gardens: | 18.9% (87) |
| Florida: | 15.1% (1,040,084) |
25 to 29 minutes:

| | |
| --- | --- |
| Weeki Wachee Gardens: | 3.3% (15) |
| Florida: | 5.9% (404,902) |
30 to 34 minutes:

| | |
| --- | --- |
| Weeki Wachee Gardens: | 13.4% (62) |
| Florida: | 15.6% (1,078,082) |
35 to 39 minutes:

| | |
| --- | --- |
| Weeki Wachee Gardens: | 7.2% (33) |
| Florida: | 2.6% (182,138) |
40 to 44 minutes:

| | |
| --- | --- |
| Weeki Wachee Gardens: | 1.5% (7) |
| Florida: | 3.4% (237,660) |
45 to 59 minutes:

| | |
| --- | --- |
| Weeki Wachee Gardens: | 7.2% (33) |
| Florida: | 7.7% (534,237) |
60 to 89 minutes:

| | |
| --- | --- |
| Weeki Wachee Gardens: | 8.9% (41) |
| Florida: | 4.4% (303,002) |
90 or more minutes:

| | |
| --- | --- |
| Weeki Wachee Gardens: | 4.6% (21) |
| Florida: | 2.4% (163,739) |
Means of transportation to work
Drove car alone:

| | |
| --- | --- |
| Weeki Wachee Gardens: | 87.6% (404) |
| Florida: | 78.8% (5,445,527) |
Carpooled:

| | |
| --- | --- |
| Weeki Wachee Gardens: | 7.2% (33) |
| Florida: | 12.9% (893,766) |
Other means:

| | |
| --- | --- |
| Weeki Wachee Gardens: | 3.5% (16) |
| Florida: | 0.9% (62,064) |
Private vehicle occupancy

Drove alone:

| | |
| --- | --- |
| Weeki Wachee Gardens: | 96.5% (692) |
| Florida: | 89.7% (7,423,934) |
In 2 person carpool:

| | |
| --- | --- |
| Weeki Wachee Gardens: | 3.5% (25) |
| Florida: | 7.9% (653,683) |

Drove alone:

| | |
| --- | --- |
| Weeki Wachee Gardens: | 92.4% (404) |
| Florida: | 85.9% (5,445,527) |
In 2 person carpool:

| | |
| --- | --- |
| Weeki Wachee Gardens: | 7.6% (33) |
| Florida: | 11.0% (698,577) |
Class of workers
Employee of private company:

| | |
| --- | --- |
| Weeki Wachee Gardens: | 75.7% (612) |
| Florida: | 70.6% (6,701,927) |
Self-employed in own incorporated business:

| | |
| --- | --- |
| Weeki Wachee Gardens: | 10.8% (87) |
| Florida: | 5.8% (554,866) |
Private not-for-profit wage and salary workers:

| | |
| --- | --- |
| Weeki Wachee Gardens: | 3.3% (27) |
| Florida: | 6.1% (580,226) |
Local government workers:

| | |
| --- | --- |
| Weeki Wachee Gardens: | 2.0% (16) |
| Florida: | 6.5% (617,531) |
State government workers:

| | |
| --- | --- |
| Weeki Wachee Gardens: | 6.1% (49) |
| Florida: | 2.9% (271,321) |
Self-employed workers in own not incorporated business:

| | |
| --- | --- |
| Weeki Wachee Gardens: | 5.1% (41) |
| Florida: | 5.9% (562,011) |
Employee of private company:

| | |
| --- | --- |
| Weeki Wachee Gardens: | 70.8% (335) |
| Florida: | 69.2% (4,840,105) |
Self-employed in own incorporated business:

| | |
| --- | --- |
| Weeki Wachee Gardens: | 3.4% (16) |
| Florida: | 4.9% (343,812) |
Private not-for-profit wage and salary workers:

| | |
| --- | --- |
| Weeki Wachee Gardens: | 4.2% (20) |
| Florida: | 5.7% (395,397) |
Local government workers:

| | |
| --- | --- |
| Weeki Wachee Gardens: | 6.8% (32) |
| Florida: | 7.7% (542,086) |
State government workers:

| | |
| --- | --- |
| Weeki Wachee Gardens: | 3.0% (14) |
| Florida: | 3.7% (261,182) |
Federal government workers:

| | |
| --- | --- |
| Weeki Wachee Gardens: | 1.3% (6) |
| Florida: | 2.2% (157,343) |
Self-employed workers in own not incorporated business:

| | |
| --- | --- |
| Weeki Wachee Gardens: | 10.6% (50) |
| Florida: | 6.2% (435,619) |
Employee of private company - Males:

| | |
| --- | --- |
| Weeki Wachee Gardens: | 86.0% (422) |
| Florida: | 71.8% (3,564,870) |
Self-employed in own incorporated business - Males:

| | |
| --- | --- |
| Weeki Wachee Gardens: | 3.9% (19) |
| Florida: | 7.7% (383,628) |
State government workers - Males:

| | |
| --- | --- |
| Weeki Wachee Gardens: | 10.0% (49) |
| Florida: | 2.1% (106,120) |
Self-employed workers in own not incorporated business - Males:

| | |
| --- | --- |
| Weeki Wachee Gardens: | 2.9% (14) |
| Florida: | 6.5% (320,402) |
Employee of private company - Females:

| | |
| --- | --- |
| Weeki Wachee Gardens: | 59.9% (190) |
| Florida: | 69.3% (3,137,057) |
Self-employed in own incorporated business - Females:

| | |
| --- | --- |
| Weeki Wachee Gardens: | 21.4% (68) |
| Florida: | 3.8% (171,238) |
Private not-for-profit wage and salary workers - Females:

| | |
| --- | --- |
| Weeki Wachee Gardens: | 8.5% (27) |
| Florida: | 8.1% (368,495) |
Local government workers - Females:

| | |
| --- | --- |
| Weeki Wachee Gardens: | 5.1% (16) |
| Florida: | 7.9% (358,791) |
Self-employed workers in own not incorporated business - Females:

| | |
| --- | --- |
| Weeki Wachee Gardens: | 8.4% (27) |
| Florida: | 5.3% (241,609) |