Quote:
Originally Posted by
scm53
This is almost not worth doing, but this really is too egrigious to ignore.
You are right, it isn't worth doing. I understand your wanting to continue, and that's the only reason I continue to respond. Simply to correct what I see is an egregious error. There is no way 78739 can be compared to 78731; they are just different animals altogether. One is a central Austin zip with lots of multi-million dollar real estate in prime neighborhoods; the other is a more suburban zip farther from town and dominated by Circle C (a relatively recent, master-plan style community).
Quote:
1. Price per square foot is really immaterial. I have no idea why you want to bring it up. Red herring at best.
2. Where does my data come from? I live in 39. i bought in 39 in the last two years in the $500-700K price range. At that time, ALL of the new construction was in that range - KB in Circle C Fairway Estates, Weekley and Standard Pacific in Meridian. New construction swamped resales, so yes - IN THE LAST TWO YEARS THE MAJORITY OF HOMES SOLD IN 39 WERE IN THAT PRICE RANGE. Now, Avana has opened, and there are some sales in the $300K market -- but that is only in the last year, and is still overwhelmed by the build out of Meridian and Fairway Estates. So, no -- "a whole lot of people" AREN'T buying there in the $300-350K price range - and they haven't for the last two years.
4.What is along Lake Austin and Cat Mountain is but a tiny part of 31. You want to hang your hat on it, but it is a shard. THere is even some of 31 in Allandale -- might not fit your Cat Mountain myopia, but it is in 31.
1) Why it matters and is so essential to any kind of discussion of property values is a very basic concept and one I will not spend time explaining.
2) There is no way that the majority of homes sold in 39 over the past 2 years were in the 500-700K. Sorry. Maybe new construction is in the 500-700K range, but that's a small amount of what is sold in the neighborhood. I think you know this, so I'm not sure why you are continuing to misinform. I was being nice and giving you the benefit of the doubt and a chance to post some data, and I will do so again. But I do not expect that you can support your assertion.
3) There was no 3
4) I'm guessing you aren't very familiar with Austin, or at least the central part. Yes, there are many high dollar neighborhoods in 78731. Cat Mountain isn't even one of the most expensive ones, just one of the ones I mentioned. And the parts of Rosedale and Allandale that are 31 certainly aren't cheap, probably more expensive than Cat Mountain actually. So I'm not really sure what your point is. Are you saying because part of Allandale is in 31 that makes it inferior to 39? Because that wouldn't make much sense...
Quote:
So, Mr. Data driven -- where is the data for you assertion that the majority of homes sold in 39 in the last two years were in the $300-350K range? Remember -- Majority means 50% plus 1. I will wait while you come up with that. And OBTW, don't use CCR as a proxy for 78739. Much of the lower end of CCR isn't in 78739 and there are neighborhoods in 78739 that aren't in CCR.
Mr Data-driven
says:
Our very own City-Data site includes stats for home sales over the past few years. Here is a graph of 78739: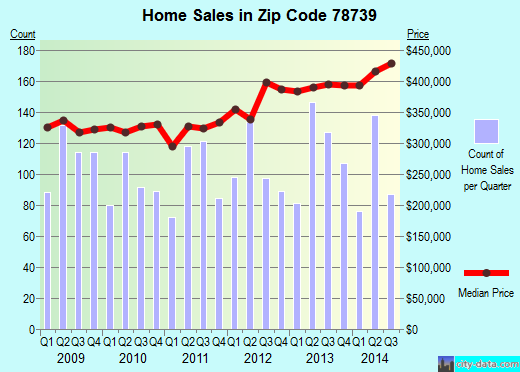 Nice uptick in Q3 and Q4, but still far from most sales being in the 500-700K range. Lot of those dots in the 300-350K range.
Oh, and here is 78731: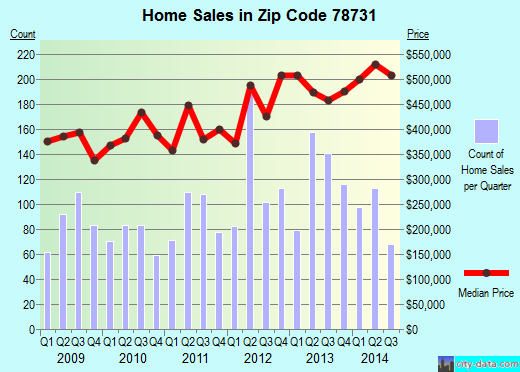 And that includes the lowly Allandale section, even!