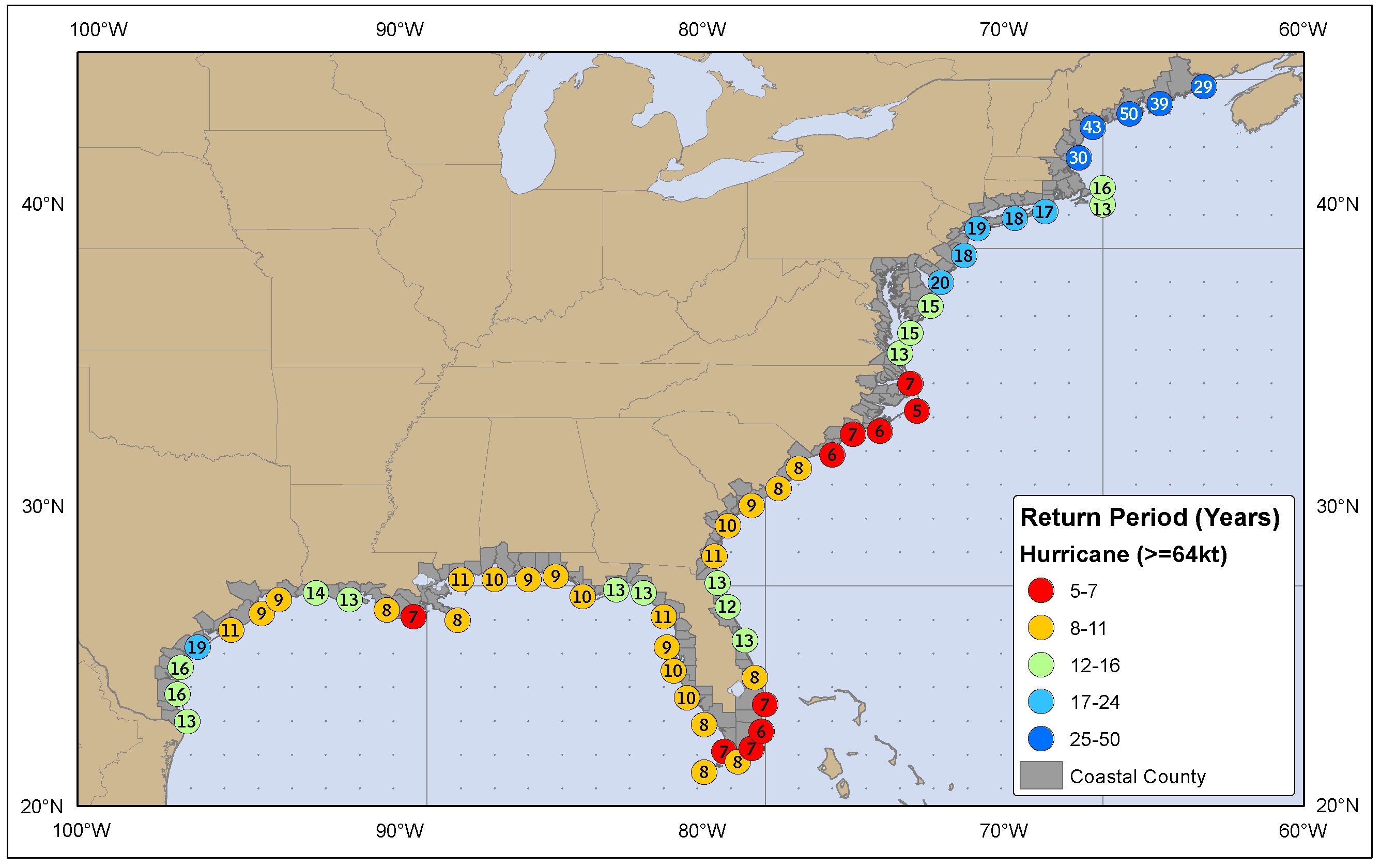 About as often as they hit Boston or New York City.
Corpus Christi exists as the largest city on the Gulf Coast for two specific reasons.
1. It is more shielded from tropical storms than other areas because of the deflection effect of the Yucatan Peninsula and weather off the Mexican desert and Mountains pushing hurricanes north. We got nearly no rain from the last storm because of this. A front pushed it off shore into Houston. It's why storms in the Gulf tend to "curve" upward.
2. When it has been hit Corpus Christi survives storms well. Most of the older parts of the city are at 20-25 feet of elevation. Downtown is protected by a seawall and pump system. That is why Congress picked it as one of the places to receive deep water port dredging money 100 years ago. Experience showed that the barrier island ports (Galveston and Indianola) got creamed by storms. Corpus Christi however survived theirs.
Celia is by far the worst storm we have gotten in living memory and was a direct hit high wind storm with 180 mph gusts. 15 people died in the entire region. After that storm new building practices were adopted that have become the national standard. For example tie down straps for roofs and steel bolts to connect house frames to the foundation.
By comparison there are more frequent flash floods and tornados in the interior of the state that kill equivalent numbers of people. It is normally the case that when a storm makes land fall in Corpus Christi for more people to die in San Antonio and Austin from flash flooding than die on the coast. Most of the highest damage weather events in state history are DFW hail storms.
Hurricanes get a lot of press though. They are easy to see coming so press can do lead up stories, be in the path for good visuals and do the aftermath. That is not the case with other disasters. That confers the benefit of time to prepare and evacuate.
So if you are concerned I wouldn't live in a low lying area but there are plenty of houses that have survived past storms well or new ones designed to take one.
Harvey for example saw one house lost to a garage fire that started during the height of the storm. There was lots of property damage in Port Aransas. Four people total died in the area from the storm out of 450,000. Driving to work is more dangerous than hurricanes with modest awareness and preparation.