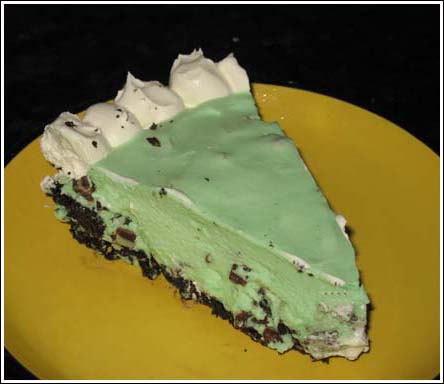 I'm debating between using pistachio pudding or melting marshmallows and milk. I'm leaning towards the marshmallow mixture, because you'll have to add more mint flavoring if you use pudding, right? I'm not using Creme De Menthe or Creme de Cacao because there will be children at the event I'm preparing this for, and I don't want any parents accusing me of feeding alcohol to their kids, so I'll be using Peppermint Extract, Green food coloring, and maybe some chocolate flavoring.
Also, about whipped topping vs. whipping cream: I don't have a mixer right now, so should I whisk the whipping cream with a hand whisker, or will that be too much? Will a tub of Cool Whip be okay instead? I've seen some people use greek yogurt instead, but wouldn't that affect the flavor of the pie?
Also, I want to crush some mint-flaovored Oreos or Thin-Mints into the batter. I know not to use too many, but would it be best to mix it while I'm folding the whipped cream into the marshmallow/milk mix?
I'll be making this in a few weeks, and although I've baked pies before, this is my first Grasshopper Pie. Thanks!