Work and Jobs in Emeryville, California (CA) Detailed Stats


Occupations, Industries, Unemployment, Workers, Commute




Opacity:
%
Hide borders
Hide US histogram
---
Reset to defaults
Latest news about work in Emeryville, CA collected exclusively by city-data.com from local newspapers, TV, and radio stations
The most common industries in Emeryville are: Professional, scientific, technical services (16.6% of civilian employees), Educational services (10.7% of civilian employees), Health care (7.8% of civilian employees). 46.7% of workers work in Alameda County and 6.8% of all workers work at home. 67.5% of workers are employees of private companies, which is about the same as the rate of 68.0% across the entire state of California.
Whole page based on the data from 2000 / 2019 when the population of Emeryville, California was 6,882 / 12,004
Most common industries



Most common industries

Industry

All

Males

Females

Professional, scientific, and technical services
16.6%
(702)
19.4%
(439)
13.4%
(263)
Educational services
10.7%
(454)
8.1%
(183)
13.9%
(271)
Health care
7.8%
(331)
5.2%
(119)
10.8%
(212)
Finance and insurance
6.3%
(265)
5.3%
(120)
7.4%
(145)
Construction
4.7%
(199)
6.7%
(151)
2.5%
(48)
Public administration
4.3%
(183)
2.2%
(51)
6.7%
(132)
Accommodation and food services
3.6%
(153)
5.2%
(119)
1.7%
(34)
Administrative and support and waste management services
3.1%
(131)
3.0%
(67)
3.3%
(64)
Publishing, and motion picture and sound recording industries
3.1%
(130)
4.0%
(90)
2.0%
(40)
Arts, entertainment, and recreation
3.1%
(129)
2.3%
(53)
3.9%
(76)
Other transportation, and support activities, and couriers
3.0%
(127)
5.3%
(120)
0.4%
(7)
Chemicals
2.4%
(101)
1.7%
(39)
3.2%
(62)
Real estate and rental and leasing
2.3%
(97)
1.8%
(40)
2.9%
(57)
Religious, grantmaking, civic, professional, and similar organizations
2.0%
(86)
1.0%
(22)
3.3%
(64)
Food and beverage stores
2.0%
(84)
2.9%
(65)
1.0%
(19)
Personal and laundry services
2.0%
(83)
2.4%
(55)
1.4%
(28)
Data processing, libraries, and other information services
1.8%
(78)
2.6%
(60)
0.9%
(18)
Computer and electronic products
1.4%
(58)
1.7%
(38)
1.0%
(20)
Air transportation
1.3%
(55)
1.1%
(24)
1.6%
(31)
Broadcasting and telecommunications
1.2%
(49)
1.0%
(23)
1.3%
(26)
U. S. Postal service
1.2%
(49)
1.0%
(23)
1.3%
(26)
Other direct selling establishments
1.1%
(45)
0.0%
(0)
2.3%
(45)
Gasoline stations
1.0%
(42)
1.5%
(33)
0.5%
(9)
Social assistance
1.0%
(41)
0.8%
(18)
1.2%
(23)
Miscellaneous manufacturing
0.9%
(36)
1.6%
(36)
0.0%
(0)
Truck transportation
0.8%
(34)
1.5%
(34)
0.0%
(0)
Furniture and home furnishings, and household appliance stores
0.8%
(32)
1.1%
(24)
0.4%
(8)
Radio, TV, and computer stores
0.7%
(29)
0.8%
(18)
0.6%
(11)
Apparel
0.6%
(27)
0.0%
(0)
1.4%
(27)
Professional and commercial equipment and supplies merchant wholesalers
0.6%
(27)
0.8%
(18)
0.5%
(9)
Sporting goods, camera, and hobby and toy stores
0.6%
(26)
1.1%
(26)
0.0%
(0)
Clothing and accessories, including shoe, stores
0.6%
(25)
0.4%
(10)
0.8%
(15)
Department and other general merchandise stores
0.5%
(23)
0.4%
(9)
0.7%
(14)
Music stores
0.5%
(21)
0.0%
(0)
1.1%
(21)
Utilities
0.5%
(20)
0.9%
(20)
0.0%
(0)
Private households
0.4%
(19)
0.0%
(0)
1.0%
(19)
Miscellaneous nondurable goods merchant wholesalers
0.4%
(18)
0.1%
(3)
0.8%
(15)
Repair and maintenance
0.4%
(17)
0.2%
(4)
0.7%
(13)
Nonmetallic mineral products
0.4%
(16)
0.0%
(0)
0.8%
(16)
Used merchandise, gift, novelty, and souvenir, and other miscellaneous stores
0.3%
(13)
0.3%
(6)
0.4%
(7)
Printing and related support activities
0.3%
(13)
0.6%
(13)
0.0%
(0)
Agriculture, forestry, fishing and hunting
0.3%
(12)
0.3%
(6)
0.3%
(6)
Furniture and related product manufacturing
0.3%
(11)
0.5%
(11)
0.0%
(0)
Paper
0.3%
(11)
0.5%
(11)
0.0%
(0)
Petroleum and coal products
0.2%
(10)
0.4%
(10)
0.0%
(0)
Health and personal care, except drug, stores
0.2%
(10)
0.0%
(0)
0.5%
(10)
Jewelry, luggage, and leather goods stores
0.2%
(10)
0.0%
(0)
0.5%
(10)
Textile mills and textile products
0.2%
(10)
0.4%
(10)
0.0%
(0)
Wood products
0.2%
(10)
0.4%
(10)
0.0%
(0)
Metal and metal products
0.2%
(10)
0.4%
(10)
0.0%
(0)
Management of companies and enterprises
0.2%
(9)
0.0%
(0)
0.5%
(9)
Book stores and news dealers
0.2%
(9)
0.0%
(0)
0.5%
(9)
Electronic shopping and mail-order houses
0.2%
(9)
0.4%
(9)
0.0%
(0)
Miscellaneous durable goods merchant wholesalers
0.2%
(9)
0.4%
(9)
0.0%
(0)
Machinery
0.2%
(9)
0.4%
(9)
0.0%
(0)
Plastics and rubber products
0.2%
(9)
0.0%
(0)
0.5%
(9)
Food
0.2%
(8)
0.0%
(0)
0.4%
(8)
Unemployment in Emeryville
Unemployment by race in 2019
Unemployment rate for White non-Hispanic residents

5.1%

Males

2.4%

Females
Unemployment rate for Asian residents

1.3%

Females
Unemployment rate for other race residents

15.9%

Males
Unemployment rate for two or more race residents

3.3%

Males
Unemployment rate for Hispanic or Latino residents

5.0%

Males
Unemployment by race in 2000
Unemployment rate for White non-Hispanic residents

3.6%

Males

4.6%

Females
Unemployment rate for Black residents

12.5%

Males

4.7%

Females
Unemployment rate for Asian residents

1.3%

Males

1.7%

Females
Unemployment rate for other race residents

8.4%

Females
Unemployment rate for Hispanic or Latino residents

5.7%

Males
Time leaving home to go to work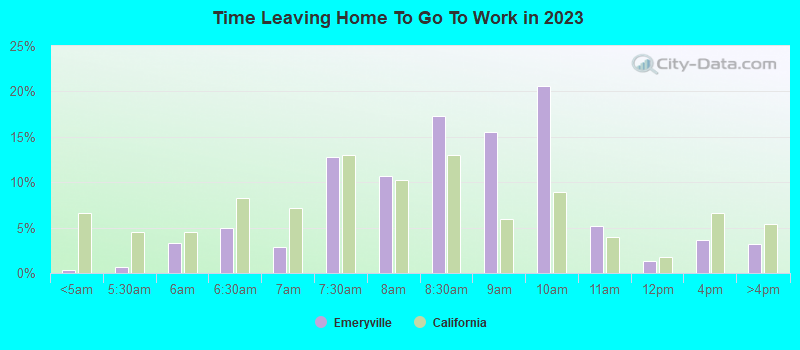 12:00 a.m. to 4:59 a.m.:

| | |
| --- | --- |
| Emeryville: | 1.3% (95) |
| California: | 6.4% (1,131,449) |
5:00 a.m. to 5:29 a.m.:

| | |
| --- | --- |
| Emeryville: | 3.1% (231) |
| California: | 4.6% (811,410) |
5:30 a.m. to 5:59 a.m.:

| | |
| --- | --- |
| Emeryville: | 2.7% (204) |
| California: | 4.5% (784,731) |
6:00 a.m. to 6:29 a.m.:

| | |
| --- | --- |
| Emeryville: | 5.1% (378) |
| California: | 8.5% (1,491,147) |
6:30 a.m. to 6:59 a.m.:

| | |
| --- | --- |
| Emeryville: | 5.7% (422) |
| California: | 7.8% (1,368,011) |
7:00 a.m. to 7:29 a.m.:

| | |
| --- | --- |
| Emeryville: | 9.5% (706) |
| California: | 13.8% (2,420,331) |
7:30 a.m. to 7:59 a.m.:

| | |
| --- | --- |
| Emeryville: | 11.9% (888) |
| California: | 10.2% (1,785,908) |
8:00 a.m. to 8:29 a.m.:

| | |
| --- | --- |
| Emeryville: | 22.3% (1,666) |
| California: | 12.4% (2,181,443) |
8:30 a.m. to 8:59 a.m.:

| | |
| --- | --- |
| Emeryville: | 12.8% (953) |
| California: | 6.0% (1,050,699) |
9:00 a.m. to 9:59 a.m.:

| | |
| --- | --- |
| Emeryville: | 13.3% (991) |
| California: | 8.6% (1,514,471) |
10:00 a.m. to 10:59 a.m.:

| | |
| --- | --- |
| Emeryville: | 4.6% (345) |
| California: | 3.7% (647,841) |
11:00 a.m. to 11:59 a.m.:

| | |
| --- | --- |
| Emeryville: | 0.5% (36) |
| California: | 1.6% (276,726) |
12:00 p.m. to 3:59 p.m.:

| | |
| --- | --- |
| Emeryville: | 2.1% (157) |
| California: | 6.4% (1,129,246) |
4:00 p.m. to 11:59 p.m.:

| | |
| --- | --- |
| Emeryville: | 5.1% (378) |
| California: | 5.4% (948,451) |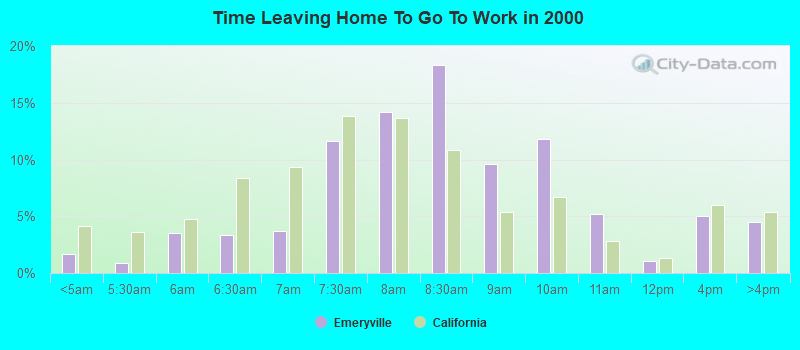 <5am:

| | |
| --- | --- |
| Emeryville: | 1.7% (69) |
| California: | 4.2% (606,086) |
5:30am:

| | |
| --- | --- |
| Emeryville: | 0.9% (37) |
| California: | 3.6% (523,209) |
6am:

| | |
| --- | --- |
| Emeryville: | 3.5% (147) |
| California: | 4.8% (692,256) |
6:30am:

| | |
| --- | --- |
| Emeryville: | 3.3% (138) |
| California: | 8.4% (1,216,867) |
7am:

| | |
| --- | --- |
| Emeryville: | 3.7% (155) |
| California: | 9.4% (1,362,830) |
7:30am:

| | |
| --- | --- |
| Emeryville: | 11.6% (482) |
| California: | 13.8% (2,006,950) |
8am:

| | |
| --- | --- |
| Emeryville: | 14.2% (588) |
| California: | 13.7% (1,986,831) |
8:30am:

| | |
| --- | --- |
| Emeryville: | 18.3% (761) |
| California: | 10.9% (1,577,815) |
9am:

| | |
| --- | --- |
| Emeryville: | 9.6% (400) |
| California: | 5.4% (778,152) |
10am:

| | |
| --- | --- |
| Emeryville: | 11.8% (492) |
| California: | 6.7% (972,355) |
11am:

| | |
| --- | --- |
| Emeryville: | 5.2% (217) |
| California: | 2.9% (414,479) |
12pm:

| | |
| --- | --- |
| Emeryville: | 1.1% (45) |
| California: | 1.3% (189,005) |
4pm:

| | |
| --- | --- |
| Emeryville: | 5.0% (209) |
| California: | 6.0% (865,284) |
>4pm:

| | |
| --- | --- |
| Emeryville: | 4.5% (187) |
| California: | 5.3% (776,167) |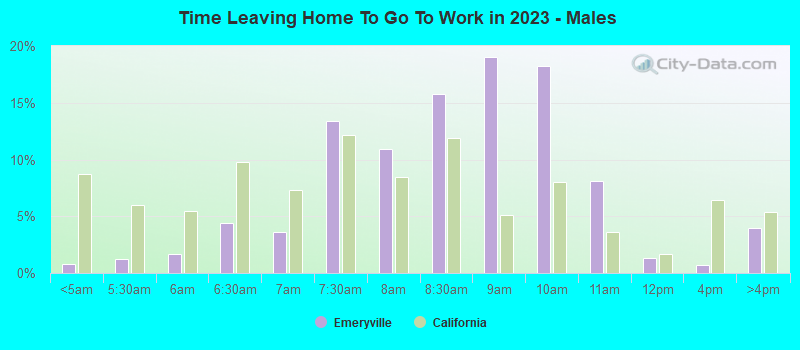 12:00 a.m. to 4:59 a.m. - Males:

| | |
| --- | --- |
| Emeryville: | 2.1% (85) |
| California: | 8.5% (814,957) |
5:00 a.m. to 5:29 a.m. - Males:

| | |
| --- | --- |
| Emeryville: | 3.2% (127) |
| California: | 6.1% (587,186) |
5:30 a.m. to 5:59 a.m. - Males:

| | |
| --- | --- |
| Emeryville: | 2.8% (114) |
| California: | 5.5% (527,104) |
6:00 a.m. to 6:29 a.m. - Males:

| | |
| --- | --- |
| Emeryville: | 4.8% (193) |
| California: | 10.0% (960,658) |
6:30 a.m. to 6:59 a.m. - Males:

| | |
| --- | --- |
| Emeryville: | 4.1% (165) |
| California: | 7.8% (743,861) |
7:00 a.m. to 7:29 a.m. - Males:

| | |
| --- | --- |
| Emeryville: | 9.8% (392) |
| California: | 13.0% (1,246,716) |
7:30 a.m. to 7:59 a.m. - Males:

| | |
| --- | --- |
| Emeryville: | 11.7% (469) |
| California: | 8.5% (814,605) |
8:00 a.m. to 8:29 a.m. - Males:

| | |
| --- | --- |
| Emeryville: | 24.6% (989) |
| California: | 11.2% (1,071,355) |
8:30 a.m. to 8:59 a.m. - Males:

| | |
| --- | --- |
| Emeryville: | 11.8% (476) |
| California: | 5.0% (479,061) |
9:00 a.m. to 9:59 a.m. - Males:

| | |
| --- | --- |
| Emeryville: | 11.6% (465) |
| California: | 7.8% (749,500) |
10:00 a.m. to 10:59 a.m. - Males:

| | |
| --- | --- |
| Emeryville: | 6.3% (255) |
| California: | 3.4% (321,807) |
11:00 a.m. to 11:59 a.m. - Males:

| | |
| --- | --- |
| Emeryville: | 0.1% (6) |
| California: | 1.4% (135,933) |
12:00 p.m. to 3:59 p.m. - Males:

| | |
| --- | --- |
| Emeryville: | 1.2% (50) |
| California: | 6.3% (601,801) |
4:00 p.m. to 11:59 p.m. - Males:

| | |
| --- | --- |
| Emeryville: | 5.0% (202) |
| California: | 5.5% (525,210) |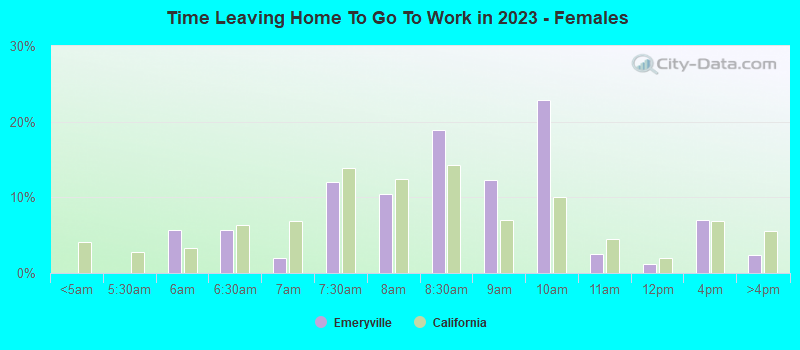 12:00 a.m. to 4:59 a.m. - Females:

| | |
| --- | --- |
| Emeryville: | 0.4% (12) |
| California: | 4.0% (316,492) |
5:00 a.m. to 5:29 a.m. - Females:

| | |
| --- | --- |
| Emeryville: | 2.6% (89) |
| California: | 2.8% (224,224) |
5:30 a.m. to 5:59 a.m. - Females:

| | |
| --- | --- |
| Emeryville: | 2.3% (79) |
| California: | 3.2% (257,627) |
6:00 a.m. to 6:29 a.m. - Females:

| | |
| --- | --- |
| Emeryville: | 5.4% (186) |
| California: | 6.7% (530,489) |
6:30 a.m. to 6:59 a.m. - Females:

| | |
| --- | --- |
| Emeryville: | 7.5% (258) |
| California: | 7.8% (624,150) |
7:00 a.m. to 7:29 a.m. - Females:

| | |
| --- | --- |
| Emeryville: | 9.0% (309) |
| California: | 14.7% (1,173,615) |
7:30 a.m. to 7:59 a.m. - Females:

| | |
| --- | --- |
| Emeryville: | 12.1% (417) |
| California: | 12.2% (971,303) |
8:00 a.m. to 8:29 a.m. - Females:

| | |
| --- | --- |
| Emeryville: | 19.9% (686) |
| California: | 13.9% (1,110,088) |
8:30 a.m. to 8:59 a.m. - Females:

| | |
| --- | --- |
| Emeryville: | 13.8% (477) |
| California: | 7.2% (571,638) |
9:00 a.m. to 9:59 a.m. - Females:

| | |
| --- | --- |
| Emeryville: | 15.4% (529) |
| California: | 9.6% (764,971) |
10:00 a.m. to 10:59 a.m. - Females:

| | |
| --- | --- |
| Emeryville: | 2.6% (89) |
| California: | 4.1% (326,034) |
11:00 a.m. to 11:59 a.m. - Females:

| | |
| --- | --- |
| Emeryville: | 0.9% (30) |
| California: | 1.8% (140,793) |
12:00 p.m. to 3:59 p.m. - Females:

| | |
| --- | --- |
| Emeryville: | 3.0% (105) |
| California: | 6.6% (527,445) |
4:00 p.m. to 11:59 p.m. - Females:

| | |
| --- | --- |
| Emeryville: | 5.1% (177) |
| California: | 5.3% (423,241) |
Travel time to work
Percentage of workers working in this county: 46.7%
Number of people working at home: 546 (6.8% of all workers)
Daytime population change due to commuting: +13,942 (+202.6%)
Workers who live and work in this city: 920 (22.1%)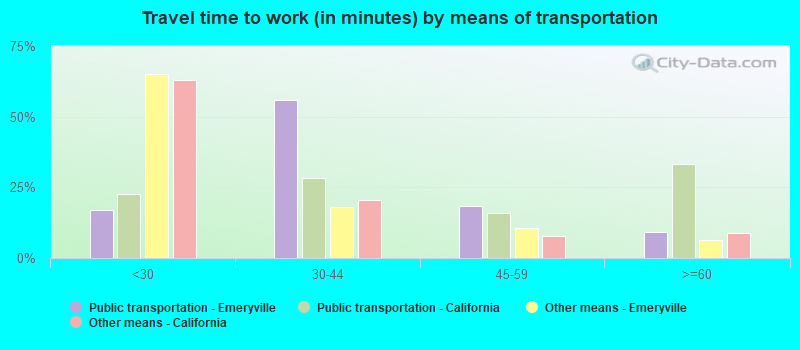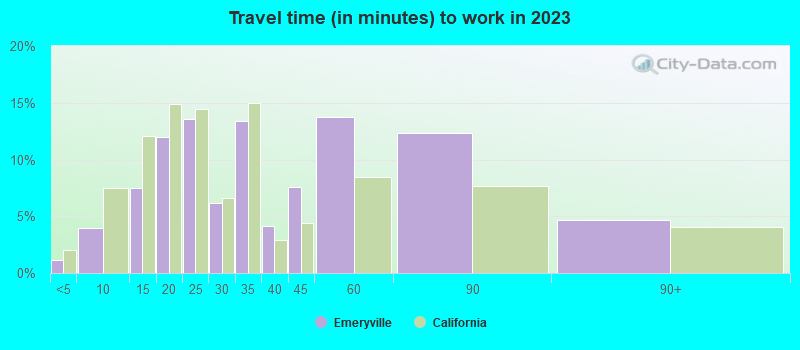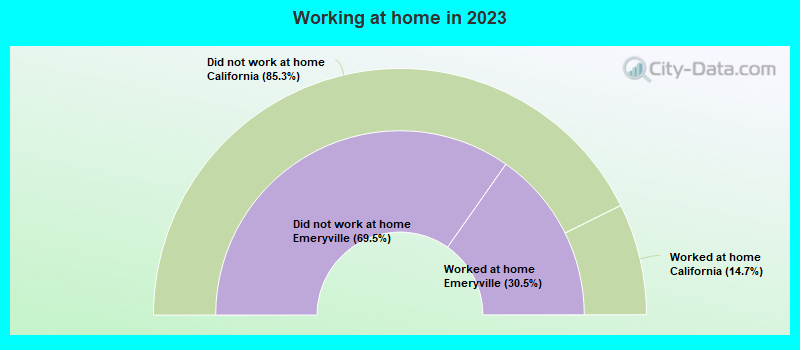 Less than 5 minutes:

| | |
| --- | --- |
| Emeryville: | 0.9% (205) |
| California: | 1.7% (300,173) |
5 to 9 minutes:

| | |
| --- | --- |
| Emeryville: | 4.2% (918) |
| California: | 7.0% (1,233,849) |
10 to 14 minutes:

| | |
| --- | --- |
| Emeryville: | 8.2% (1,764) |
| California: | 11.7% (2,053,578) |
15 to 19 minutes:

| | |
| --- | --- |
| Emeryville: | 8.7% (1,889) |
| California: | 14.2% (2,497,660) |
20 to 24 minutes:

| | |
| --- | --- |
| Emeryville: | 12.4% (2,682) |
| California: | 13.9% (2,436,232) |
25 to 29 minutes:

| | |
| --- | --- |
| Emeryville: | 5.4% (1,165) |
| California: | 6.2% (1,079,810) |
30 to 34 minutes:

| | |
| --- | --- |
| Emeryville: | 15.7% (3,387) |
| California: | 14.9% (2,617,696) |
35 to 39 minutes:

| | |
| --- | --- |
| Emeryville: | 3.0% (657) |
| California: | 2.9% (516,293) |
40 to 44 minutes:

| | |
| --- | --- |
| Emeryville: | 7.4% (1,605) |
| California: | 4.5% (793,212) |
45 to 59 minutes:

| | |
| --- | --- |
| Emeryville: | 14.1% (3,059) |
| California: | 9.3% (1,625,837) |
60 to 89 minutes:

| | |
| --- | --- |
| Emeryville: | 13.2% (2,857) |
| California: | 9.0% (1,578,471) |
90 or more minutes:

| | |
| --- | --- |
| Emeryville: | 6.7% (1,451) |
| California: | 4.6% (815,709) |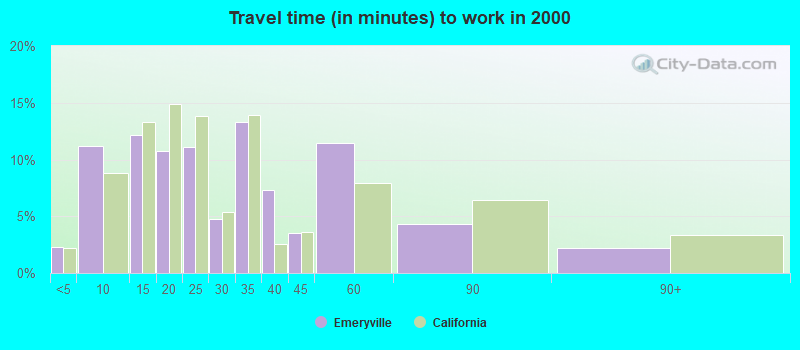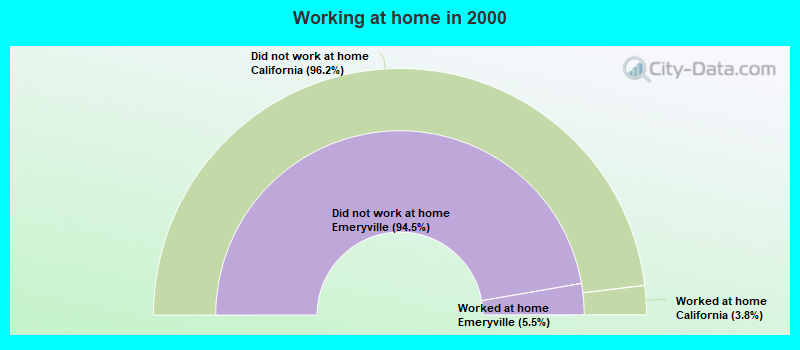 Less than 5 minutes:

| | |
| --- | --- |
| Emeryville: | 2.3% (95) |
| California: | 2.2% (324,703) |
5 to 9 minutes:

| | |
| --- | --- |
| Emeryville: | 11.2% (464) |
| California: | 8.8% (1,280,443) |
10 to 14 minutes:

| | |
| --- | --- |
| Emeryville: | 12.2% (507) |
| California: | 13.3% (1,930,263) |
15 to 19 minutes:

| | |
| --- | --- |
| Emeryville: | 10.7% (446) |
| California: | 14.9% (2,157,970) |
20 to 24 minutes:

| | |
| --- | --- |
| Emeryville: | 11.1% (462) |
| California: | 13.8% (2,004,060) |
25 to 29 minutes:

| | |
| --- | --- |
| Emeryville: | 4.8% (199) |
| California: | 5.4% (782,241) |
30 to 34 minutes:

| | |
| --- | --- |
| Emeryville: | 13.3% (554) |
| California: | 13.9% (2,025,657) |
35 to 39 minutes:

| | |
| --- | --- |
| Emeryville: | 7.3% (304) |
| California: | 2.5% (366,487) |
40 to 44 minutes:

| | |
| --- | --- |
| Emeryville: | 3.6% (148) |
| California: | 3.6% (528,043) |
45 to 59 minutes:

| | |
| --- | --- |
| Emeryville: | 11.5% (476) |
| California: | 7.9% (1,151,598) |
60 to 89 minutes:

| | |
| --- | --- |
| Emeryville: | 4.3% (180) |
| California: | 6.4% (933,123) |
90 or more minutes:

| | |
| --- | --- |
| Emeryville: | 2.2% (92) |
| California: | 3.3% (483,698) |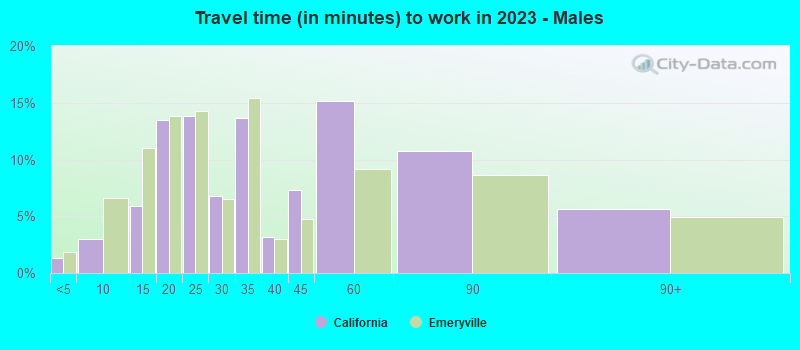 Less than 5 minutes - Males:

| | |
| --- | --- |
| Emeryville: | 0.5% (57) |
| California: | 1.7% (158,465) |
5 to 9 minutes - Males:

| | |
| --- | --- |
| Emeryville: | 3.5% (395) |
| California: | 6.4% (610,348) |
10 to 14 minutes - Males:

| | |
| --- | --- |
| Emeryville: | 8.7% (993) |
| California: | 10.7% (1,029,624) |
15 to 19 minutes - Males:

| | |
| --- | --- |
| Emeryville: | 7.6% (861) |
| California: | 13.4% (1,281,551) |
20 to 24 minutes - Males:

| | |
| --- | --- |
| Emeryville: | 12.0% (1,365) |
| California: | 13.7% (1,314,958) |
25 to 29 minutes - Males:

| | |
| --- | --- |
| Emeryville: | 5.5% (626) |
| California: | 6.1% (585,066) |
30 to 34 minutes - Males:

| | |
| --- | --- |
| Emeryville: | 15.7% (1,789) |
| California: | 15.3% (1,465,654) |
35 to 39 minutes - Males:

| | |
| --- | --- |
| Emeryville: | 3.2% (369) |
| California: | 2.9% (280,658) |
40 to 44 minutes - Males:

| | |
| --- | --- |
| Emeryville: | 8.6% (980) |
| California: | 4.7% (449,032) |
45 to 59 minutes - Males:

| | |
| --- | --- |
| Emeryville: | 15.8% (1,798) |
| California: | 9.7% (931,967) |
60 to 89 minutes - Males:

| | |
| --- | --- |
| Emeryville: | 12.5% (1,425) |
| California: | 10.0% (955,465) |
90 or more minutes - Males:

| | |
| --- | --- |
| Emeryville: | 6.4% (734) |
| California: | 5.5% (522,989) |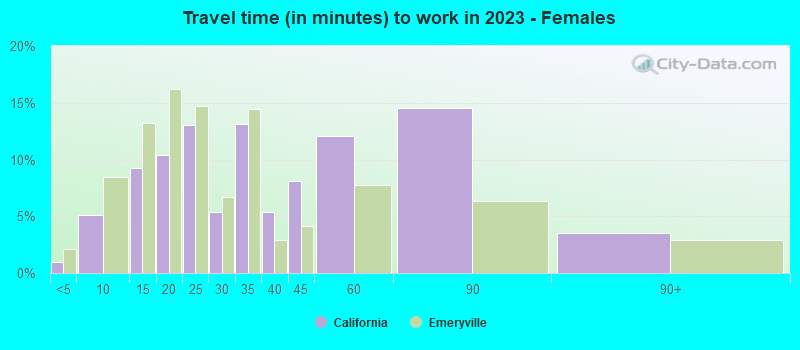 Less than 5 minutes - Females:

| | |
| --- | --- |
| Emeryville: | 1.4% (141) |
| California: | 1.8% (141,708) |
5 to 9 minutes - Females:

| | |
| --- | --- |
| Emeryville: | 5.1% (526) |
| California: | 7.8% (623,501) |
10 to 14 minutes - Females:

| | |
| --- | --- |
| Emeryville: | 7.4% (752) |
| California: | 12.9% (1,023,954) |
15 to 19 minutes - Females:

| | |
| --- | --- |
| Emeryville: | 10.1% (1,030) |
| California: | 15.3% (1,216,109) |
20 to 24 minutes - Females:

| | |
| --- | --- |
| Emeryville: | 12.8% (1,314) |
| California: | 14.1% (1,121,274) |
25 to 29 minutes - Females:

| | |
| --- | --- |
| Emeryville: | 5.2% (533) |
| California: | 6.2% (494,744) |
30 to 34 minutes - Females:

| | |
| --- | --- |
| Emeryville: | 15.6% (1,600) |
| California: | 14.5% (1,152,042) |
35 to 39 minutes - Females:

| | |
| --- | --- |
| Emeryville: | 2.8% (285) |
| California: | 3.0% (235,635) |
40 to 44 minutes - Females:

| | |
| --- | --- |
| Emeryville: | 6.1% (627) |
| California: | 4.3% (344,180) |
45 to 59 minutes - Females:

| | |
| --- | --- |
| Emeryville: | 12.3% (1,261) |
| California: | 8.7% (693,870) |
60 to 89 minutes - Females:

| | |
| --- | --- |
| Emeryville: | 14.1% (1,439) |
| California: | 7.8% (623,006) |
90 or more minutes - Females:

| | |
| --- | --- |
| Emeryville: | 7.2% (735) |
| California: | 3.7% (292,720) |
Means of transportation to work
Drove car alone:

| | |
| --- | --- |
| Emeryville: | 70.0% (15,167) |
| California: | 78.5% (6,199,390) |
Carpooled:

| | |
| --- | --- |
| Emeryville: | 11.4% (2,472) |
| California: | 10.5% (883,867) |
Bus:

| | |
| --- | --- |
| Emeryville: | 4.1% (889) |
| California: | 3.3% (299,969) |
Subway or elevated rail:

| | |
| --- | --- |
| Emeryville: | 4.8% (1,030) |
| California: | 1.3% (102,048) |
Long-distance train or commuter rail:

| | |
| --- | --- |
| Emeryville: | 1.6% (340) |
| California: | 0.6% (40,603) |
Light rail, streetcar or trolley:

| | |
| --- | --- |
| Emeryville: | 0.1% (11) |
| California: | 0.3% (24,374) |
Bicycle:

| | |
| --- | --- |
| Emeryville: | 3.2% (693) |
| California: | 0.9% (47,082) |
Walked:

| | |
| --- | --- |
| Emeryville: | 2.5% (548) |
| California: | 2.7% (224,596) |
Other means:

| | |
| --- | --- |
| Emeryville: | 2.4% (526) |
| California: | 1.8% (132,210) |
Drove car alone:

| | |
| --- | --- |
| Emeryville: | 56.8% (2,359) |
| California: | 71.8% (10,432,462) |
Carpooled:

| | |
| --- | --- |
| Emeryville: | 9.1% (378) |
| California: | 14.5% (2,113,313) |
Bus or trolley bus:

| | |
| --- | --- |
| Emeryville: | 9.7% (401) |
| California: | 3.8% (549,425) |
Subway or elevated:

| | |
| --- | --- |
| Emeryville: | 8.6% (359) |
| California: | 0.7% (107,711) |
Railroad:

| | |
| --- | --- |
| Emeryville: | 0.7% (31) |
| California: | 0.3% (41,022) |
Motorcycle:

| | |
| --- | --- |
| Emeryville: | 0.7% (30) |
| California: | 0.2% (36,262) |
Bicycle:

| | |
| --- | --- |
| Emeryville: | 1.3% (56) |
| California: | 0.8% (120,567) |
Walked:

| | |
| --- | --- |
| Emeryville: | 6.3% (263) |
| California: | 2.9% (414,581) |
Other means:

| | |
| --- | --- |
| Emeryville: | 1.2% (50) |
| California: | 0.8% (115,064) |
Drove car alone - Males:

| | |
| --- | --- |
| Emeryville: | 72.3% (8,235) |
| California: | 79.0% (6,199,390) |
Carpooled - Males:

| | |
| --- | --- |
| Emeryville: | 9.8% (1,120) |
| California: | 10.0% (883,867) |
Bus - Males:

| | |
| --- | --- |
| Emeryville: | 3.6% (409) |
| California: | 2.8% (299,969) |
Subway or elevated rail - Males:

| | |
| --- | --- |
| Emeryville: | 5.3% (606) |
| California: | 1.3% (102,048) |
Long-distance train or commuter rail - Males:

| | |
| --- | --- |
| Emeryville: | 1.2% (142) |
| California: | 0.6% (40,603) |
Light rail, streetcar or trolley - Males:

| | |
| --- | --- |
| Emeryville: | 0.1% (11) |
| California: | 0.3% (24,374) |
Bicycle - Males:

| | |
| --- | --- |
| Emeryville: | 3.4% (384) |
| California: | 1.2% (47,082) |
Walked - Males:

| | |
| --- | --- |
| Emeryville: | 1.5% (169) |
| California: | 2.6% (224,596) |
Other means - Males:

| | |
| --- | --- |
| Emeryville: | 2.8% (317) |
| California: | 2.0% (132,210) |
Drove car alone - Females:

| | |
| --- | --- |
| Emeryville: | 67.3% (6,928) |
| California: | 77.9% (6,199,390) |
Carpooled - Females:

| | |
| --- | --- |
| Emeryville: | 13.2% (1,359) |
| California: | 11.1% (883,867) |
Bus - Females:

| | |
| --- | --- |
| Emeryville: | 4.7% (482) |
| California: | 3.8% (299,969) |
Subway or elevated rail - Females:

| | |
| --- | --- |
| Emeryville: | 4.1% (422) |
| California: | 1.3% (102,048) |
Long-distance train or commuter rail - Females:

| | |
| --- | --- |
| Emeryville: | 1.9% (199) |
| California: | 0.5% (40,603) |
Bicycle - Females:

| | |
| --- | --- |
| Emeryville: | 3.0% (309) |
| California: | 0.6% (47,082) |
Walked - Females:

| | |
| --- | --- |
| Emeryville: | 3.7% (383) |
| California: | 2.8% (224,596) |
Other means - Females:

| | |
| --- | --- |
| Emeryville: | 2.0% (208) |
| California: | 1.7% (132,210) |
Private vehicle occupancy
Drove alone:

| | |
| --- | --- |
| Emeryville: | 80.4% (3,565) |
| California: | 88.2% (13,767,903) |
In 2 person carpool:

| | |
| --- | --- |
| Emeryville: | 10.3% (455) |
| California: | 8.7% (1,359,045) |
In 3 person carpool:

| | |
| --- | --- |
| Emeryville: | 4.8% (213) |
| California: | 1.8% (287,662) |
In 4 person carpool:

| | |
| --- | --- |
| Emeryville: | 2.8% (122) |
| California: | 0.6% (97,698) |
In 5-6 person carpool:

| | |
| --- | --- |
| Emeryville: | 1.4% (60) |
| California: | 0.4% (58,494) |

Drove alone:

| | |
| --- | --- |
| Emeryville: | 86.2% (2,359) |
| California: | 83.2% (10,432,462) |
In 2 person carpool:

| | |
| --- | --- |
| Emeryville: | 8.5% (232) |
| California: | 12.5% (1,564,905) |
In 3 person carpool:

| | |
| --- | --- |
| Emeryville: | 5.3% (146) |
| California: | 2.6% (330,732) |
Class of workers
Employee of private company:

| | |
| --- | --- |
| Emeryville: | 67.5% (5,470) |
| California: | 68.0% (12,976,686) |
Self-employed in own incorporated business:

| | |
| --- | --- |
| Emeryville: | 2.0% (160) |
| California: | 3.5% (660,898) |
Private not-for-profit wage and salary workers:

| | |
| --- | --- |
| Emeryville: | 10.1% (817) |
| California: | 6.6% (1,258,977) |
Local government workers:

| | |
| --- | --- |
| Emeryville: | 5.1% (412) |
| California: | 7.9% (1,509,285) |
State government workers:

| | |
| --- | --- |
| Emeryville: | 4.4% (354) |
| California: | 4.2% (794,231) |
Federal government workers:

| | |
| --- | --- |
| Emeryville: | 1.9% (158) |
| California: | 1.9% (354,808) |
Self-employed workers in own not incorporated business:

| | |
| --- | --- |
| Emeryville: | 8.9% (717) |
| California: | 7.8% (1,485,102) |
Unpaid family workers:

| | |
| --- | --- |
| Emeryville: | 0.2% (17) |
| California: | 0.2% (38,114) |
Employee of private company:

| | |
| --- | --- |
| Emeryville: | 64.2% (2,711) |
| California: | 68.0% (10,009,465) |
Self-employed in own incorporated business:

| | |
| --- | --- |
| Emeryville: | 2.1% (87) |
| California: | 2.7% (402,392) |
Private not-for-profit wage and salary workers:

| | |
| --- | --- |
| Emeryville: | 8.3% (352) |
| California: | 5.7% (845,536) |
Local government workers:

| | |
| --- | --- |
| Emeryville: | 6.8% (288) |
| California: | 8.3% (1,218,764) |
State government workers:

| | |
| --- | --- |
| Emeryville: | 5.5% (234) |
| California: | 4.0% (594,953) |
Federal government workers:

| | |
| --- | --- |
| Emeryville: | 4.7% (197) |
| California: | 2.3% (344,354) |
Self-employed workers in own not incorporated business:

| | |
| --- | --- |
| Emeryville: | 8.4% (355) |
| California: | 8.5% (1,249,530) |
Employee of private company - Males:

| | |
| --- | --- |
| Emeryville: | 72.1% (3,139) |
| California: | 71.8% (7,376,646) |
Self-employed in own incorporated business - Males:

| | |
| --- | --- |
| Emeryville: | 2.0% (88) |
| California: | 4.2% (434,632) |
Private not-for-profit wage and salary workers - Males:

| | |
| --- | --- |
| Emeryville: | 6.8% (296) |
| California: | 4.4% (452,093) |
Local government workers - Males:

| | |
| --- | --- |
| Emeryville: | 4.7% (205) |
| California: | 5.6% (573,954) |
State government workers - Males:

| | |
| --- | --- |
| Emeryville: | 3.8% (166) |
| California: | 3.3% (337,812) |
Federal government workers - Males:

| | |
| --- | --- |
| Emeryville: | 2.6% (114) |
| California: | 2.0% (203,528) |
Self-employed workers in own not incorporated business - Males:

| | |
| --- | --- |
| Emeryville: | 7.6% (332) |
| California: | 8.5% (869,140) |
Unpaid family workers - Males:

| | |
| --- | --- |
| Emeryville: | 0.4% (17) |
| California: | 0.2% (20,883) |
Employee of private company - Females:

| | |
| --- | --- |
| Emeryville: | 62.2% (2,330) |
| California: | 63.6% (5,600,040) |
Self-employed in own incorporated business - Females:

| | |
| --- | --- |
| Emeryville: | 1.9% (72) |
| California: | 2.6% (226,266) |
Private not-for-profit wage and salary workers - Females:

| | |
| --- | --- |
| Emeryville: | 13.9% (520) |
| California: | 9.2% (806,884) |
Local government workers - Females:

| | |
| --- | --- |
| Emeryville: | 5.5% (207) |
| California: | 10.6% (935,331) |
State government workers - Females:

| | |
| --- | --- |
| Emeryville: | 5.0% (188) |
| California: | 5.2% (456,419) |
Federal government workers - Females:

| | |
| --- | --- |
| Emeryville: | 1.2% (44) |
| California: | 1.7% (151,280) |
Self-employed workers in own not incorporated business - Females:

| | |
| --- | --- |
| Emeryville: | 10.3% (385) |
| California: | 7.0% (615,962) |